WHIMSICAL WISHING WELL.
It took a brave few to discover the Whimsical Wishing Well. It might have been accident - maybe even fate. The cracked, run down well was hidden behind bushes and trees, behind the safe home Whimsical served as. But when it was discovered, our members knew what we had to do. We cleaned up the well, making it pretty and welcoming, for current and future Whimsical members to use.
Some might even say we made the well magic.


Welcome, one and all, to the Whimsical Wishing Well! Yes, you heard me right! Whimsical now has it's very own wishing well where you can make wishes and grant them.
Please use the navigation above so you can read through all of our information and PLEASE read the rules!!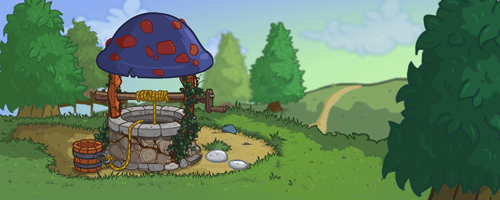 RULES.
No one likes rules, but we need them in order for everything to be in tip top shape! Please read through the following rules so you understand how the well works and to make sure everything goes smoothly.


1. You may submit ANY wish into the well, as long as it is Neopet related. You could ask for any Neopoint item, Neocash item, a dream pet, or artwork that could be given to you over Neopets.
2. You may only have 3 wishes maximum at a time. If one of your wishes is granted, you may submit in another wish. You can cancel a wish and ask for a different one instead.
3. If you granted a wish or your wish was granted, PLEASE neomail Amber!!
4. To people who want to wish: Please don't EXPECT your wish to be granted. It all depends if someone wants to grant it!
To people who want to grant: Please don't feel like you NEED to grant a wish. It's optional!
If you read these rules, please put a *korbat* at the beginning of your form on the next page!
5. Enjoy the wishing well program & happy wishing!!
WISHES.
If you'd like to submit in your wishes, please neomail Amber the following form.


Name:
Wishes (max 3):
CURRENT WISHES.
Amber
likenowaiz
- Codestones
- Faerie Queen Doll
- Bottled Faeries

WISHES GRANTED.
The following people have granted wishes!


Name - number of wishes granted and for who





The follow people have gotten their wishes granted!


Name - wish granted and by who