How do you earn points on Neopets?
Well, there's begging, whining, crying, demanding, tricking (errr). But none of those things are very well appreciated. And why should anyone have to stoop to such levels when there's a fortune to be gained every day! Besides playing games, which everyone knows is the BEST way to earn TONS of neopoints every day, make sure you make a stop by some or all of these places:

Dailies | Wheels | Scratchcards | Food | Quests | Games | Link Back | More Help
---
| | |
| --- | --- |
| | New Features - A great spot where things change almost every day. And you never know when you will learn about a new avatar or that it's your pet's day for free training at the Swashbuckling Academy! |
| | Bank Interest - Make sure you open a bank account and put all of your game-earned neopoints in it. Then, each day BEFORE you do ANYTHING else with your bank account, click the COLLECT INTEREST button. Once you conduct any other transactions, you can no longer collect that interest. |
| | Free Omelette - Once a day, you can take a piece of omelette for free. You can sell it, or feed your pet THREE times. |
| | Jelly - Get your free jelly! (If the link doesn't work, add "/jelly / jelly . phtml" to the end of www.neopets.com.) |
| | King Altador - If you've completed the Darkest Faerie/Altador plot, you can return to the Council one time each day (click on King Altador in the picture) and collect a prize -- an item or neopoints. |
| | Coltzan's Shrine - Every 12 hours, you can visit the shrine and see if Coltzan will give you food or dubloons, make you a little richer, raise a stat of your pet, or...do nothing.  Coltzan's Shrine Stats Project. |
| | Fruit Machine - Once a day, play the fruit machine. It's free, so why not! I won a Cloud Paint Brush once, too. |
| | Tombola - Stick your paw in and pull out a number, once a day. Sometimes bottled faeries come up. You never know what you might get. |
| | Secret Lab - If you've completed the Secret Lab Map, you can fire the ray at one of your pets. When your pet changes species, you will get an avatar! Plus, you might just get a neat paint job. (The lab ray is how I got the Werelupe and Grey Wocky avatars!) Lab Ray FAQ here. |
| | Petpet Lab - If you've completed the Secret Lab Map AND the Petpet Lab Map, you can fire the ray at one of your petpets. If your pet turns into a pile of soot, you'll get an avatar. But beware, although the ray can turn your petpet into something really cool, like a Rainbow Candychan, it can also make your petpet vanish. And once you remove the petpet from your pet, it reverts back to its original form. FAQ about the Petpet Lab Ray can be found here. |
| | Lunar Temple - If you use a guide such as this one, you can guarantee yourself a prize from this temple in Shenkuu -- and you can visit one time each day. |
| | Snowager - He sleeps three times a day (6-7 am, 2-3 pm, and 10-11 pm, all NST). When he's sleeping you can try to steal his treasure. If you're REALLY lucky, he will blast you and give you an avatar! But the avatar is random...so usually he will just blast you and not give you an avatar in return. Snowager Stats Project! |
| | Turmaculus - Turmaculus wakes up once per day. If you bring your petpet there at the right time, he might reward you with money, raised stats...or eat your petpet, which will give you an avatar. There is a petpage that tracks Turmaculous' waking hours: Picovamde's Turmy Tracker. |
| | Symol Hole - They say you can find neat things in here, like rare plushies. You can also get an avatar if you are lucky enough to win a toy.  When I got the avatar, I was awarded 146 np as my prize.  Note: you must have a petpet to play! |
| | Wise Old King - Visit the Wise Old King once a day and try to bestow some wisdom upon him. This is easy and although you will rarely win, if you do, you might get a book or neopoints. |
| | Grumpy Old King - Similar to Wise Old King, there are more blanks to fill in. BUT you can win TWO avatars -- one for telling a really bad joke and one for telling a really good one. Go there once a day. (Note: I got the bad joke avatar on 12/30/04 for telling the following terrible joke: Q: Where won't you go with a bad case of Neo Flu? A: By a Earth Faerie sweetie lives! Of course, it might not work for you...but thought I'd let you know! |
| | Buried Treasure - The chances of finding a treasure are slim and will cost you 300 NP to play, but I have won 20,000 NP on rare occasion, so it might be worth it. Also, there is a slight chance you will get an avatar for picking a winner (even the booby prize). |
| | Test Your Strength - For 100 NP, you can play this game that will award you a random prize. Most prizes are not worth 100 NP, but once in a while you will get something pretty good. Once I got the Orange Goople. Yuck! But worth a lot of neopoints! Sometimes I do win a few hundred neopoints, too. |
| | Guess the Marrow's Weight - This is easy. Once a day, you can put in a number and see if you win. I won once (2/16/05) and actually got a marrow item that I was able to sell for 29k! Worth a play, I'd say, even if winning is very rare. |
| | Rich Slorg - Click on this link to get 50 or 100 NP each day for free, just for visiting the Shop of Offers. |
| | Underwater Fishing - Each of your pets can go fishing...you never know what you might reel in. My pets seem to be able to cast out once every 12 hours, although I've heard this may not be the same for everyone. Some say you can even fish once an hour, so try it out and see.  The fish you catch make great food to feed your neopets.  You will get an avatar if you fish up the Titanic Giant Squid -- your pet needs to be level 80 or higher, and it's a random catch. |
| | Meteor - The meteor might give you a petpet or some other item, but you may have to visit several times in one day until you get an item.  You can only collect one item per day, so after the meteor gives you something, there is no need to go back until the next day. |
| | Deserted Tomb - Most of the time, nothing much happens here other than some lost health for your active pet. If you're really lucky, you can win neopoints, prizes, and even the Lost avatar.  |
| | Healing Springs - Ah, my favorite. The Healing Springs. Sometimes she will heal you, feed you, or give you an item, such as a Healing Potion or Snowball, which you can then sell! You can visit the Healing Springs every 30 minutes for FREE!  |
| | King Altador - Once you have completed the Altador/Darkest Faerie plot, click on the picture of King Altador and he will give you a free item or neopoints from the king once each day. |
| | Advent Calendar - Once a day in December, pick up free items and/or neopoints at the Advent Calendar in Happy Valley. |
---
| | |
| --- | --- |
| | Wheel of Excitement - Spin the wheel once every 2 hours. Make sure you don't have any nice items in your inventory, as the Pant Devil pops up every now and again. There are bad things on the wheel, but you can also win the grand prize of 10,000 NP and the avatar or a really nice item or less neopoints. The wheel costs money to spin, 150 NP. |
| | Wheel of Mediocrity - Similar to the Wheel of Excitement, but you can spin it more often. If you win the grand prize of 1000 NP, you will get an avatar. Be wary of the negative prizes you might win, though. It costs 50 NP to play this wheel. |
| | Wheel of Monotony - For 100 NP, you can spin this wheel. Then leave the window open for a few hours and go about your business. There are a lot of good prizes on the wheel -- like Mazzew!! -- but a few negative ones too. (I'd say I get much more good than bad, though. Worth the wait.) |
| | Wheel of Knowledge - 500 NP allows you to spin this wheel. I haven't seen any really negative prizes, but I feel gypped if I only receive the grand prize -- Wisdom from the King. There are also game hints to win, and the lousiest prize of all -- the Brightvale Berry. Lots of times I will win books or windows, though, and a few times scrolls. |
|   | Wheel of Slime - Spin this wheel free every 8 hours if you like.  You will get neopoints every time! |
---
| | |
| --- | --- |
| | Ice Caves Scratch Card - You can buy a scratchcard here every 6 hours. They cost 600 NP. You can sell them for at minimum 800 NP or you can scratch them and see if you win. If you win an Ice Caves Scratch Card, you will get the Wocky Kiosk avatar. |
| | Deserted Fairgrounds Scratch Card - These scratchcards cost 1200 NP. They work similarly to the Ice Caves one, and you can get Sidney's avatar for winning. |
| | Lost Desert Scratch Card - These scratchcards are only 500 NP each and can be purchased every four hours! |
---
---
Note: I suggest only completing a quest that is not going to cost you a fortune. Most of the time, you won't get prizes worth more than a few thousand neopoints (and sometimes less). Edna's quests, especially, typically give very cheap spooky foods worth often less than 100 np. There is currently no penalty for not completing a quest. Just let the time run out and go back to try again.
| | |
| --- | --- |
| | Esophagor - Esophagor wants you to find him spooky foods. If the food is cheap, say Eye Candy or Spooky Shake, the reward will usually be worth more -- sometimes a book, piece of furniture, or food item. |
| | Snow Faerie - The Snow Faerie usually gives pretty decent rewards, consisting of a good item and a snowball, and a thousand or more neopoints. It's still a gamble, because once in a while she will reward you with an item that isn't worth much. I never spend more than a couple thousand neopoints on her quests, but after you try a couple, you can decide how much they're worth. |
| | Kitchen Quests - Completing a Kitchen Quest may give you an item or increase one of your pets' stats -- but you don't get to choose which pet, so it's a gamble.  Sometimes the Underwater Chef will give you neopoints for your prize -- usually less than 1,000. |
| | Edna's Tower - Edna's quests are rarely worth the points you'll spend on them. Sometimes she'll give you a rare spooky food, but most of the time it's a cheap food and a hundred or so neopoints. Complete enough of her quests and you will eventually get her avatar -- this could take one quest or a thousand, though. |
| | Brain Tree - In order to answer the Brain Tree's random question, you have to feed the Esophagor twice. The Esophagor, instead of giving you an item, will reward you with a unique answer to the Brain Tree's quest, which you should write down. Note:  The best way to complete a Brain Tree quest is to go to Esophagor FIRST, see if the first quest is cheap, and if it is, then accept the Brain Tree Quest.  You only get a chance to complete the Brain Tree quest each day, but you can complete a combined total of ten of the other types of quests. |
---
GAMES GALORE!

Garmfay's Games Guide - Garmfay has done a fabulous job of listing and linking ALL of the games, including some sponsor games that are hard to find on the site. Check it out; it's a really great way to earn some more NP!!
---
LINK BACK!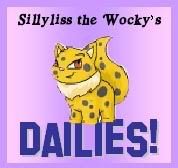 If you want your page to have a link to Sillyliss the Wocky's petpage, feel free to grab the following code and put it...well, anywhere you like:

---
MORE HELP!
I recommend a trip to these places for more neohelp!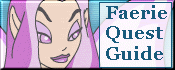 ---
Hope these links help you. Now, play some games -- flash and non-flash (I get the most random events while I'm playing non-flash games), enter some contests, and earn some neopoints!

Has this page helped you? Please send me a neomail and let me know.


Return to Sillyliss's user lookup.
Hungry? Try Kreludor's first and only fine Mexican restaurant

Why not take home a fine souvenir of your travels to Sillyworld?