Rules
Simple and Sweet
1. Your Kyrii must be a permanent pet.

2. Your pet cannot be a lab rat.

3. If you plan on putting your pet uft/ufa, please neomail me.

4. If you are happy with the directory, link back with a button!
Sitely
my favorites
affiliates
listed at
reviewed by
link back
Welcome to Kyrii Sweet Kyrii a directory for the greatest Kyrii in Neopia. To add your pet to the directory, or to join my affiliates neomail me.
The Kyrii are organized by color, and then by how recently they've been added to the list. Enjoy!

Note: This layout does not work in IE, please use Chrome or Firefox for best viewing.


Fast Facts
everything you've ever wanted to know
Kyrii are the 27th most popular species in Neopia with over 3 million owned by the lovely owners of Neopets!

Kyrii is both the singular and the plural of the word.

Capara is the most famous Kyrii because of her love for Cheat!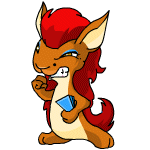 There are currently
54
Kyrii listed.
The Kyrii
organized by color
Baby




Goldenstreme
IdgiePooterbaugh
McPoof
kyxer
Shiloh_Blu
Draite
Sivel

Camouflage




Alladdyn

Chocolate



Akechyta
Akanishii
Dhismey
Azarulla

Christmas




Shimiko

Darigan




ty76ytr
Ufazin
jamalivian

Desert




scaler_boy
Vaerie
Eliptesial
Thornseer
Zedext


Disco


Jipala
Laysike
Gooch_Lonewolf



Faerie


Hamilton02
max_twister
Sephairn
Catysn

Fire


Oudu
Rhydal

Ghost


Phaatine

Gold


Mhilost

Grey



Rulaen
Lebyby
Puyk
Xehol

Halloween



Mandarck
Innomous
Kelthie
Nyrale
Vbear

Island


Txuko

Jelly



Jystio

Maraquan




Sadukaa
Foph

Mutant


Stanello
Ivaena

Pink


Kirkn

Purple


gliterxinhu
Melvick

Robot



Isrephel

Royal Boy




Timbuktu
Napoleon_Don_Juan
Yukikune
Aterrados
Zafhar

Royal Girl




Elyrea
Wynture
Koci
Kathreen
Nepha
Roseko
LaurenElizabethh
Apricorn

Shadow




Mythiss
margiela

Spotted




Cuflipo

Starry


Roft100

Water




Femm
Stargirl1001
sneed65
wateropal

White




Woostah
Vorixa
Dhoulmagus
Prinnce
Opacen
NEOPETS, characters, logos, names and all related indicia
are trademarks of Neopets, Inc., © 1999-2013.
® denotes Reg. US Pat. & TM Office. All rights reserved.
PRIVACY POLICY | Safety Tips | Contact Us | About Us | Press Kit
Use of this site signifies your acceptance of the Terms and Conditions