Get your Neopet by clicking mine!
The mighty Lupe!

Good Day guest, I am tanikwish's Lupe. My name is lopez7. How are you? Don't be afraid of me and my teeth. Okay?
As Lupes go, I am doing very well, thank
you for asking. I am a level 31, and am 125331 hours old.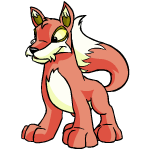 My Stats
Strength: 35
Movement: 26
Defense: 30
Maximum Hit Points: 29
Current Hit Points: 59
Intelligence: 72
Gender: Male
Battledome Games Played: #BD_PLAYED
Won: #BD_WON
Lost: #BD_LOST
Drawn: #BD_DRAWN
Score: #BD_SCORE
Would you like to know more about,