True Colors Of Neopia Guild Activity Page
Are you a member of the guild True Clors Of Neopia? If not, you should
join!
If you are, welcome to our activity page! It's sort of under construction, but we're moving as quickly as possible. c: Patience is... awesome! Might as well get moving... There's not much to do, but at least look around and see if anything sparks some interest. There aren't really any prizes, but it's fun anyways. Shall we continue?
Note: With everything you need to send something in, neomail it to starry_pride.
1 NP Auctions
Yes, it's true. This guild is so awesome it has 1 NP auctions. To participate in these, you must be a member of the guild and a neofriend with starry_pride. That's me! If you are in the guild, I will absolutely accept your neofriend request. :) If this wonderful privilege is abused (such as people joining the guild for the sole purpose of profit) then we will remove this activity. We're clear? Awesome! So we're hoping to start these auctions as soon as we have enough members. The current auctions will be posted on the guild homepage. Check it often!
Caption Contest
We have our very own Caption Contest! Isn't that cool? All you have to do is think of a witty caption(s) for the image displayed, or vote for other people's captions.
This is the current image: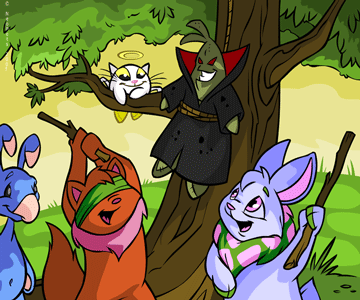 These are the current captions:
None yet! :(
Mystery Item
Can you guess the Neopian item shown in the zoomed in image below?
Difficulty: Medium
Hint: Get to the other side of the road!
Winners
9/28/2010 : Serena guessed 2 Mystery Items correctly - it was a Mossy Rock and a Red Bottle of Sand!