Scooby's Petpet Rescue Guide!
welcome
:
you should check out my other guides!
Extreme Herder


Get 250 points on Petpet Rescue to get this avatar!
Overview of the Game
:
In Petpet Rescue, you control Samuel a petpet crusader. Gargrall, the evil, nasty grarrl, has been imprisoning cute little petpets and forcing them to work in his underground ruby minds. Your job is to get down into the Mines and liberate as many petpets as possible
Use the arrow keys to control Samuel. To pick up a petpet, you simply pick up the petpet by sitting on it and quickly take it back to the door individually. You cannot carry more than one petpet. Every petpet you return is worth 10 Petpets. You have to return a different amount of petpets each round. You can also pick up gems which earn you bonus points.
Yes, it does look very easy so far, but there are obstacles! While playing, you have 4 lives. If will lose a life each time you are hit by a boulder, hit by a stalactite, or end up in lava.
Parts of the Screen
: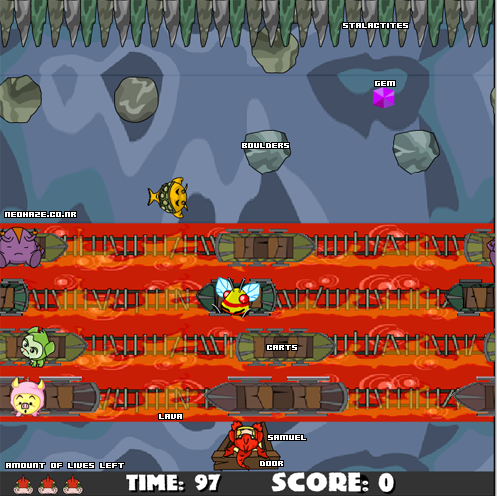 Samuel

This is who you control. Use the Arrow Keys to move him around.
Petpets

Pick these up by guiding Samuel on the Carts. Land on top of one and take them back to the door.
Door

After collecting a Petpet, guide Samuel back here and you will earn 10 Points.
Carts

Guide Samuel to collect petpets by moving him onto these [the carts]. Remember they all go different speeds!
Lava

AVOID THIS! When you are on a Cart, when going from cart-to-cart, if you land in the lava, you will lose a life.
Boulders

AVOID THESE! These are moving very slow in the First Round, but if you do get hit by one, you will lose a life. These are very hard to avoid in the 3rd and most important round.
Stalactites

AVOID THESE! Stalactites fall as you get farther into the game quite often. They fall around the area you hang out in, and if you are caught on a cart, they can be hard to avoid. Be smart! If you see one that looks like it is fixing to fall, wait, unless you are almost out of time.
Gems

If I were you, I'd collect as many of these as possible. In fact, everyone you see. They really do add up.
Purple Gems: Worth 5 Points. You see these in all the Levels.
Blue Gems: Worth 10 Points. You see these in Level 2 and 3.
Green Gems: Worth 15 Points. You will see these in Level 3 +.
Amount of Lives Left

Name says it all! The more the better (: You actually have 4 lives, although it only shows you have 3. Once all of the images disappear, you are on your last and final life.
Strategies
:
Basically, the strategy is quite obvious. Avoid the lava, boulders, and stalactites and collect petpets and gems. To make it easier, I have broken it down into levels:
Level 1
80+ Points
You must collect 4 Petpets.
If you lose a life, restart.
If you don't have atleast 3 Purple, Gems, restart. Some people say you need 4, but I got the avatar with 3, so you can, too.
Level 2
120+ Points, giving you a score of ATLEAST 200.
You must collect 6 Petpets.
If you lose more than 1 life, I'd restart, unless you are good at avoiding boulders.
Hopefully you will get around 25 points with Gems.
Level 3
50+ Points, giving you a score of 250.
You must collect 8 Petpets. (most people don't make it to level 4)
Play until you lose all of your lives.
Make sure you collect all the Gems. Practice in the first few levels so when you get to this level you can make it pass all of the carts and boulders and get the gems at the VERY top.
Note: After you complete each round, you will be awarded 25+ Points. I have already added this in the scores given above!
Conclusion:
I hope this guide gave you some extra knowledge about Petpet Rescue, and hopefully you have obtained the spiffy avatar, possibly the trophy! If you have any questions, comments, or concerns, feel free to neomail me! (:
css from lemon zest !