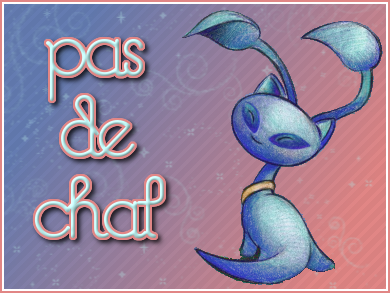 The Graphics
Welcome to Pas de Chat! This is the main page of my graphics site. From here, you can get to any of the other pages. I don't get a chance to update as often as I used to, but I'll try to get some new stuff out before too long. =)
Requests are all closed, for now. I have a three year old daughter, and not a whole lot of time during the day.
Use these wherever, just don't claim them, please, and leave the links on, thanks. =)
Icons


















---
Mood Indicators

To change your Mood, change the word "happy" in the image URL to "sad", "mad", or "sick".
Apple
Lemon
Orange

Cherry
Sundae

Bear
Reviewed!
Awards/Thanks