Silly Sayings & Siggy Quotes!!


Welcome to the Sayings page. Here you will find funny quotes, sayings, giberish and siggys i like and want to scar you with share.
Feel free to use them and send me ones i dont have that you like and i'll see about putting them up, if you send one to me i will
give you credit if you want.....you may not get some of the stuff that is a quote from a book or something but i but them in anyway as my own injoke.
When i first made this page i kept it pretty much neo censored, and it still is but i've put in more adult based humour jokes recently so hopefully its not to rude.


- If you strangle a Smurf, what color does it turn?


- I always wanted to be somebody, but I should have been more specific.


- If your parents never had children, chances are you won't either.


- When I was a kid, I had two friends, and they were imaginary and they would only play with each other.


- Just because you don't understand it doesn't make it stupid. Your icons make me want to die, but maybe I just don't understand them.


- Emo, Like a Goth, only much less dark and much more Harry Potter.


- Whatsthatbigbuttonatthebottomofthekeyboard?


- JOIN THE ARMY: Vist exotic places, meet strange new people.........Then kill them.


- Its not that i'm afraid to die, i just don't want to be there when it happens.


- I don't want to achieve immortality through my work, i want to achieve it through NOT dying.


- Money is better than poverty, if only for financial reasons.


- I can resist everything exept temptation.....


- I NEVER apologize. I'm sorry but thats just the way i am.


- A book is not to be tossed aside lightly......it should be thrown with great force.


- I am free from all prejudices. I hate everyone equally.
............And if you don't like that, i'm pretty sure i know hate you personally..


- CHEER UP!, the worst is yet to come.


- Build a man a fire and he'll be warm for a day, set a man on fire and he'll be warm for the rest of his life.


- In just 2 days, tomorrow will be yesterday.


- I like work. It fascinates me. I sit and look at it for hours.


- Dont confuse efforts with results.


- Before giving someone a piece of your mind make sure you have enough to spare.


- Everyone makes mistakes. The trick is to make them when nobody is looking.


- Everyone wants to go to heaven but nobody wants to...DIE!


- Some people are like slinkeys, they are good for nothing but can still bring a smile to your face when you push then down STAIRS!.


- Always forgive your enemies - Nothing annoys them so much.


- If Barbie is so popular, why do you have to buy her friends?


- When everything's coming your way, you're in the wrong lane.


- I used to have an open mind but my brains kept falling out.


- For Sale: Parachute. Only used once, never opened, small stain.


- Always remember that you are absolutely unique. Just like everyone else.


- If it were not for Thomas Edison, we would all be watching television in the dark.


- There are very few personal problems that cannot be solved by a suitable application of high explosives.


- I don't have an attitude problem. You have a perception problem.


- I don't suffer from stress. I'm a carrier.


- Do not meddle in the affairs of dragons because, to them, you are crunchy and taste good with ketchup.


- The main purpose of holding children's parties is to remind yourself that there are children more awful than your own.


- Show me a sane man and I will cure him.


- I am not a vegetarian because I love animals; I am a vegetarian because I hate plants.


- 4/5 of the people have a problem with fractions. The other 50% don't.


- I'm in NO SHAPE to exercise patience.


- I'm Getting In Touch With My Dysfunctional Side


- There is no problem so big or complicated that it can't be run away from.


- I lost my temper, BUT IT CAME BACK!


- People like YOU are the reason people like ME hate PEOPLE!


- 333 - I'm Only 1/2 Evil


- Runs with scissors.


- It's A God-Given Right To Take Your Problems Out On The People Around You.


- I Chose The Road Less Traveled. Now Where Am I?


- I don't suffer from stress. I'm a giver.


- Time is the best teacher. Unfortunately, it kills all of its students.


- Enough about me ... what do you think about me!


- TAKE MY ADVICE, (I don't use it anymore)


- I don't have a drinking problem, i drink, i get drunk, i fall over...NO problem.


- Avoid hiring unlucky people.........Throw out half the resumes. - keng200


- I imagine a world without wars, a world without problems and i imagine us attacking that world because they'll never see it coming....


- Love may have thorns but without love you will never see the rose.


- You are the reason people like me hate people.


- Change is good, So you go first- violetfish


- I would pay attention,but Im low on money.- violetfish


- Olive oil is made from olives,vegtable oil is from vegtables,and baby oil is from...OH NO!- violetfish


- When life gives you lemons...go find a guy who life gave teqelia. and have a party!


- If you don't learn anything in school at least know the alphabet. Becuse when plan A fails what are you going to call your back-up plan?- Wocky1322


- A=sucess in life. A=x y z. X=work Y=play Z=Keeping your mouth shut.- Wocky1322


- If you truley love something let it go, if it doesent come back hunt it down and shoot it.


- "Whoever said nothing is impossible, never tried slamming a revolving door..."


- Our president fell off his bike, and today declared war on gravity


- "My mind works like lightning... one brilliant flash and it's gone."


- Foot: A special device for finding furniture in the dark.


- "My opinions may have changed, but not the fact that I am right!"


- "Programming today is a race between software engineers striving to build bigger and better idiot-proof programs, and the Universe trying to produce bigger and better idiots. So far, the Universe is winning."


- "If something goes wrong... blame the guy who can't speak English."


- I've had bad luck with both my wives. The first one left me and the second one didn't


- My wife lost all her credit cards, but I'm not going to report it. Whoever found them spends less than she does


- I'd kill for a Nobel Peace Prize.


- "If you can't convince them, confuse them."


- The way to become famous fast is to throw a brick at someone who is famous.


- "In awe I watched the waxing moon ride across the zenith of the heavens like an ambered chariot towards the ebon void of infinite space wherein the tethered belts of Jupiter and Mars hang forever festooned in their orbital majesty. And as I looked at all this I thought...I must put a roof on this lavatory."


- I have opinions of my own - strong opinions - but I don't always agree with them (George Bush)


- "A lady came up to me on the street and pointed at my suede jacket. 'You know a cow was murdered for that jacket?' she sneered. I replied in a psychotic tone, 'I didn't know there were any witnesses. Now I'll have to kill you too.'


- "A successful man is one who makes more money than his wife can spend. A successful woman is one who can find such a man."


- "The trouble with being punctual is that nobody's there to appreciate it."


- Never go to bed mad. Stay awake all night and plot horrible REVENGE!!!!


- "Some people say that I must be a terrible person, but it's not true. I have the heart of a young boy in a jar on my desk." - Stephen King


- "You tried your best and you failed miserably. The lesson is 'never try'."


- If a kid asks where rain comes from, I think a cute thing to tell him is "God is crying." And if he asks why God is crying, another cute thing to tell him is "probably because of something you did."


- Doing nothing is very hard to do...you never know when you're finished.


- Only two things are infinite, the universe and human stupidity.


- "The dumber people think you are, the more surprised they're going to be when you kill them."


- The day Microsoft makes something that doesn't *blocked* is probably the day they start making vacuum cleaners.


- "I know Karate, Kung Fu, Taekwondo and many other dangerous words."


- "Always forgive your enemies, but never forget their names."


- "Keep smiling, it makes people wonder what you're up to."


- I almost had a psychic girlfriend but she left me before we met.


- I intend to live forever -- so far, so good.


- Eagles may soar, but weasels don't get *blocked* into jet engines.


- If you can't fix it with duck tape you haven't used enough


- Love is like a rose in winter, only the strong survive


- Smile, and the world will smile with you. Laugh and they'll all think your on drugs.


- "Where there's a will, there's a way. And where there's a way, then there's usually a stop sign somewhere along the road."


- So Many Pedestrians - So Little Time.


- Eat Right, Exercise, Die Anyway.


- If We Quit Voting, Will They All Go Away?

- Guys: No Shirt, No Service. Gals: No Shirt, No Charge


- None of us are virgins, life has screwed us all


- I'm going to live life or die trying


- "When they put unknown at the end of a quote, that means they probably don't no how to spell anonymous"
-unknown


- "They misunderestimated me!" -George W. Bush"


- The whole world is going to hell and I'm driving the bus


- If at first you don't succeed, cheat, repeat until caught, and then lie!


- I love him, O yes I do, He's for me, not for you, And if by chance you take my place, I'll take my fist and smash your face!


- OUT TO LUNCH: IF NOT BACK BY FIVE, OUT FOR DINNER ALSO


- When I was a kid I said to my Father one afternoon, "Will you take me to the zoo?" He answered, "If the zoo wants you, let them come and get you."


- It takes a rather special sort of person to follow soaps. You have to be highly intelligent (to understand them) and as thick as a brick (to want to).


- Since light travels faster than sound, isn't that why some people appear bright until you hear them speak?


- Why do banks charge you a "non-sufficient funds fee" on money they already know you don't have?


- I always take my wife morning tea in my pyjamas. But is she grateful? No, she says she'd rather have it in a cup.


- You want to look younger? Rent smaller children.


- If a tree falls in the forest and no one is around to see it, do the other trees make fun of it?


- If I shot you in the middle of the woods and no one was there to hear it would I go to jail?


- Is it true that cannibals don't eat clowns because they taste funny?


- Why do they call them 'apartments' when there all stuck together?


- Why is a building called a 'building' when its already been built?


- Do they have reserved parking for non-handicapped people at the Special Olympics?


- I don't get high, but sometimes I wish I did. That way, when I messed up in life I would have an excuse. But right now there's no rehab for stupidity.


- People who read the tabloids deserve to be lied to.


- Coke is God's way of saying you're making too much money.


- Reality: What a concept!


- Why do they call it rush hour when nothing moves?


- I've found that liquor is a good cure for philosophy.


- Intelligence does not equal sanity. Or competency.


- Did you just tell me to calm down and drink more coffee?


- "I think that's how Chicago got started. A bunch of people in New York said, 'Gee, I'm enjoying the crime and the poverty, but it just isn't cold enough. Let's go west.


- fact of life #3478- Items that are easy to steal usally make crap presents.


- English doesn't borrow from other languages. English follows other languages down dark alleys, knocks them over and goes through their pockets for loose grammar.


- "Bleach...isn't that the stuff you're not suppose to drink?" (thats an anime refrence ;p)


- Education is a progressive discovery of our own ignorance.


- I want to die in my sleep like my grandfather... Not screaming and yelling like the passengers in his car ...


- "My mom said she learned how to swim when someone took her out in the lake and threw her off the boat. I said, 'Mom, they weren't trying to teach you how to swim.


- I don't suffer from insanity. I enjoy every minute.


- I'm out of my mind. Feel free to leave a message.


- My train of thought has derailed.


- If vegetarians eat vegetables, what do humanitarians eat?


- Why is it, when a door is open it's ajar, but when a jar is open, it's not a door?


- Tell a man that there are 400 billion stars and he'll believe you. Tell him a bench has wet paint and he has to touch it.


- Roses are red; tomatoes are to. If i had one now, I'd throw it at you. -unexplained_moron


- If a traffic warden gets knocked over by a vehicle in a car park, does everyone cheer?- Sam (aka sambeck64)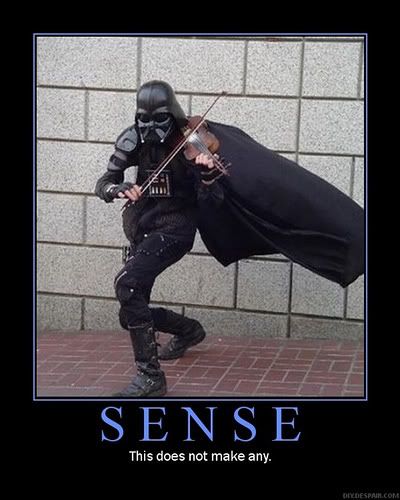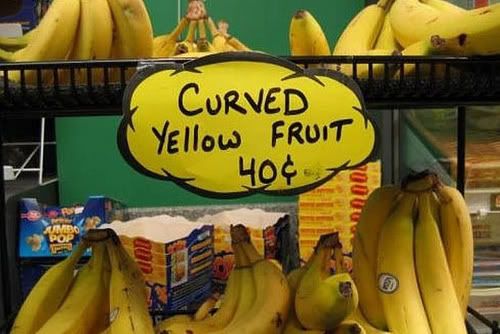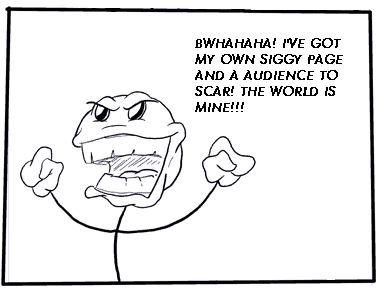 Disclaimer:'Sticky the stickman' is a character made by Alan Foreman. He is a character from one of his many comics.

I've been thinking of adding some of my vast collection of funny pictures and such (i'll aim away from the rude ones :P) what does everyone think?
Neomail me

NEOPETS, characters, logos, names and all related indicia
are trademarks of Neopets, Inc., © 1999-2013.
® denotes Reg. US Pat. & TM Office. All rights reserved.
PRIVACY POLICY | Safety Tips | Contact Us | About Us | Press Kit
Use of this site signifies your acceptance of the Terms and Conditions