UNDER CONSTRUCTION

Introduction [Top]
-

Personality [Top]
Deeply cunning and calculating, Zahil is someone to be on the watch out for. He's not exactly mean, but he enjoys intimidating others and has a very chilly, cynic and strict way. Order and etiquette is something that he highly priors and he will frown upon anyone who doesn't know how to behave properly. He feel pity for few, especially if their situation happen to have been caused by themselves. Zathil is also very intelligent and possesses lots of knowledge about the world.
Zathil is very skilled when it comes to speech, he can easily put others down as a revenge. He is skilled at reading others by analyzing and picking up hints in, for example, their speech and expressions. It is hard to keep anything secret for him, and in the end he'll use all this knowledge to sting with his words where he know it will hurt the most if he need.
Naturally, Zathil tend to bring a nasty, intense atmosphere wherever he goes. And he loves that. One thing he can't stand is when others do not respect him, and he is ready to go far to make sure they do so.
Nevertheless, the few that actually manages to gain his respect will get to see quite another side of him. Even thought still strict and utterly mannered, Zahtil can be very polite and a real gentleman but only towards those who he thinks earns it. One attribute that Zathil appreciate in others besides civil behaviour are intellect and the ability to have smart conversations. Zathil indeed a very powerful person to have as a friend and he will, by all means, protects the ones he has approved.
And having Zathil as an enemy is... not nice...
Otherwise Zathil doesn't mind being alone and it's even the state he favours most of the time. His greatest hobby is reading and he often retreats to enclosed rooms where he can be on his own and at peace. He have a bit of an interest in writing too and, surprisingly to some, Zahil often puts together well-constructed poems or long, philosophizing texts. He also enjoys numbers, especially if they are related to money; looking into economics is a pure pleasure to him.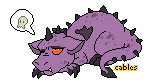 History [Top]
Zathil was born into a sophisticated, tightly bound and rich family. He quickly adapted high manners by watching and learning from his parents doings, and soon he where introduced to the society that their parents was a part of.
Eventually Zathil inherited his parent's legacy. The amount was by far enought to let him live a wealthy life without doing a things, Zathil could have retired right then if he had wanted to. But, as it was in his nature, he instead started to look for some sort of project to work with...
Zathil had also gotten the family's property... Namely a villa upon Terror Mountain. It wasn't the fanciest of places but it was big and could certainly contain many more then just him. It soon stroked the skeith that he could rent the rooms... Not that he needed the money but it was more of a hobby kind of thing. Not to mention how lonely he felt with living in such a big place all alone.
After some minor restorations and changes to the house, Zathil was ready for business. It didn't take long before interested neopians came to look. It wasn't easy to find actual costumers however; the house was placed so that it basically required ability to fly to get there and, ontop of that, the house was built for bigger creatures like Zathil himself. In the end, Zathil figured about giving up, until a thuggish skeith called Borzuka moved in. Later, another skeith called Dorukk moved in as well, and in time he brought a friend, who brought their friends and soon the houses rooms where ccupied.
But Zathil also got himself a nasty surprise. He realized that he didn't quite get along with any of the renters. Thought, considering how hard it had been to get them there in the first place, Zathil decided to let them stay anyways... And after all, he still had a good, isolated part of the house all to himself, a place where he could retreat to as he desired. Besides, it wasn't so that he felt any true rage against any of the inhabitants of the house, it was just so that many of them annoyed him... a lot. But then, Zathil also thought, annoying neopians was still better then complete solitude.




Appearance [Top]
Zathil is a well-built and very healthy darigan skeith. He puts lots of effort into making sure he eats and exercises well, keeping himself in good shape.
Zathil has a small and simple piercing in his right eyebrow and he often wear golden rings upon his fingers, all given to him by his parents.
Sometimes Zathil wears clothes or accessories, where his favourite seam to be a deep red "shirt". If he wears it, he usually is equipped with two heirlooms that he put great value in; a monocle and a golden pedant watch. At times he may wear a full set of clothes but only at special occasions such as important meetings or if it simply happens to be very cold outdoors.
Zathil have high class and is always making sure that whatever he is wearing is looking as tidy and respectable as possible. Keeping his monocle well polished and his shirt newly ironed is a must!
To view a reference, pull it to your address bar.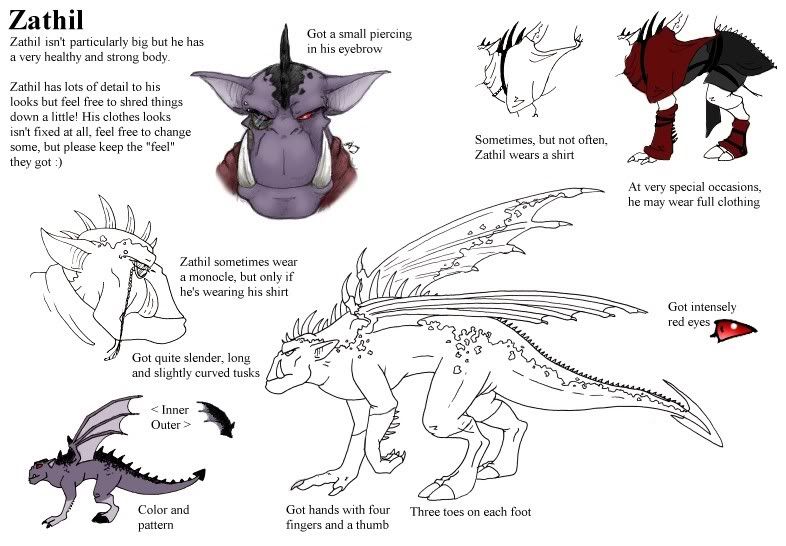 Family, Friends and Foe [Top]
Zathil have great network of various contacts that he was introduced by his parents. However, the people he have a more social contact with is the other skeiths he chare his house with. Most of them annoy him to no end, but their company is still better none. Thought, Zathil greatly enjoys being on his own most of the time.


| | |
| --- | --- |
| | Borzuka have a rather crude and violent way to treat others. This has made Zathil gain a fascination in Borzuka, even if she is extremely unsophisticated. But it shall also be mentioned that Zahil truly laugh behind her back; he might be interested in her brutality but that doesn't mean he respect her in any kind of way. |
| | Dorukk appear to have lots of style but Zathil still dislike Dorukk because of his attitude and way of living; Dorukk is a thief and often acts to get his way trough, something that Zathil finds both tasteless and dishonest. |
| | Zibius is a quirky, anxious and a bit mentally instable skeith. Zathil is greatly entertained by her, and often pull really cruel jokes on her for his amusement. At times he might even use the poor skeith as a tool to bother others. |
| | Nirax is big hearted and therefore greatly disapproves many of Zathils ways. And, in difference from many others, she will let him know this, and she does so in a cheeky and smart way. The two are a bit a "pet-enemies" really... They can often be heard duelling each others with clever insults. |
| | Grimwag is ruthless, cheerful and have as good as no manners... Being pretty much as his opposite, Zahil truly despises this skeith. These feelings are shared thought as Grimwag herself doesn't enjoy the pessimistic and vicious Zahil's company at all. |






Art [Top]
Here's some pictures of Zathil. The artists have their name and a link to their main-account under their art, and thouse without such have been made by me. FAQs about my art can be found here.
To view a picture, pull it to your address bar.








Adoptables [Top]
-

Links [Top]