Talyco of the Light
~Intro
You find yourself floating through the depths of space when through what seems like a distant firework comes a small figure. You can't quiet make out what it is untill it comes closer. It was right in front of you when you noticed it wasn't an it, but it was a she. "She" was a yellow spotted krawk. What was most unusual about her appearance was the two horns sticking out of her hair. "Well hi there!" Her mouth opened up and let out an energetic young voice. Reality seemed to fall with a thud around you. "Helloooo? what silly person falls asleep in the middle of a forest?" Her voice snapped up your attention.
I'm Talyco and you fell alseep here." She tells you. You sit up and indeed she was right you fell asleep in the forest. Now how'd you do that? You turn and ask. "How did you find me?" She sigh and replies. "Come with me and I'll tell you."
(*)(*)(*)(*)(*)
~Story
Well, where to begin? It's hard to decide when there's no really story. I'm not a sob story pet of an all powerful pet. I just dabble in magic. I was born like most pets. Woods took me in and she was nice. I was morphed into a krawk and painted speckled. I started an apprenticeship with a local magician. I was more talented in light magic than the other so I eventually dropped lessons in the other elements. I took on light magic full time and when my apprenticeship ended I travel for a bit visiting other magicians. I learned a lot over the couple years I spent learning magic. I can still do basic elemental magic like distilling water and creating a spark to start a fire. So yeah, now I'm just kind of hanging around. Right now I'm learning how to ride a broom, and let me tell you it's hard. I've fallen off the broom more than I've whithered plants with magic. There's no real call for a light magician now anyway, but If there were any call for a light magician, or any magician, I will answer that call.





(*)(*)(*)(*)(*)





~Stats


I'm always up for a good fight! I can beat up anyone! I dare you to even try and hit me; I'm too fast. Most of the fighting I do is agianst bad stuffs like evil and jubjubs.


~Level: 14

~Health: 28

~Intelligence: 35

~Strength: 28

~Speed: 17

~Denfence: 18

~Appearance: Yellow with spots. cream color on hands legs and end of tail. Cream color hair tired with red bandana. Turquoise eyes. Two short horns on her head.

~Powers: She can glow, throw balls of light, illuminate a room, light candles or lamps, and make small things glow.





(*)(*)(*)(*)(*)





~Likes & Dislikes


Yeah this is pretty usual stufff. 'Cept thoses jubjubs aren't supposed to be there. Now excuse me while I have a 'chat' with Woods.

Likes
~Light
~Friends
~Talking
~Cookies
~Music
Dislikes
~Darkness
~Meanies
~Jubjubs
~Sasuages
~Evil




(*)(*)(*)(*)(*)





~Family & Friends


I love my family so much! I'd never live without them. Friends in the other hand, well lets just say their lacking. I'd love to roleplay and maybe make some new friends.

This is the infamous Woods. She is my keeper, not my owner. That'd be silly. Anyway She draws lots of pictures of my siblings and she's prettty good at that. She is lazy though, never lifts a finger. She spoils us so it's all good! She also makes all the money in the family. She's good at playing the stock market. She always says "Oh my Goose!" when she has nothing intelligent to say.


This is my sister ___WhiteStar__. We all just call her WS. While she's not a krawk she's still pretty awesome. She's a bit shy though and tends to hide away a lot. What's really cool is that she can control winds and she can also fly even though her wings look to small to fly. Anyway, She is definatly my favorite sibling.


Zakrin is the lab pet of the family. He's always different so we don't know much about him. He's got a different personality every day so you never really know when he might snap. Although it's really cool that he can change colors all the time. He turned chocolate once. Hehe, you should have seen the look on Woods' face.


Ague_rey is the Lord of Winter. He's also my pheophin cousin. He dissappears all the time so I rarely ever get to see him. On Christmas all of the family gets together so I get to see him then and he's really nice. He's like my big brother I never had that just happened to be my cousin.


Parathior is really girly. Too girly is you ask me. She's got faerie wings and she's a purple eyrie. She's gone a lot too. Cousins, what would I ever do without them? I don't know anymore about her than I do Ague. Oh, well.




(*)(*)(*)(*)(*)





~Art by Others


This is where all the art by other people goes. They're all so awesome I love all you guys! I'm also open for trades, so just neomail me. I love getting art done of me!

Thanks so much purple_pwns! It's so totally awesome! You made me look so great!




(*)(*)(*)(*)(*)





~Adoptables


Oye! what's this? Woods finally made the adoptables! These adoptables only come in customs, so get in line! When yours is finished you will be asked to agree to these rules. 1)you won't remove the name. 2)you won't claim it as your own. 3)you won't enter it in any contest.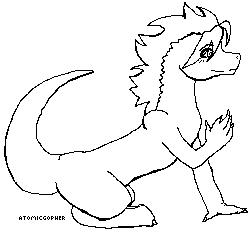 ~Customs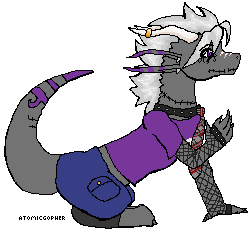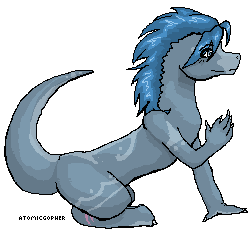 (*)(*)(*)(*)(*)





~Goodbye


Well I suppose it's time to say ta ta. So I hope you had fun and learned a bit. Now if you want I have links. So pretty please link back to me. Thankies!









NEOPETS, characters, logos, names and all related indicia
are trademarks of Neopets, Inc., © 1999-2013.
® denotes Reg. US Pat. & TM Office. All rights reserved.
PRIVACY POLICY | Safety Tips | Contact Us | About Us | Press Kit
Use of this site signifies your acceptance of the Terms and Conditions