The Secret Rulebook


An Unofficial Compilation of Content Rules for the Neopian Times
Table of Contents
Introduction
The Rules
1. Violence
2. Romance
3. Birth and Family
4. Copyright and Trademark
5. Technology
6 Petpets
7. Crime and Punishment
8. Hybrids, Faeries, Old Names, and Nonexistent Colors or Species
9. Jelly
10. The Real World and Other Universes
The Tips
1. Short Story vs. Series (Wordcount)
2. Originality
3. Grammar and Spelling
Link to Us!
This page began as an unofficial place to find out the content rules for the Neopian Times, since for some time the officially posted guidelines didn't go into much detail beyond relevance to Neopets, originality, and caution about death and controversy. This was important information, of course, but as the site grew and changed, the goals and restrictions of the NT had been further defined and had grown well beyond what was actually displayed there. Therefore, private Neopians began collecting and distilling information from our own experiences with rejection letters and contact with the NT editors.
As of July 12, 2006, the Handy Tips page was updated. We now have a current, official description of what's permitted and what's discouraged. I would encourage you to remember that no reasonably concise listing can cover every possible situation, so take this as the good-faith effort it is and don't discourage them by getting huffy if you come up with something they weren't expecting.
In honor of this happy publication, SecretRulebook the Lenny has been painted from Invisible to Faerie.
I'm leaving up the rest of this page as something of a supplement, with minor edits. The research (very much a joint effort) seems to have been pretty accurate, and some elaboration based on experience of how the rules are applied might still be useful to prospective NT authors. Enjoy!
The Rules
1. Violence. Keep it down. Some people will tell you that death is forbidden, but this isn't exactly true; character death occurs in plenty of accepted stories. Gruesomeness, however, is a problem. Stories that are very emotionally disturbing may also be rejected for violence, even if no physical violence is narrated.
What to do: What crosses the line is partly a judgment call. Try not to describe injuries in any more detail than is necessary for your story. Try to focus on actions rather than anatomy. Try to find ways to communicate what's going on without going into too much detail. Don't bring up blood (or most other body parts or fluids normally kept internal) without a compelling reason. Also, visual art may have less leeway than verbal description.
2. Romance. The official site plots lately dwell on this a great deal more than the average user submission is supposed to. That said, the last I heard, you could have Neopets have crushes on each other and even invite each other to such events as dances and concerts, but you couldn't say they date, marry, or engage in activities more physically intimate than a hug. It is possible to make the type of relationship you intend perfectly clear without ever stating it outright in forbidden terms, and you're allowed to write about the site plots, but making romance or especially physical intimacy the primary topic of your story is not likely to go over well.
Minor mentions of either violence or romance within the context of a longer, more elaborate plot have a better chance of acceptance than stories that dwell on either.
3. Birth and Family Family relationships are allowed, though I believe that at one time they were not. Your characters may have all the relatives you please, whether by blood or adoption, and you might be allowed to mention that a character's parents are married now. You may say that a Neopet is related to Neopets of other species. I'm not sure if you're allowed to say a Neopet is related to a Faerie, although I imagine that if you specify adoption that would be fine too.
What you are not supposed to do, or so I've gathered, is get into too much biological detail. A Neopet may be shown hatching out of an egg in considerable detail, but depicting the process of giving birth (or perhaps of laying an egg) would be doubtful. I think I've heard of the origin of Neopian species being a discouraged subject, but I don't have current information on the subject.
4. Copyright or trademark. Avoid claiming copyright on your work (technically you may have it, but you're turning over the right to publish it to Neopets) or mentioning things that are copyrighted or trademarked by other entities, even if you give proper credit. This includes sponsors.
5. Technology that does not exist in Neopia. This mainly means electronics and automobiles. It's also a particularly puzzling category.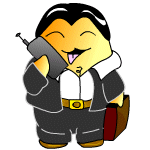 Contrary to appearances, the above technology does not exist in Neopia. TNT's explanations have been that being shown in a game (which includes the stockmarket) doesn't count as existing in Neopia, and that the car and cellphone are merely nonfunctioning props.
Actually, you might be able to get away with the phone. There's a general loophole about electronics: if you ascribe their origin and manufacture to Virtupets, you can usually get away with it. If you take this route, however, you may want to consider the implications of making Sloth responsible for the items your characters are using.
You can also use this loophole for spacefaring vehicles, and presumably the Alien Aishas have their own spaceships and other gadgets.
If you want something better than the loophole, try thinking about the real purpose of the device you want to include. Be creative and think of a way to make something magical take its place, or consider whether the story might even be more interesting if using that device weren't an option.
If your device is clockwork or magical, you're probably all right. If you refer to an actual Neopets item (non-sponsor), you'll probably be all right as long as you make it clear in a story or a note to the editor. You may also be able to get away with writing about technology shown in a game if your entry is clearly about the game itself or its characters, rather than assuming the items are a part of daily life in all of Neopia.
I will pause here to address the technology you use to access Neopets: generally speaking, in articles you are allowed to acknowledge that we're all playing a game; in all other entries, you are currently expected to avoid that. More on this in 10. The Real World and Other Universes. You may be able to show someone using a computer in a comic, but you'd probably be safer if you draw a Virtupets logo on it.
6. Talking petpets. There used to be a rule against having petpets talk. As far as I can tell, there isn't anymore.
7. Crime and Punishment -- or, human rulebreaking or the consequences thereof. This is partly speculation on my part, but it does seem to summarize the practice: Sloth or Jhudora can enslave Neopets; Masila can worm her way into someone's trust and make off with all their money; assorted other thieves roam all over Neopia, and some are even presented as heroes. It seems to be iffy, however, to show humans/owners breaking the rules or encouraging others to break them. I don't believe there's a specific rejection letter for this, and I don't think it's been mentioned as an explicit rule, but it appears to be safer to avoid.
There is definitely a rule about mentioning the consequences, at least in stories; articles may sometimes have more leeway here. Freezing and so are most other references to site discipline are largely taboo in the Neopian Times. The Chia police who appear to give warnings have (I think) previously been forbidden, at least as the focus of a story; passing mentions seem to be okay.
Law enforcement may be present in stories, but if it's more than a passing mention, you may want to be careful about how close you get to realistic (or for that matter televised) modern practice -- for instance, I've heard that dwelling on prison or jail/gaol may be discouraged, but dungeons seem to be fine. You might try the Defenders of Neopia, or something area-appropriate in the worlds with distinctive governments.
8. Hybrids, Faeries, Old Names, and Nonexistent Colors or Species This one's a little miscellaneous, but it's all about variations on what TNT has invented.
--You can't present a character as being part one species (Neopet, petpet, or Faerie) and part another one, unless it's a character Neopets already created that way.
--You also can't show a Neopet or petpet in a color it couldn't actually be painted. (I think. Implementation has varied on this before.)
--Some species' names and appearances have been changed drastically. Uses of the old names will probably just be edited rather than getting the entry rejected, but the fact that they seem to be discouraged seemed worth addressing.
--Apparently you don't get to make up new types of Faerie -- you have to stick to the six basic types and whatever special ones TNT has already created. (A new office -- along the lines of the water Faerie who has the job of being Fountain Faerie -- might be acceptable, but that's a guess.)
--There are no male faeries.
--You are allowed to mention and use the April Fools Neopets (with the possible exception of the Hughman?), at least if you acknowledge that they aren't part of the standard set, I think. Also, stories have been published with invented alien species and possibly monsters.
9. Jelly is a World which Does Dot Exist. You can talk about it (though I once had a sentence show up in an article as "-blocked- does not exist..."), but you have to play along with the joke of its nonexistence in much the same way TNT does.
10. The Real World and Other Universes As previously noted, references to the fact that we're all playing a game are discouraged in stories, though they're permitted in articles and occasionally show up in comics. As long as they aren't Earth, however, I believe it's acceptable to invent other planets and even alternate or mirror universes.
The Tips
1. Short Story vs. Series (Wordcount) You can't have a story published as a series if it's short enough to be a short story. It's possible to submit a two-part series with a total of between 3000 and 4000 words, since each chapter of a series only has to be 1500 words. But since that's really short enough for a short story, it will end up being rejected.
2. Originality It's possible to have a Neopian Times entry rejected for lack of originality. This does not mean you're being accused of plagiarism! It does, however, mean that you've chosen a common topic and the editor feels that either there have been too many already or you haven't distinguished your own entry sufficiently from other treatments of the same issue.
It may be, for example, that a few dozen people have submitted guides for the same recently introduced game; your own guide may still have a shot in this case if it was first, exceptionally well written, or offers different insights from those in the other articles. If you receive a rejection saying it wasn't original enough, however, you might consider making sure you're offering something the other published guides aren't... and if you are sure of that and still got that rejection, it may just be that any more articles on that topic would feel repetitive at the moment, and you'd have a better chance in a few weeks or months.
It may be that you've chosen a plotline (or joke, for a comic) that has been done so often it's considered cliche. Pound stories are the classic example of this, which may strike you as odd considering that there have actually been recent stories focusing on the Pound itself or on characters who have been abandoned and/or adopted at some point. Some of these are excellent. Apparently, however, there was at one point a glut of fairly formulaic tales of heartless owners and woeful pets. (I haven't gone back and looked for these, myself.) Others might propose stories where the characters are off to save all Neopia as an example.
Now, it's hard to be really original and interesting in a story if you're just thinking about being original -- it tends to result in gimmicks and illogic. (Then again, it works all right for some people.) Try concentrating on making your particular characters, plot, and situation feel vivid and real; have all of these interact so that there are reasons these people are doing these things and this is happening to them. Have your story be what it is, instead of worrying about making it not be something else. Then your story will probably be better able to stand out from the mass.
3. Spelling and Grammar This is probably really obvious, but make sure the spelling and grammar in your entry is as good as you can make it. This doesn't necessarily mean ultra-formal, especially in dialogue or where you want a more conversational tone, but it does mean that you should try to be generally correct. Consistently bad dialogue punctuation, in particular, seems to be a problem for many people, and it will kill your chances.
It's also nice to make sure your diction is good -- that you know what the words you use mean and how to use them -- but the editor may choose to be lenient.
Link to us!
If you find this page helpful and would like to link to it, please do!
ICKessler has made some lovely graphics you can use for the links.