THE COMPLETE GUIDE TO AVOIDING SCAMS & MAKING SURE YOUR ACCOUNT DOES NOT GET FROZEN
This guide was written by nashie363comesback. The wording and terminology is mine and was written by me. Please do not copy any or all of this guide (and copying includes taken my written copy and copy and paste it into your own guide) and put if off as your own or I will report you for copying.
First of all -- Be a sensible Neopets user and make sure you are well versed in the Rules & Regulations
and the Wall of Shame.

HOW TO AVOID BEING SCAMMED
So you have been scammed. To be scammed means that someone has somehow tricked you into giving that person your account, items or neopoints. The word is scammed not hacked. Even if someone has guessed your secret word, the terminology is cracked not hacked.

You now have lost your account or you have lost your neopoints or precious items. That is a very sad thing but playing safely on neopets will ensure you can avoid scams and this guide is designed to help you become knowledgeable about the things that unscrupulous people are using to try to scam. Also remember that being lured to something which might be cheating, is going to get you to lose your account permanently. This is a guide on some of the types of scams that exist and how to avoid being taken advantage of by others. The most important thing to remember is that if it seems too good to be true, it probably is too good to be true.

TYPES OF SCAMS

1. THE "DO YOU WANT MY ACCOUNT" SCAM

You see this on the boards. "I'm quitting Neopets and want to give my account away". The first rule of safe play in neopets is to learn that no one gives anything away for free. There are so many reasons why you should not take someone else's account but the MOST IMPORTANT ONE is that it is against the rules and regulations. You can be frozen in all of your accounts for taking someone else's account.

This however, can be a scam. This is how the scam works: The user who is offering the account mails you and gives you his or her secret word. The user hopes that you change that secret word to the same one as on your main account. The user also hopes you forget to change the email or the user has PIN protected the email so it cannot be changed. Presto, the user has your secret word on your main account and gets your account and gets his or her account back.

Ah ha you say - but I'm smarter than that. I changed the mail and I didn't use the same secret word. Well then the user reports you for stealing his or her account and all your accounts are frozen. Remember when you cheat you are the author of your own misfortune.

In either case, you lose.
Also remember if you have tried to cheat, TNT will not be sympathetic when you are asking that your account be returned.
2. THE GIFT BOX SCAM

Someone comes on the boards and says they have a bunch of paintbrushes and that they are leaving neopets and are selling them really cheap because they want to raise some np for a friend. Remember if they really wanted to raise neopoints for a friend they could just give them the paintbrushes. You check their trades and their are a bunch of gift boxes in trades. This is what a gift box looks like:


Gift boxes are worth about 300 neopoints in resale value. Gift boxes contain nothing. They are simply a gift item. There is NO paintbrush contained in a gift box. If you bid 100,000 or 200,000 np on the gift box you will get an item worth 300 np and you WILL NOT get a paint brush. The important thing to learn here is that if you see the paint brush in trades then it really exists and if you want the paint brush, then bid on the paint brush. Remember though a real paint brush costs neopoints and sometimes plenty of them.
There was an additional component to this scam where a person was told that only premium members have a special code where they can insert and take out the paint brush from the gift box. The scammer then asked the victim for her account information to use that code. First off there ARE NO CODES OF ANY KIND which enables anyone to insert items into gift boxes. Premium members DO NOT has this special power and anyone who tells you that they do is a scammer. Secondly as stated many times in this guide, never ever ever give anyone else your secret word. You will only lose everything you have worked hard for in this game.
The only type of gift box that exists, is the one given when you purchase NC from the NC Mall. This type of gift box can only be used to give NC items to other users. You are allowed to trade NC items but you cannot accept Neopoint items or Neopoints in exchange for NC.
There are plenty of other gift bags and boxes and some users will state that these items will give more than they do. The items which give items inside are Birthday Bags, Trick or Treat Bags, Usukicon Bags, Stockings, Crackers. Sometimes there are really nice items in these bags and sometimes there is junk. Be very careful on anyone who claims there are paint brushes or rare petpets and are trying to sell them for high prices. Some of the really old bags can have such things but they are also very expensive. There are plenty of pet pages out there which list what is in these bags. The best bet is to be careful and if you are not sure get advise from the Help Chat.
3. BAG OF INFINITE NEGGS SCAM

This item is worth 70,000 - 95,000 np and if you have paid in that range, you have NOT been scammed.
They look like this:


This is a limited use item for the battledome which can freeze your opponent, heal your pet while in a battle, give the user something for use in the battle, or defend or attack your opponent.
If a potential seller tries to sell you for more than what it is worth and tells you that it will give you an unlimited supply of neggs, they are not being truthful. Don't allow yourself to be scammed. Learn what different items do and what they are worth.

4. THE ITEM SUBSTITUTE SCAM

Someone posts on the board really cheap pinata in my shop or really cheap paint brush in my shop. You rush to buy and find out you did not buy a Pinata you can use to gets the avatar or you bought a paint brush plushie. This is a scam and you have been duped into buying an item worth far less than you paid.

Here is an example of REAL Toy Pinatas. These pinatas are the type you can have your pet play with and will allow you to get the Pinata and Candy avatar:








Toy Pinatas generally sell for 85,000 np and up depending on the market. They are also rarely available resstocking in the Toy Shop.

THE FOLLOWING ARE FURNITURE PINATAS AND ARE OFTEN USED TO SCAM PEOPLE OUT OF THEIR NEOPOINTS You WILL NOT get an avatar from these and I will try to give you a guide of the proper price for these. If you pay in the range, it is fair. If you are tricked into paying alot more, you were scammed:






Generally Furniture Pinatas sell in the following ranges:
Tax Beast Pinata - 2000 - 3000 np
Count Von Roo Pinata - 3000 - 5000 np
Dr Sloth Pinata - 900 - 1500 np
Pant Devil Pinata - 2000 - 3000 np
Shadow Usul Pinata - 2500 - 3000 np

PAINT BRUSH PLUSHIES

A paint brush plushie is NOT a paint brush. It is a toy. Some of the plushies do sell for a lot of np but usually far less than the actual paint brush. Here are what paint brush plushies look like.










Please note that paint brush plushies can sell as low as 3,000 np and can be well over 100,000 np. Paint brush plushies WILL NOT paint your pet.

Here is what the real paint brush looks like on each of the plushies above:











How to tell the difference. A plushie looks like its stitched. It has a stuffed toy feel and its name contains the word "plushie". It does not have paint dripping off it like real paint brushes.

Use common sense. Paint brushes are generally very expensive and people do not generally sell them at far less than their value. If it looks too good to be true, it probably is! Also if you are looking for a specific paint brush use an exact search.
5. THE OFFER OF MILLIONS OF NP OR FREE ITEMS SCAM

This scam is dealt with in the Wall of Shame which is linked at the top of this web page. Basically what happens is someone comes on to the board and offers millions of neopoints or expensive free items. There are variations of this scam and be careful because some of them have figured out how to put a live link on the boards and in neomail. MAKE SURE YOU CHECK ANY LINK CAREFULLY - IF IT DOES NOT START WITH www.neopets.com DO NOT CLICK IT!
Here are some other variations:
The Free Neocash Scam
This recently has also been occurring with the lure of Free Neocash. The only free neocash you can possibly get is that which is announced by or given away by Neopets here on this site. You are directed to go to an off neopets website. Be careful and don't click any link which directs you away from Neopets.
The Free Krawk Scam
Now even more recently, this scam has also occurred with neomail, and the boards with Title "Free Krawk!Free Krawk! Free Krawk!" Again this will usually be on the board and there will be a link which is not a neopoints.com link. Be very careful and don't be lured by this. Remember you will never get anything for free. If it sounds too good to be true it probably is.
Draik in the Pound Scam
You see a board which states there is a "Draik in the Pound!" and usually there will be a link. Again this will not be a neopets.com link. Be very careful if you see sucj a board and remember if there really was a draik in the pound, it will be gone before the person can even make a board. Just don't click those links.
Tarla's Here Scam
You see a board which says "Tarla's here!" There will be a link and the the link will usually be live (meaning if you click on it - you are taken to a site). Be very careful and make sure the link says www.neopets.com at the beginning. Better still why not download and install the Toolbar. It's free and it tells you when Tarla actually is here. You can get the Toolbar here:
Go Here

Punch Bag Sid Scam
This is the avatar:



The scam again happens on the chat boards and will usually be titled "Punch Bag Sid avatar available". This is a very rare avatar where Sid appears instead of Punchbag Bob in the battledome. To get the avatar you go to the battledome here:
Go Here
In the scam, a link will be posted. Be very careful as the link will lead you off site and your account can get stolen by a cookie grabber.


Mystery Pic, Lenny Conundrum Scam
Someone posts on the board that they have the answers to this and to go offsite to a link to view it. First of all you are supposed to get the answers to these things by figuring it out for yourself and it IS against the rules to share the answer. But second, it is a scam and you will lose your account

Rules and regulations prevent me from setting out the links of these sites but suffice to say they change constantly. The site will be something other than neopets.com so be very careful clicking links on the board. If you go to an offsite website, there may be a cookie grabber or a fake login page. If there is a cookie grabber, all of your private infomation has been grabbed and from there scammer can get access to your account and steal your items, np, pets and even your account(s). If there is a fake login page and you put in your details, you have just given the scammer access to your account(s). If you suspect this has happened, immediately and I mean immediately change your secret word and PIN # on every account you own. Make sure you have your PIN preferences requiring a PIN # as it is just one more level of protection and make sure that PIN covers everything you are allowed to PIN. Withdraw 1 np from your bank account 15 times to prevent a scammer from removing your neopoints. Once you've changed your secret word, log out and log back in again. You also should, if you use the same browser for opening your email or for using your side accounts, change your secret words on your emails and your side accounts. Clearing cookies really does nothing if your cookies have already been grabbed. You MUST change your details. Remember although TNT prefers to return an account which has been scammed they will never return the account if you were attempting to cheat and that is why you got scammed. Also remember that if your account ends up getting used to scam others, you will probably never get it back. Be sensible and remember the way to earn points is through the site not off the site.


If you are too late, immediately make a report to TNT and ask that your account be frozen. This will protect any items, pets or np remaining in your account from being removed. Then make sure you fill out a detailed report to have your scammed account returned to you. Make sure your report is clear, concise, free of chatspeak and as detailed as possible. Go to this website:


Be prepared to give detailed information such as who your neofriends are, what neomails you recently received, what you had in your Safety Deposit Box, what trades you recently made, what avatars and trophies you have, what gallery and what was in it, how many stamps in your album and any other personal information you might be able to give them.

The most sensible thing however is to stay away from offsite links especially when there is promise of things which are just too good to be true. The scammers prey on user's greed. Remember, you never get something for nothing.
6. THE AVATAR LENDING SCAM

(a) You have been wanting to get one of the expensive avatars like the Faerie Queen Doll (1.6 million np), the I Taunt the Pant Devil Item (Clawed Shield)(1.8 million np), a Meowclops, (10 million np), a Zafara Double Agent Plushie (1.6 million np), a MSPP (TCG) (300 million np), a Bony Grarrl Club (100 million np plus) or a Super Attack Pea (many millions of np).








You find a lender on the board. The lender asks for collateral. (this is acceptable for the loan on an item) Let's say you want to borrow the Faerie Queen Doll which sells for 1.6 million. It is not unreasonable for the lender to ask for 1.6 million worth of collateral. This means you give stuff or neopoints to the lender in exchange for borrowing and when you are ready to return the item, he or she gives you back your neopoints or items. All of this is perfectly acceptable and allowed by the Rules and Regulations.

There are however unscrupulous lenders and this is a potential scam might arise. For your information, the maximum number of neopoints you can pass in a trade is 800,000. This means if you are borrowing the Faerie Queen Doll, you cannot give enough pure neopoints in one trade. You can however give 800,000 np and 800,000 worth of items and that is what you should do. However the lender tells you he is much more comfortable if you do two trades. So he will put up an item (say a carrot & pea omelette) and you bid 800,000 on that and you bid 800,000 on the Faerie Queen Doll. DON'T DO THIS!!! The lender will accept your trade on the omelette and never accept your trade on the Faerie Queen Doll and you are out 800,000 np. If the lender insists on neopoints only then ask the lender to do a private neofriend only auction on 1.6 million np with 1 np increases. If he or she refuses, avoid that lender and avoid losing your hard earned neopoints.

(b) You are fortunate to have some expensive avatar items and you want to lend them to help other neopians. Lending is not against the rules but it certainly is not encouraged by neopets. What I suggest is that unless the person is very well known to you or comes on excellent recommendation from people you know well, that you avoid lending unless you get full collateral. By collateral I mean items or a combination of items or neopoints which equal the value of the item you are lending. The items should be ETS (Easy to Sell) and then you can get another of your item should the borrower never return it. Unfortunately, not everyone on neopets is nice or honest so be careful.

7. THE 1NP AUCTION SCAM

A discussion thread is started on the board. "Faerie Paint Brush in trades for 1 np. You must be a neofriend to participate in the auction. Please mail for details." You took at the users auctions and sure enough there is a paint brush in a neofriend only auction. You mail the the user and he/she says please buy from my shop and I'll make you my neofriend. You look at the shop and all the items in the shop are worthless junk but are priced at 20,000 np (or some other large and way overpriced sum). So you buy an item and you mail the user. He/she never responds and never makes you a neofriend. If you mail the user more than once, you are blocked. You were just scammed for your neopoints and no one will ever become a neofriend of that user. The auction ends with no bids. The user still has his/her paint brush and yours and many other people's neopoints. DON'T FALL FOR THIS

Lately, people have been saying bid on my junk, and I will give you a baby paint brush. This is a scam. If you want a baby paint brush then bid on that item not another.
8. GAME AVATAR OR TROPHY SCAM

You want to increase your avatars but you are not very good at games. You see someone on the boards stating they will get the game avatars for you. First of all, it is against the rules to have anyone go into your account to get an avatar for you and you can be frozen for breaking the rules. But more importantly, you should never give your secret word to anyone. The person on the board asks for your secret word and you comply. The next thing you know you are blocked from your own account and it has been stolen. You should have known better. My advice is practice at the games and use good game guides. There are excellent game guides on Garmfire's Pet Page. Eventually, you will earn that avatar on your own and have the pride of knowing you did it yourself.

9. LOOK UP OR SHOP DESIGN SCAM

You are not very good at HTML. No worries. I'm not that great at it either. In any event you look for someone to help you code a lookup or a design for your shop or gallery. The person agrees to help you and asks for your secret word so that they can go into your account to tweak and make it perfect for you. You give the person your secret word and the next thing you know, you no longer have access to your account. You forgot the cardinal rule. Your secret word needs to remain secret and for you only to know. Any legitimate coding person will provide you with a copy of the code that you can copy or paste into your lookup, shop or gallery. Any one who asks for access to your account is not only breaking the rules but could be a potential scammer. Also be very careful of anyone who makes lookups for you. I have heard that people are making lookups and once you have them up, they change the images to things prohibited by the rules and then you get reported and frozen. It's not very funny at all!
JUST REMEMBER, DON'T GIVE OUT YOUR SECRET WORD!!!! or let anyone in your account to do coding for you

10. THE PET SITTING SCAM

You are going on holidays and are worried about your pets. You see someone on the boards offering to take care of pets. All you need to do is give them your secret word and they will go into your account daily and feed, play with and take care of your pets. Aside from the fact that you could be frozen for allowing someone else access to your account, it is not a great idea to give your secret word to anyone. You return from vacation and you cannot access your account any more. You have just been scammed. Neopets has thought about people taking vacations and you can put your pets in The Neolodge. It is a safe inexpensive way to ensure your pets are taken care of and you will have no worries of losing your account to a scammer.

11. THE "I GOT SCAMMED!" SCAM

A person posts on the board with a new account, "I got scammed and I had 2 paint brushes, painted pets, lab ray, 2.8 million np and all kinds of things in my gallery and shop! Now I have to start all over. My account's gone!" They never actually tell you the name of the account they lost but they start asking for donations. (This scam works equally as well with "The pant devil stole my Hallowe'en Paint Brush or the Tax Beast just took 220,000 np from me!"). These things really happen to people but people don't usually ask for donations on the board when it's really happened. Begging is not appropriate on the neopets boards in any event, but in essence, this is a scam to get items or neopoints from other users.

12. IMPERSONATING TNT STAFF SCAM

You receive a neomail, webmail or email from someone stating they are staff. They direct you to an offsite link or to an email. The email will look like like its a TNT account but it will use an internet address not used by staff. First off any neomail legitimately from staff will have the following avatar:



Only real TNT staff has this avatar for use with neomail.

Secondly, TNT staff WILL NEVER direct you off the neopets site, ask for your secret word, personal information, PIN or email address.
Thirdly, TNT never asks people for access to a person's account in order to straighten out glitches or bugs. I saw recently on the boards that someone was approached by someone pretending to be staff and saying they needed access to the account to "sort" things out. This is just a lie because TNT staff would not do this.
If you get a mail that looks suspicious or you are approached and asked for account information do the following:
(a) Make a report to TNT from the Report this neomail function or if not a mail by using the section "Contact Us".
(b) Block the user.
(c) Do not respond to the mail.
(d) Do not under any circumstances go to any website offered or provide any information requested.
Please note the SCAM ALERT was posted in the news on November 16, 2006 Go Here for Scam Alert from TNT
Please also note that staff members are no different from any other user. They do not have an unlimited supply of paint brushes, neopoints or other rare items. Everything on a staff member's account is a thing the staff member earned just like you or me. This means they possess no special secrets. So, if someone approaches you and tells you their mother, aunt or some other relative is a staff member and to give them your word so they can use the special secrets they know, they are scamming you plain and simple. Do not fall it!

13. PET THEFT SCAM

You have a nice account with 4 beautiful painted pets. You receive a mail from someone who comments on how beautiful your pets are and she has a faerie krawk she'd like you to have because it is obvious you take such good care of your pets. She is very nice and suggests that you transfer one of your pets to a side account so you can have your faerie krawk on your main account. She is very friendly and says how are you going to decide, which are you going to transfer. You don't suspect anything after all she is giving you her faerie krawk. You tell her you are transferring your Nightsteed. You do the transfer and the next thing you know your Nightsteed has been snagged on a transfer gone bad except it was the person offering you the krawk who has now suddenly changed her mind about giving you the krawk and blocked you!
OK so with the new transferring option, this scam will no longer work. You are allowed to transfer and receive one pet each month. Use transfer to transfer your precious pets and you will never lose them in the pound.
14. PETPET SCAM

Someone posts on the boards that they are offering a petpet sitting service. They are prepared to take care of your petpets for the paltry sum of 200 np per day. The person says they will take excellent care of your petpets. I really thought this was the most ridiculous scam I had ever seen and am amazed people would actually try to pull this one off. So for anyone who does not understand, I will explain it. A petpet is a item. By item, I mean a thing which can be sold, inserted in a gallery, attached to a pet. Petpets range in value from 1500 np to as high as several million np. They do not need to be fed although drackonacks are known to eat cheese and I once had a meowclops sitting in my trades have the audacity to eat a piece of cake I had just bought. Petpets do not need petpet sitting. This is a scam pure and simple. Give a petpet to the person offering the service and you will never see your petpet again!

15. CHARITY SCAM

Someone posts on the board that they are raising money for charity. If you buy a high priced junk item you from them they will donate real money to charity. First off neopets is not the appropriate place to do this if it is legitimate. But really this is just another way to scam users out of their hard earned neopoints. Don't do it.

16. THE MY FRIENDS VERY ILL SCAM

This scam is particularly offensive to me. Someone will post on the board that a friend has some illness and that they are raising neopoints to buy a present for their friend. First off, if they cared about their friend (who probably does not exist) the person would take the time to earn the neopoints properly for the gift and not ask others to help. Secondly to use illness and particularly life threatening illness as a reason to scam is so offensive it is reprehensible. As sad as you feel for the story that the person posting is giving you, do not fall for it!

17. THE TYPE YOUR SECRET WORD BACKWARDS SCAM

Someone posts on the board that if you type your secret word backwards on the board that you will get special items from TNT or neopoints or maybe an avatar. There have also been reports that scammers will say that it will type invisible if you try to do it or that you will see ******* as neopets is blocking it! It's not true. All you will do is give your secret word to whomever is on the board. This type of scam can also come through neomail.

18. THE CHEF BONJU SCAM

At this writing there is no known method to get the Chef Bonju avatar. There is a scammer about who is telling users that if you change your secret word to "chef" or more recently "chef12" and then go visit Chef Bonju, you will get the avatar. This is a scam and is not true. Besides which TNT would never create an avatar which was gainable in that fashion. IT IS A SCAM! Just so you know I saw someone doing it on the boards. I mailed them and they asked me to change my secret word. I reported the mail and told TNT what had happened so within a very short period of time the user was frozen. Don't fall for it! The chef bonju avie as of this time is not solved. Should I learn of the real solution it will be posted here!

19. THE MSN/AIM/IM SCAM

I have seen this tragically posted on the boards. You want to borrow an expensive avatar item like the MSPP card. This items is costing upwards of 100 million to borrow these days. The prudent person gets items in order to secure the trade. The one I saw on the boards had borrowed expensive stamps from a friend to borrow the MSPP card. In this particular case, the lender asked the borrower for his MSN, something which TNT has stated should never be given. This particular user also used his hotmail as his email address for neopets. Somehow the lender managed to obtain his email secret word. This can be done in a number of ways. There are malicious programs which can do that while you are chatting. The person can also get certain information from you that may be the secret question on your hotmail account. Within minutes, this person found himself blocked from his MSN, hotmail and neopets account. His friend's millions of neopoints worth of items gone with his account, his items and his pets. This is so tragic. There are obvious safety concerns about giving information about your instant messenger and this is why TNT says it is against the rules. Be very careful in dealing with people you do not know. You can simply neomail the lender you have the items, use them to bid on the card and not bother with chatting through instant messenger at all.

20. THE PREMIUM ALIAS SCAM

Premium Neopets is a monthly payment form of Neopets. For $7.99 per month, you get an advertisement free site, web mail and a few other nice perks including the most loved Super Shop Wiz. As part of the premium service, a premium member can designate one of their side accounts as an "alias". This account must be a true side and cannot do any of the things a main can do. If you are in one of your sides a lot this can be useful and the lack of advertising is nice. I have seen on the Boards that there is a scam where a user offers his alias account to another user. First off, any premium user who pays for the service would recognize this as foolhardy because in essence this would designate a completely different person as an alias but TNT would think it was the paying premium user. That premium user would be putting his or her account at risk. I know I would never even consider doing that! However, an unscrupulous person (who might not be premium at all) might offer this to a newer player in an effort to gain a secret word. PLEASE DO NOT DO THIS. You are risking your account being stolen! Please note also that a Neopets Premium alias account is a very limited account. You do not have the same privileges as a regular premium account. The premium service is a nice service to have but you must pay for it and there is no way around that!

21. THE USER SHOP SCAM

Here is how this scam works. A user posts on the board 1 neopoint sale today. You rush to his or her shop and find several great items priced at 1 neopoint. You are eyeing the codestone in the shop and click to purchase it and you get the following TNT warning: The user has changed the price from 1 neopoint to 10,000 neopoints, your transaction has been stopped. If you were not paying attention you might have seriously overpaid. This scam does not work as well for the scammer since TNT put in the protection. Another way a scam can occur is user posts on the board, "Big Sale" when in fact nothing is on sale or even a good price. Be careful about the shops when there are posts on the board and always double check the prices. Please also note that people will try to trick others on the board. As an example, they start a board, "Come Quickly! Very Cheap Unbuyable in my shop!" Be careful -- often times its not unbuyable at all and often worth much less that they have the item priced. This is still scamming but you can avoid the scam by being knowledgeable about the value of things.
Finally be careful of cheap shops. The shop owner will sometimes price one item very cheaply (a loss leader) and everything else in the shop is overpriced. They hope the person will just assume they are an underpriced shop and buy up their shop.
22. THE GUILD SCAM

There are many wonderful guilds out there but there are actually people who start guilds simply for the purpose of scamming others. If your guild does nice activities and has nice and helpful chat then you are in a good guild. Guilds attract people with similar interests, of similar ages and who want to play neopets with others. Just because a guild has a donation shop does not make it an improper guild. Many guilds have 1 np auctions, celebrate birthdays and treat their members excellently and do so by modest donations. So how do you know if a guild is a scam?
First of all know the rules for guild and you can avoid being scammed. Guilds should not have contests, promotions or giveaways which promise prizes. This is where the scamming can begin. So, do not be lured into a guild where there's a promise of a paint brush or other expensive item. It is likely a scam. Here's how it works. The leader says: I have a baby paint brush which I am going to give away. The leader says: Whoever donates the most gets the baby paintbrush. But how do you know. Only the person who is accepting the donations really knows. So you have 100 people in the guild and each person donates 50,000. That's 5,000,000 np. Then guess what, one of council wins the paint brush. What a surprise. Any forced donation is a bad thing.
As one further warning, if your guild is breaking the rules by:
(a) offering contests, promotions or giveaways
(b) giving prizes for activities
(c) breaking other Neopets rules
(d) posting an off site web page
(e) discussing real life issues not permitted on neopets
(f) demanding or requiring donations from its members
you should run not walk from the guild as fast as you can. A guild can be deleted for breaking rules and not only that, but each and every person in the guild can be frozen for participating in a guild which breaks the rules.

23. THE MAGIC BRANCH SCAM

Someone comes on the boards and says they have a Magic Branch in their trades and that you can make three wishes with it either in a battle or not. You check their trades and their are a bunch of Magic Branches in trades. This is what a Magic Branch looks like:


Magic Branches are worth about 200 neopoints in resale value. Magic Branches do not grant wishes either in a battle or otherwise. They are simply a weapon. If you bid 100,000 or 200,000 np on the Magic Branch you will get an item worth 200 np and you WILL NOT get any wishes.

24. THE ADAM OR NUMBER 6 AVATAR SCAM
In the Adam scam, as the user who told me about this called it, a user makes a board saying that he or she is only 1 million neopoints (or some amount) away from having enough neopoints to get the Adam avatar. They promise that they will borrow your neopoints, then let you borrow all of the NP to get the avatar, then give you your neopoints back. Once they have a lender (or many, chipping in different amounts), the scammer will set up a junk trade and the lender will bid the neopoints on it. Then, the user will *mysteriously* vanish, not answering and Neomails or even blocking you! Finally, after transferring the scammed NP onto another account, the scammer self-freezes. There is another component to this and it comes with the actual lending for Adam. In my view, this is not within the rules because basically the people involved are conspiring to pool their neopoints and TNT clearly says item pooling is against the rules.

25. THE LOOK UP, AWARD OR PICTURE SCAM
Earlier I told you that if you are getting someone to create a lookup for you, you should get a copy of the code. Well before you take code given to you by someone else, you should view it and check or even better - copy the pictures to your own picture storing account and change the code to your own picture storing area and here's why. You are given the code for a lookup from someone you do not know very well. This is also happening with awards. What happens is you receive an award from someone for your beautiful lookup, your helpful and informative pet page, or for a gallery or font. The person sends the code and after you place it, the person changes it. It was very nice but all of a sudden you get a warning or even worse frozen for having something awful on your look up. Why because the supposedly "nice" person who gave you the lookup codes substituted a very bad picture with the ones that were there originally. This I am told, can also happen with those little hatching eggs. Be very careful with pictures. The easy way to avoid it is to substitute the URLs for the pictures given with a copy of the same picture on your own picture storing account. Then you are the only one who can change the picture in the URL! Do do this. Go to the link in the code and copy it to your computer. You should have the image you were given and then you can upload this to your own image storer. You now have control of the picture and are much safer.
There is a new thing occurring with this scam. Apparently pictures have been substituted with a lookup as if you are personating TNT and this will get you frozen immediately. Please make sure that any pictures on your lookup are stored in your own storage account.

26. THE LAB MAP SCAM
First of all, a laboratory map set runs at the present time at approximately 700,000 to 850,000 neopoints. There are 9 pieces to the map set. You go to treasure maps to use the pieces and they disappear once you go there. Once you have gone there, the account you did this on will have access to the laboratory. This means that the account may use the laboratory one time each day. You can use the laboratory map on any pets you have on that account. If you abandon and adopt a pet, you may use the laboratory map on the pet you have adopted. The changes the laboratory makes are permanent and cannot be reversed. There is NO guarantee your pet will change colour. You pet could lose statistics, gain statistics or even change species. But quite often pets do change colours and that is what makes the laboratory map so appealing. You CANNOT use the laboratory map on more than one account so if someone asks you for your secret word so they can go on your account and use their laboratory map on your account, you need to realize that they are LYING because the laboratory map can only be used on the account that turned in the map pieces. Secondly, if they ask you to pound or transfer your pet so they can adopt it to zap it for you, they are likely trying to scam your pet from you and if not, you are breaking the rules in allowing them to do that. Finally, anytime that someone asks for your secret word, run don't walk, block them, disassociate yourself from them and under no circumstances give them your secret word.

27. THE GAME CHALLENGE SCAM
There is a way you can challenge other people to games and bet neopoints. It appears lately that people set up new side accounts (please note that setting up a side account to play games and do challenges is totally against Neopets Rules and you can get all your accounts frozen for earning neopoints by playing games on a side account) and then they are deliberately earning a low score for their game chart. Then they are going and challenging people they know they can really beat actually deceiving the person who has the impression that they could beat the person. Be very careful of a person with a new account challenging you. You could find youself out of neopoints when they prove to be better than the score sheet says they are.

28. THE MAGICAL PLUSHIE SCAM
OK - so there are these really rare plushies which have a one time magical use. Say the magical plushie is a poogle - well if you play with your pet, that pet will become a poogle and after that the plushie will become a plain old poogle plushie. Because these plushies are so rare, they are sought after and expensive. So you have some items for trade, lets say items totalling around 400,000 np and you get a neomail from someone offering to bid a magical plushie on your bid. You are excited because that particular plushie is worth 500,000 and you will be making a good deal so you mail the person and tell him or her that you'll do the trade. He or she then bids and you don't watch carefully. Its the plushie he or she said it was - or is it? When the trades complete you check your inventory you find you've traded your valuable items for a plain old poogle plushie with no magic in it at all. You were scammed out of your hard earned neopoints. The moral - be very careful that you check the trade before accepting.

29. THE CELEBRITY SCAM
I have not seen this but had a user point out to me that sometimes a person will come on pretending to be a celebrity and will tell people on the boards that he or she is a celebrity. This is done to get attention and well, sometimes unfortunately, to cheat people out of their hard earned items and neopoints. While there are probably celebrities who do play neopets they are more likely not to disclose their true identity. Remember celebrities get enough attention and if some of them choose to play neopets they probably do it for the enjoyment of the game and to relax from all the attention they do get in the real world.

30. THE OFFSITE SCAM
Whereas I have spoken previously of the offsite pages which promise items and neopoints, I have not spoken of the more innoucuous pages. I have noticed that a lot of people are looking for lookup help and graphics for their accounts. While there are many well known and perfectly legitimate sites out there, you still need to be careful. Be careful of people making boards to try to lure you offsite. However, there are plenty of good onsite guides which will help you make the perfect lookup too and staying onsite is much safer. Just be careful when looking for graphics and if you want to be extra safe, browse for graphics in a completely different browser than you use for neopets and everytime you are finished, clear all your cookies. Also change your neopets secret word at least once every couple of weeks and if you are worried about a site you visited, change it immediately-blocked- grabbers can be placed on many different types of sites and even though the site owners may not condone it there are not enough protections in place on certain sites. If you see something that causes you concern, report it to the site you see it on too because they do take action. Also make a report to TNT because they will also take action.
31. CUSTOMIZATION SCAMS
Now that clothing has become prevalent on neopets there are a few scams I need to draw your attention to so that you can avoid being scammed. (a) Not all clothing is wearable. Here is an excellent guide to tell you what is wearable. Go here for Clothing guide
(b) There are items which look like items that are wearable but are actually not.

This is a shell called faerie wings shell - it is worth around 30,000 np approximately and is not wearable.


This is the clothing item called faerie shell wings, sells for around 100,000 and is wearable

Some scammmers may actually try to pass off the first one as the wearable item and get you to pay more than it's worth. Be careful.


This item was given out by the Advent Calendar and is worth 150 - 250 np. This item is called Marshmallows on a Stick. It is not wearable although scammers may try to pass this off as Mini Marshmallows on a stick.


This item is the wearable item. It is called Mini Marshmallows on a stick and it is Rarity 86 which means relatively hard to find. Right now this item sells for much more than 100,000 np.

Be careful when bidding on this that you are not bidding on the junk item.


This item is a Brown Goatee and is not wearable. Scammers have been trying to pass this off as the Evil Twin Goatee. It is basically worthless and has no value other than as a toy for your pets.


This is the Evil Twin Goatee which is the real wearable items and presently sells in the 75,000 to 100,000 np range.

Be very careful when bidding that you are buying an Evil Twin Goatee and not a Brown Goatee.

32. THE YOU'RE A SCAMMER SCAM!
You receive a neomail from what seems to be a very nice person. They tell you that they were offsite and saw your username on a site which lists known scammers. They give you the site address. Well guess what? They were not a nice person, nor was what they were saying even true. They are simply trying to get you to go to that link to steal your account with a cookie grabber. Remember people on this site who try to lure you off site are generally scammers. Be aware and keep your account.

If anyone knows of any other similar items, I'd like to post them here to protect the Neopian community. Please mail me and let me know.

32. ANOTHER NEOMAIL SCAM

You receive a neomail something like this. "Hi I have seen you posting on the boards and you seem to be very mature. I am starting a new pet site and I need monitors for this site and I think you'd be just perfect. You can look at my site ..." and then an offsite link is provided. If you go to that link, there is probably a cookie grabber which can steal personal information. Do not go there. If you get such a mail report the neomail and let TNT take care of it.
Another warning - do not post these links on the public boards as warnings to others. You can and will get frozen for posting offsite links to a scam.

33. FREE PREMIUM SCAM

You receive a neomail telling you that the person sending the mail has found a new promotion where the first 5,000 to sign up for the promotion get free premium neopets forever. The mail directs you offsite and to a page which asks you to give your user name and secret word. Don't go to this page. This is a scam pure and simple. Neopets would not give free premium to people forever when there are thousands of people paying for the service. If it sounds too good to be true, it usually is.
34. PET TRADING SCAM

Personally I don't like pet trading. I think it is a bad idea. Under adoption now, you have the ability to transfer a pet from your account to another account. You do this by taking the middle door. You ask to trade and put the user name of the person you are sending the pet to. Once the person accepts the pet, it becomes their pet.
Things to remember. Any pet you transfer will be transferred with any clothing or backgrounds it is wearing so make sure if you don't want to send those that you remove them. What it is good for though is if you want to transfer a paint brush clothing item with the pet.
It seems the newest scam is to attempt to do a trade. The person wants you to send your pet first to an account different from the one they are mailing from. Either that or they will tell you the pet they are going to transfer the pet from is on a different account but they refuse to mail you from that account (probably because it is not their account. Be very careful when doing this. I recommend you don't do this at all but if you must, be careful. Also remember the person must have free space on their account and must be at least 4 months old and visa versa. This scam can now be avoided if you do an actual trade which is now permitted on neopets through the transfer system. With this new system both pets are traded at exactly the same time so no one can be scammed.
35. SECRET WORD SCAM

OK, so you receive a neomail from someone. They tell you they know a way for you to make lots of neopoints or to get cool items. They tell you to change your secret word to something specific and that in 5 minutes to a maximum of 6 hours you will receive the neopoints or items. You will not receive anything and the person will steal your account. TNT would never ever ever EVER have a promotion which rewarded you for changing your secret word to something specific. The secret word should always remain private for you to know only, and should be sufficiently complicated so that no one can guess it. If you receive such a mail, click report this mail and report them. They will get frozen. You will keep your account.

HOW TO AVOID BEING FROZEN

1. ACCOUNTS

As a neopets user you are allowed a maximum of FIVE (5) ACCOUNTS. One of those accounts may be designated as your main and the balance must be considered sides. You need to have one email attached to all five accounts. If you have self frozen or had TNT freeze an account(s, those account(s) will count toward the five allowed on one email. You can set up another email but know this, the account will still be a side account and should be treated as such.

What you may not do on a side account:
(a) Play Games including sponsor games and any special games.
(b) Have a shop.
(c) Do Dailies (dailies include any of the Wheels, Monthly freebies, Tarlas Neobar notice, Wise Old King, Grumpy Old King, Tombola, Snowager, any of the scratch tickets, the fruit machine, buried treasure, lotteries, symol hole, turmuculus, underwater fishing, Giant Jelly, Giant Omelette, the concert tickets, Test your Strength, the new moon game and Deserted Tomb, the meteor, The Expel game in NC and any game which gives a prize.
(d) Collect bank interest.
(e) Enter any contest which gives prizes or neopoints
(f) Participate in any plot or war or game challenge or other promotional activity on neopets.
(g) share an account with another person which is NOT allowed anywhere, any time on any account at all.

What you may do on a side account:
(a) Maintain a gallery
(b) Maintain a neohome
(c) Maintain a Neodeck
(d) Maintain a Stamp Collection
(e) Use the Healing Springs
(f) Use the Lab Ray
(g) Use the Petpet Lab Ray
(h) Use the Soup Kitchen
(i) Train your pets and do free training
(j) Collect the free 150 NC
(k) Redeem Burger King Canada codes
(l) Redeem NC cards
(m) Enter the beauty Contest, Customization or Gallery Spotlight at this time because no prizes are offered.
(n) Receive a random event but do sell the item on your main account.

Any neopoints for your sides must come from your main account. This can be done by using trades.

If you are a Guild Leader you are allowed to have a side account with a shop on it for your guild. No other member of your guild is allowed access to that account. This is the same as account sharing and is not permitted. That account must be clearly named and identified as a guild account. Guild accounts are allowed a shop and to do trades and auctions. Guild accounts, just like any other side, are not allowed to do dailies, play games or get freebies and you expose not only all accounts you own but your guild's account if you do dailies on a guild account.

2. THE PUBLIC BOARDS

I often go on the public boards and I am constantly amazed and how people break rules on the boards. This is by no means exhaustive but there are fairly simple guidelines to follow to ensure that you respect others on the board and to ensure you do not get suspended or frozen for how you act on the boards.

(a) Always be polite and respectful of others on the boards.
(b) Do not use any type of profanity on the boards. This includes short forms of profanity or chatspeak acronyms which stand for a profanity.
(c) Try to avoid mindless chatspeak.
(d) Do not try to date or discuss dating on the boards.
(e) Do not discuss politics or religion. Health issues and non-neopets related topics are also not allowed.
(f) Do not spam the boards. Spamming means off topic mindless posts or repetitive posts. It also means blank topics, so you may think that's funny but TNT does not! Neither do others on the boards!
(g) Do not post off site links, email addresses, AIM or hotmail addresses. Even if you are trying to warn people by posting a scam site and telling them not to go there, you can be frozen for posting that site because you are directing people to a scam. You are best if one comes to your attention, to report to TNT and post nothing on the boards.
(h) Do not beg for items or neopoints on the boards.
(i) Do not make threads to harass other users.
(j) Do not become argumentative on the boards.
(k) Do not offer items in exchange for things or attempt to hold any type of contest or game which offers a prize.
(l) If you accuse a user of being a scammer and name them, make sure you have proper evidence that in fact they are a scammer.
(m) Try to remain on topic and to post your enquiries onto the correct board. There are boards for different areas of neopets and often your questions can be answered by going to the correct place. It is helpful to look and see if there is a topic about your question before starting a new board.

ADVICE FOR FAMILIES PLAYING NEOPETS

You have several members of the same family who play neopets and you all use the same computer or different computers but the same IP address. You have seen on the boards people complaining that there whole family has been frozen usually because one user was breaking the rules.
This is what you can do to prevent it:
(a) Treat your computer as a public computer. That means just as you would with a public computer, sign out each and every time you leave the computer.
(b) Do not share your secret word with other members of your family.
(c) Do not share an email address. It is easy to set up a free mail address and this is what you should do before setting up your account.
(d) Do not do frequent trading or adoptions between family members accounts using 2 browsers as that makes it look to TNT that you are the same person.
(e) If you are premium and other members of the family are not, do not allow them to use your Super Shop Wiz.
(f) Make sure you follow the rules and try to impress upon other members of your family that they also follow the rules.
(g) If another member of the family wants to use the computer MAKE SURE you sign out and do not let the family member sign into their account from your open account.
(h) Know that if you cheat by doing prohibited things on your sides, using any type of computer program to buy items or be sucessful at games, spam the boards or generally do things TNT doesn't like, you are not only risking your own accounts, but the accounts of every user in your home!

DO YOU KNOW OF OR HAVE YOU SEEN A SCAM NOT LISTED HERE?

Rose_Mist wants to know. Please mail me (that's nashie363comesback) and tell me about it and I will add to the list of scams. Also if you see things which need updating, let me know.

LIKE MY GUIDE?

Here is are some banners you can use!

Thanks saphireblue3 for the Link Back
Rose_mist used to be a plushie jetsam and these link backs have been kept for memories.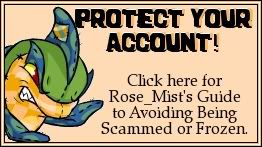 Affiliates
My Guide is listed at these places: