TO MY PORWICHY PAGE!

Hello, I'm Luikma, the Gelert! I belong to the_buzzbuzzer, and I love Porkwiches! Why, do you ask? (If you must know) I strive for something, so unique, so...different. Something that will set me apart fom the rest!

I, Luikma, plan to be...THE HEAVIEST PET IN NEOPIA!

I mean, sure, why not? BBQ Porwiches are just the thing to fill ya up, and they taste simply ASTOUNDING too!





























Look at em all!








































---
---
Ahem...before we go any further, let me introduce myself. I know I should have done that at the beginning, but the Porkwiches were irresisteble. Please, beg my pardon, and I'll continue...
Ah, a photo of me!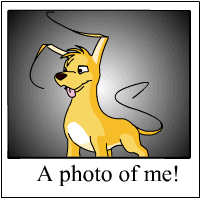 Sadly, the Porwich has been excluded!
I am currently looking for a good color to get painted. Yellow is great, I mean, but it's so....so...blah!
But you know what a great color would be?


DUH! PORKWICH!
And of course, the amazing, BBQ Porkwich Paint Brush:

What color should I be painted?

- blocked form tag - method=post action="http://www.pollwizard.com/vote.cgi" target="polls"> Chekered Cloud Christmas Spotted Gold Rainbow Strawberry Shadow Porkwich!
View Results
As you, and I both know, one cannot live on just one kind of food. (Porkwiches are the best) I have also taken a *small* liking to chia pops, (I lie) but I'm not, as one would call it...'Chia Pop Crazy' If you really want to know more about this...'craze' you must certainly check out my friends page, sonsofwar, who is, as one would say is...'Chia Pop Crazy!' (And yes, he is PROUD of it!
Check it out!

---
---
I am building up my powers, and hopefully will reach a good fighting stance by the time I become the Heaviest Pet in Neopia. Here are my stats so far:


I'm level 22
My strngth is 28
My movement is 19
I have a defence of 24
I currently have 39/39 hp
And my IQ is 14

If you have around the same stats as me, sure, challenge me. If you are strong and challenge me, I'll accept anyway. I never back down from anything! Especialy Porwiches!

I played 120 times in the Battle Dome
I won 60 times
Sadly, I lost 46 times :(
I have drawn 14 matches
My final score is...4400!
---
Allright, let's go back to the Porkwiches :)
BBQ Porkwich
One of the Island Faeries favourite combinations, this fatty porkwich will guarantee your pet will put on weight!

The Porkwich sells for around 200-300np. It is a tasty food item! DELICIOUS! Slabs of delicious PORK between to pieces of white bread, with a touch of Island spice... This porkwich is GARUNTEED to raise your pets weight by 1pound.
Psssttt! Just between you and me, there is a way to get this delicious, outstounding treat much cheaper! :) Come'ere...ok, listen up. If you mix Neopox Pizza, and Bread at the island Cooking Pot, pow! BBQ Porkwich! Delightful!


-invalid_characters- 43

=

---
My favorite toy is:


The Yellow Gelert Plushie
It it is sooo cute :)

---
Hey, wanna wanna wanna see ma comics? lol :) No Porkwiches in them yet, but th've gotten into the neopian times! (YES!) Take look!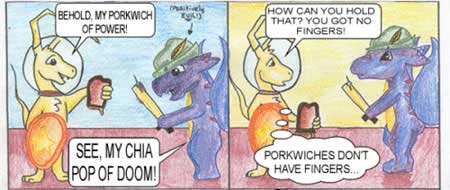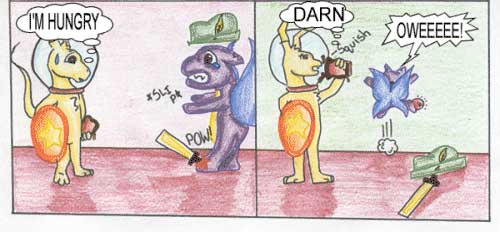 ---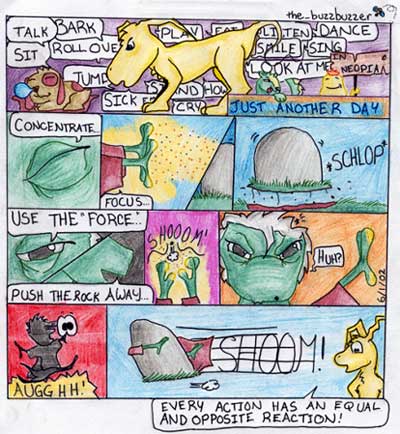 ---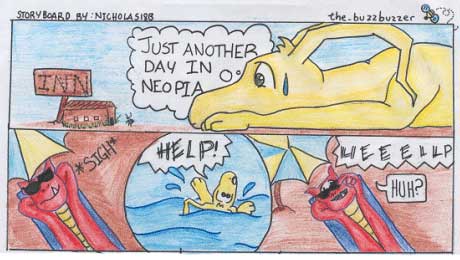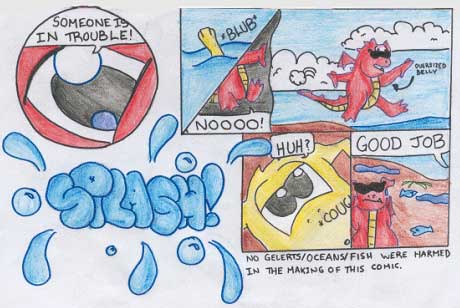 ---
Wanna see my trophies? Here are some I got by myself, of course, with some of the Island Master's training of couse! (And a nice meal of porkwich before the fight! :)



Defenders of Neopia!
I feel so special! :)



Beating Punchbob CHAMPION!
After like, 500 punches or so :)


My owner got these ones :)



Third at Cheat!



Neopian Times x? CHAMPION



SITE SPOTLIGHT!
OMG! I really can't believe it! YESYESYESYES!
---
Please sign my er...guestbook? Hm, take a pen, and sign it under the top of the bread :D

---
Time for some....duhduh duh!!! Frequently Asked Questions...
- blocked form tag -no_html_comments--blocked-Q.How do you make that flash banner and images? What program do you use? A.They aren't flash, they are GIF. images, somewhat similar to JPG, HTML like...I use Jasc Animation Shop, and Paint Shop Pro :D Q.How do you get your pet so strong? A.Wow! Thanks :) To tell you the truth, my pet is not as stong as you think, many pet are stronger then mine! :) You can train your pets at the swashbuckling Academy on Krawk Island, or At the Mystical Training School on Mystery Island. These are quite epensive though! Go to the shrine very 12 hours, and hope for the best :) Q.Can I have your Pa$$word? A.NO! Q.How do I get a webpage like yours? A.Go to pet centrel, and click on petpages, there you can sdit your very own webpage. Go to www.funky-chickens for some HTML help :) Q.How come every second word has a spelling mistake? A.It's not my fault I can't Spell!!! Q.How do you get stuff in the Neopian Times? A.You send it in to neopiantimes@neopets.com -blocked-
---
Hehe, here are some links I'm sure you will enjoy. Please check them out!
-blocked-
---
Here are some other awesome petpage :) Please check them out!

-blocked-
---

You like this page? Then please, add a link to it! In your shop, petpage, or wherever :) I will do link exchanges if you like!


-blocked-
-blocked-
That's it for now, gotta go chase the Porkwiches!
Check back for some more later!
Thanks!

You are visitor number:
invalid tag BEGIN COUNTER HYPERCOUNTER CODE BY THE HYPERBANNER NETWORK -no html comments-
invalid tag END HYPERCOUNTER CODE -no html comments-
To visit me since Dec 29th, 2001
Thanks!

---
Trophies & Awards

Chika_Hoshi's Gold Star of Excllence
My very first!
THANK YOU!!!


Coooool
---
---
invalid tag START OF ADDME LINK -no html comments-
invalid tag END OF ADDME LINK -no html comments-