press F11
=
Awesome viewage.
Best viewed in
1024x768
---
Current events:
Thanks to everyone who voted! 1st in species and 8th overall!
Please see darkmelodys lookup before asking for a custom trade. She's lacking in time right now. Basic color adopts are available. Please read my rules before neomailing trades.
Award applications are always accepted. Look at that section for 'rules.'
---
As you watch the sun sink below the horizon, a shape casts a shadow over the water. You squint and strain your eyes to get a better idea of the 'thing.' Reminding yourself that straining your eyes is bad, so you sit back and start humming the tune to The Little Mermaid. The creature finally becomes clear, a lupe. And it's bringing a storm in behind it. Just great.
It comes closer and you notice a weird shape below the surface, a what? A whale fluke? You stare towards the creature, a lupe by the looks, and think, Freak of nature? The lupe approaches, clear silver eyes shining brightly, and comes to a stop several meters away. You and the lupe watch each other for a couple minutes, neither of you seem sure of the other.
What kind of lupe are you?"
Long ago, I was a lupe. You may find it easier to classify me as a water elemental," a gentle voice replies. Female.
What happened?" You ask eagerly.
She smiles kindly and comes closer. "You want to know?" You nod eagerly. "Very well."
---
Like every great tragedy, there is an illicit love. My mother, Mindana, the Cradle of Life, is an immortal. My father, Aurumque, a golden lupe, was merely mortal. I am the product of a forbidden union. Shortly after my birth, I was sent by the gods to stay with my father's pack. He raised me. I suckled from lupesses within the pack until I was weaned and I looked like any other lupe pup, except that I was brilliantly green instead of blue. He was a good lupe, always protective of me, inspiring me to learn. But he was growing older and our time together was ended by his passing. I was just over a year old. The pack helped me bury him beneath our special tree.
I was then shunned. They'd merely tolerated my existence because he was their leader. By rights, the pack was under my leadership, but I was undermined by the betas. I barely escaped with my life, so deep and numerous were my wounds. I dragged myself to the waters edge and called for my mother. She tended to my wounds and healed me. But I could not join her; I was unwanted by the deities.
So I lived alone, learning to hunt and hide, my green coat matured deepening in blue, reflecting the colors of the sea. My estranged pack knew I still lived and found it fun to continue to hunt me. I grew strong, and from a distance my mother watched over me although she couldn't protect me. It was hard for her as the Cradle of Life cares for all things. "When the time is right, your destiny will call for you," she always told me. I knew she was trying to convince the deities to allow me to stay with her, after all I was her child.
The day finally came when the deities agreed that I might live among them. My mother came to me and gave me my choice. I was going to be given the gift of eternal youth and the privilege to be with my mother. And I could live in the sea or on land. I had always loved the sea, so my choice was clear. I went deep into the seas with her and received my gifts. My body changed to adapt to my new home, I could breathe underwater and I now had flukes to propel me through the water. I received a single platinum earring which was a symbol of my new immortality. An inscription on the hidden side showed my new clan, the guardians of water, who accepted me joyfully into their ranks. My life seemed complete, I was with my mother and I was in a pack who wanted me.


---
I live on a houseboat with my little family. We sail around the whole of Neopia. You could call us pirates, but we hold to a strict code of honor. No stealing. Anya is a shape-shifter so whenever we need supplies she changes to her anthro or human form to go take care of everything. She works hard to take care of all of us.
Level: 32
53 / 53
Hours old: Ageless
Strength: 46
Agility: 42
Defence: 47
Intelligence: 154
My new look is finally in the background, but I still have a ref picture here:

Likes: Calm seas, raging winds, faellies, Raindrops on roses, Dew
Dislikes: Causing tsunamis, Dog bites, Spyders, Peas, Mushrooms
---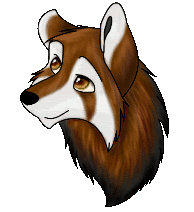 Anya is my keeper. She tends to be a little grouchy in the mornings until she gets some coffee. Yes, I live with a caffiene addict. At least that's all there is. Anya gets along with most people, but rude ones really get to her. Doesn't like dealing with them. As you can see, she likes to draw and do artsy things. Always on the look out to improve too. She's also a classical musician. Got a Master's Degree in Oboe and English horn performance.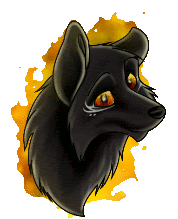 Anduril is a dear friend of mine. She's been through a long life of trouble. You should consider traveling to her page next and reading of her trials before she came to this haven we call our home. In short, she's a former assassin. She's only allowed to hunt art thieves now. But no fire. Only shame.
Narsimurdoc, or Nars as I call him, is like a little brother to me. I found him fleeing for his life in the open sea from a Jetsam. He was barely a few days old! Anya's taken him in to join our home. He's not a typical Lutari that resides in the rivers of the elusive Lutari Island; he lives in the sea. This is one of my favorite pictures of him! Isn't he adorable?!? Anya wouldn't let him go surfing one day because of a prank he played on her and he was pouting a bit.
Keirahnn is the newest addition to my little family. He keeps to himself a lot so I haven't had the chance to get to know him better.
---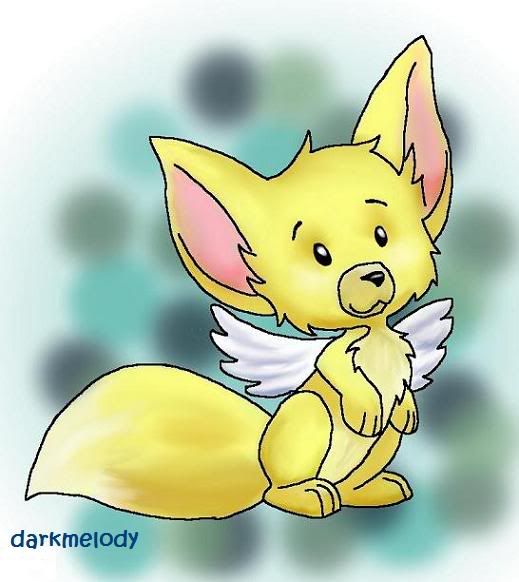 Galena is the faellie I've adopted. She's an extremely trustworthy friend. Not too talkative, but we get our conversations completed. She's pretty gentle, but if I'm not paying attention, she's got surprisingly sharp teeth and claws. But they're too small to do any serious damage.
---
Many people have been kind enough to trade with me and/or draw of me! Here they are! To those of you who have, thank you so much!
---
The part you've most likely been waiting to see.
Anya's just finished drawing and lining a new template. She's not going to do all the painted colors, if you don't want one of the beginner colors, you'll need to ask for a custom.
And
ALL CUSTOMS ARE TRADES!!
except AALL members. Anya has a few quick rules she ask you recognize before you trample her inbox with your mails. (Don't worry- she really likes getting mail!)
1. NEVER ask for a request. She's still in school and doesn't have time. A good neomail subject would be:"Lupe trade?" or "Custom trade?" (She does Lutaris too.)
2. PLEASE have a reference picture for her to look at. It's hard to give you your character when she doens't know what she's trying to draw for you.
3. PLEASE work hard on your customs too.
4. Anya will do her best to mail you the photobucket link. PLEASE link it to either my page here or her lookup.
5. NEVER, EVER use it in the BC or claim it as your own. Most of these are other people's designs- they don't want you taking them either.
Blue: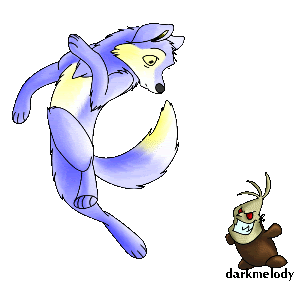 Green:

Red: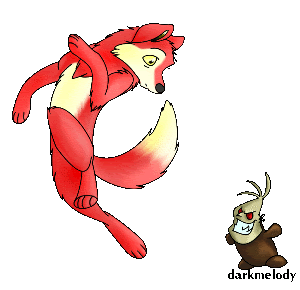 Yellow: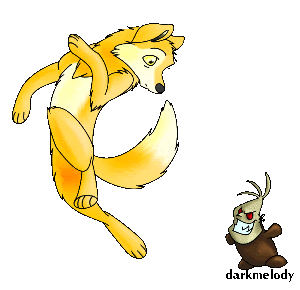 Trade status is ON ANYA'S LOOKUP.
Deszandra: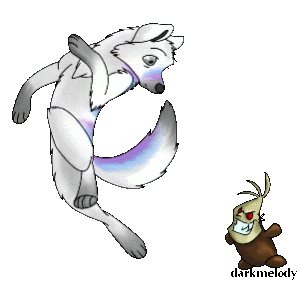 Kalilinoe: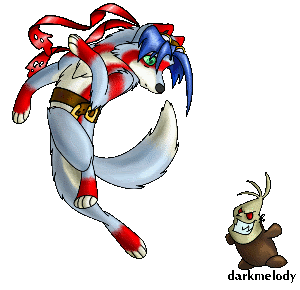 Verplex: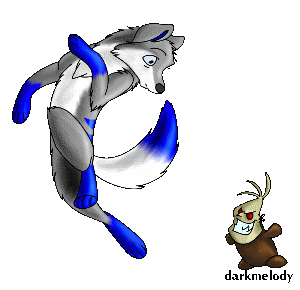 Tailsixon: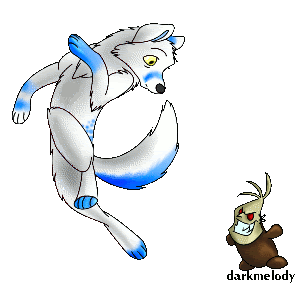 Kiavarsha: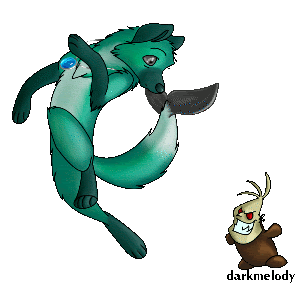 Tharise: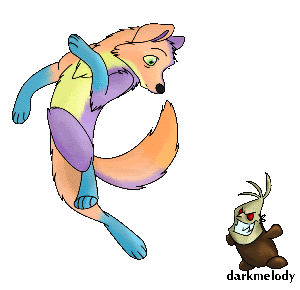 Kodiak077: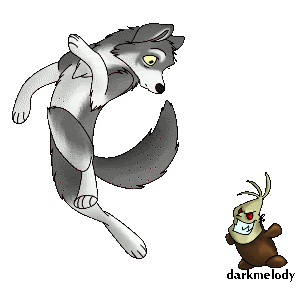 Firekreg: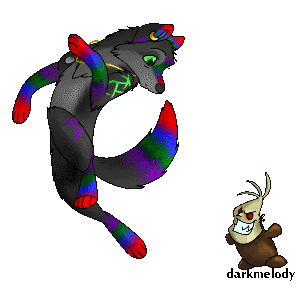 Thorros:
...
If you would still like the older adoptables, Anya has put them on Anduril's page. You'll need to talk to her about getting one. If you haven't seen them, here's an example: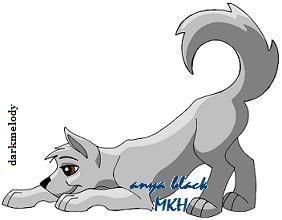 Also, if you have a custom of this template, it will be displayed there as well. That means, if Anya goes scatter-brained and doesn't contact you about a custom she owes you, check if it's displayed there. If it is, and even if it isn't, neomail her and ask her about it. She does forget things sometimes.
AND!!! She recently cleaned through her photobucket account. If she deleted your custom, it's because she didn't see it on your petpages or she couldn't find your lupe to check. It was getting messy...
---
Anya's a big dork and FORGOT to transfer my awards when she redid my page... but I'm determined to reclaim some, if I can remember and find them. And earn some more!
Another place of further interest right here! You can also earn an award from Anya and I!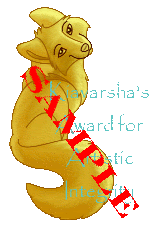 You don't have to be a fantastic artist to earn this, just an artist of originality and integrity. You can neomail Anya to apply, or if she comes across your page and is in awe, she may offer one to you.
Here are the requirements:
1. ALL PICTURES must be of your own work, or properly given credit to their owners with a link or written acknowledgement. This would be not stealing. If I catch you stealing, I'll report you myself.
2. Try to have your page at least 80% complete. For most of us artists, our pages are never really 100% complete.
3. Try to have a planned out site. A story for your pet. A personality. Lots of pretty pictures. You know, the usual.
4. Please make it pleasing to the eye. If my brain begins to liquify because you can't spell or my eyes burn because the colors are too much, I probably won't award you...
5. I think that's it. Anya and I will decide whether you earn gold or silver.
Winners:

Gold:

Silver:

colleendoggirl66668
redler1

kapu_wolf7
canis_rufus_lupus
If you don't want to apply, but want a quick shiny, here is a token from me. It will grant you safe passage through my domains.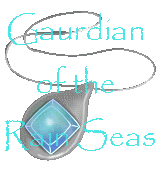 ---
Family links: