Welcome Luna! :D I see you've stumbled across this application for the exquisite maraquan uni, Annoys. I hope you don't fall asleep because there's a lot of stuff to sail through,
but I tried to simplify it the best I could
to keep your interest, because I know how hard it is to read through a square block of text :D. Annoys will be staying on
this account
(mailcall56) if we get chosen :) I would also prefer Annoys to be female (that's why I referred to her as female in this application), because believe it'd better suit her personality. Sorry if I didn't make that clear. :) I hope you relish this application and enjoy it!
About Me
You may be wondering about who I am and what I enjoy doing. My name is Gabriela (please call me Gaby). I'm 14 years old and live in sunny Northern Virginia. We rarely have great snow days, and I live 20 minutes away from Washington D.C., which stinks because I end up getting dragged to museums and art galleries a lot. Okay, they're not
that
boring! In my free time, I love to travel with my family; so far we've been to London, Paris, Morocco, Madrid, NYC, and other awesome places! The beach is my second favorite place to be besides my room. The smell of the salt air just keeps me going. Reading is a passion of mine, I enjoy being
whisked
off to different lands and settings. I usually don't enjoy those clique/gossipy novels. They're okay, but way too superficial in my opinion. The book I'm reading right now is called The Sweet Far Thing, I highly recommend it! As for music, I'd have to say I'm loving the song Bubbly by Colbie Caillat and Numb by Linkin Park. School is very important to me (I want to be a marine biologist when I grow up), and I aim for straight A's, but I always love to come on Neo and relax! :D
Me on Neopets
On Neo, I achieve goals that
I
want to achieve. Just because all the popular rich players have Kad avatars doesn't mean I'm going to blow my hard earned neopoints on it. This is my first existing account; I've made 2 before this one, but I was very young and didn't find the game interesting for some quirky reason, so they are forgotten. It wasn't until June of 2007 that I became a motivated and hard working player on this account. Even with school and all, I have over 3.4 million np in the bank right now, and that's a big accomplishment for me, even though it's not much compared to the big name users. :D I actually literally have to pinch myself to keep myself from buying a bucketload of bakery foods, they look so yummy! I have another side,
raspberriesandcream
, which I was lucky enough to snag the cool username. Some of the ways I spend my time on Neo include attempting to restock at the Chocolate Factory (I'm getting better), surfing the HC, and chatting with my neofriends. Boring, huh?
Why Me?
Why do I think I'm the best owner for Annoys'? I'm very
humble
, but here are my thoughts:
I'm a user that is here to stay. I'm not the kind of user that gets the pet they applied for and then quits Neopets, leaving the pet rotting. I've been on Neopets since I was nine, and I will NEVER quit This site is too interesting and sticky for that to happen.
I'm not the richest user, but I have over 3.3 million np that came from my hard work and determination on this site. I can provide Annoys a loving home, and shower her with whatever items she desires. Okay, not everything! :D
I have never been frozen before and make sure to abide by Neo's Terms and Conditions. Spamming or scamming doesn't interest me, having fun on this site the right way does! :)
If Annoys gets come home with us, I would use this petpage layout to make an actual petpage for her, and include her likes and dislikes, and her stats. I would also create a little section called Annoys' Diary, which would chronicle her life living with me and her siblings :D
My pets all have pet lookups and petpets, and never go hungry. I love them. That sounds weird, but it is indeed true. XD They might not be the most expensive painted pets but they are a part of my Neo life, so I could never part with them.
Why Annoys
This is difficult for me to write partly because there are many inexplicable things that I love about Annoys. But I'll be honest, the name
Annoys
just jumps out at me, just like a crashing wave at high tide. It's
creative, quirky,
and uses a real word as its basis. Unis are one of my favorite pets here on Neo because of their resemblance to horses. I had 2 blue unis on my old forgotten account I created when I first started playing here, and I loved those unis for the short time I was on that account. If only I could get it back. :( Maraquan pets also appeal to me much more than pirate or those other expensive colors do. Why? They're mystical wonders. Some of them have gills, others may have webbed feet, but they all share my same love-the water. Maraquan unis look so fluid and graceful as they prance around, I can just imagine Annoys cantering away into the sunset She appeals to me because of my love for the beach; I imagine Annoys smelling of fragrant salt water and with grainy white sand lodged in her delicate hooves.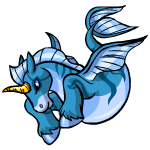 Annoys' Statistics
Name: Annoys
Species: Uni
Favorite pastime: Collecting sea anemones and seashells
Favorite Disney princess: Ariel from "The Little Mermaid" :D
Dislikes: Clams without pearls inside,rude people, dung that gets stuck to her hooves
Favorite dish: Yellow snapper fish with a side of wild rice
Favorite color: Cerulean
Favorite halloween candy: Swedish Fish
Personality: Celestial, Aquatic, Inquisitive
Siblings: Cheesecake, CandiedWishes, Fyoras Pride
Cousins: Gelatinously, Ledacia, Shocktober
Current Job:Kelp Restaurant waitress in Maraqua
Plans for Annoys
I have many things to do that I'd love to do with Annoys, so many I can barely write this without falling off my swivel chair. :D
Color/Backgrounds/Clothes
I'm
never
going to lab Annoys because her color makes up her personality. She's an aquatic angel at heart, and I don't really want to change that. Unfortunately, Maraquan pets can't wear clothes. But, don't worry: My mom has agreed to take me to Target and get me Neocash for my birthday. I'm SO excited about getting Neocash Items for the first time for Annoys!
NC Mall Items For Annoys
Exploring Maraqua Background for 200 NC.
Magic Floor Harp for 150 NC
Petpet
I would give Annoys a petpet for sure. Petpets are basically just like adorable sidekicks who follow their bigger buddies where ever they go. Luckily there are many maraquan petpets availible (yay!), so Annoys would definitely have a loving maraquan petpet companion that would never be zapped. I did some research and found many maraquan petpets that would make the cut as Annoys sidekick. But there's one that I particularly like and that one is the maraquan albat. It looks very adventurous and lovable. Her name would be Dulce, which is Italian for
sweet
. I'm currently saving up for one to put in Annoys' gallery, so check back soon! :)

Update: I have bought an Albat and a Maraquan Petpet Paint brush! Click here to see Annoys' gallery.
Beauty Contest
I have quite a bit of experience in the Beauty Contest field; my faerie scorchio won first place in her species with this image.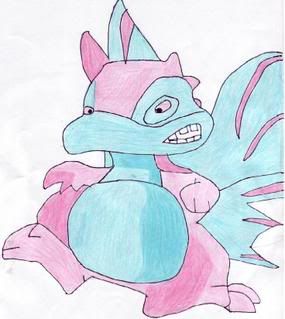 This was my first time entering the BC so I was ecstatic when I discovered that trophy on her lookup. I don't think I'm that great of a drawer, definitely not a Picasso, and the picture wasn't the best quality because it had ugly lead smudges on it. (I used colored pencils and pen) But I'm glad people voted for my scorchio nevertheless. Annoys looks like a pretty simple neopet to draw so I really want to enter her in the BC. I want her to have a shiny golden trophy too! :D

As for a drawing of Annoys, I'm still working on it. I'll put it up once I think it's truly ready to be displayed. I have a lot of work to do on it, lol :)
Gallery
I have a vanilla gallery that I cannot part with, but I have already constructed a Maraquan section of my gallery dedicated to Annoys. These items will be for Annoys if she gets to come stay with us. I want her to have oodles of fun and have something to look forward to if she gets to come live with us! Click
here
to see Annoys' gallery.
Gallery Additions
These amusing items are currently in Annoys' Gallery. Reading about Maraqua can get boring so I provided some food and toys for Annoys that
aren't
and
are
related to Maraqua to pass the time! :D The last item is the most recently added item.








From left to right, Maraquan Bed Time Stories, Maraquan Door Mat, Maraquan Faerie Tales, Maraquan Pillar Cake, Maraquan Tambourine, Enchanted Maraquan Necklace, A Maraquan Menu, Rainbow Doughnut Plushie.
Loving Family
Credit: All glitter graphics come from Adam12345678910244's petpage. The links from the images weren't going through the graphics filter :/
FyorasPride202 is a lovely faerie scorchio who loves showing off her flying skills and talking with a British accent during teatime with her pals. She is my first female pet on this account, which makes me love her even more. 3 words to describe her are vain, mellow, and graceful. She may act a bit spoiled, but underneath her wings is a kind heart.
Cheesecake351 is a humble and shy tuskaninny whose only wish in this world is to fit in. He enjoys sneaking off the Faerieland bookshop to try and take advantage of a good book sale! He was my first neopet created on this account, so he will never be up for adoption. 3 words to describe him are studious, timid, and a little bit rebellious sometimes.
CandiedWishes was born on Poogle Day 2007. She is cunning and enjoys playing harmless pranks on her siblings. Being very brave, she was the first pet I've ever zapped. She turned starry, but we disliked that on her. On April 3, 2008, CandiedWishes turned Jelly, and she will never be zapped again. Her color suits her name and she enjoys jiggling to the Electric Slide!
Side Account Pets
The pets on my side account are just as loved as my main account pets are. They have their usual quarrels and disagreements, but they love each other all the same.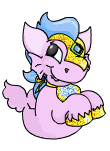 Ledacia is my first and only baby pet. She is the picture of sweetness, always asking her siblings if they need help. She's so small that she has to ask Shocktober to feed her her bottles of milk, but she'll grow up into a beautiful and strong peophin soon. Fyoras_Pride202 takes Ledacia under her wing quite beautifully.
Shocktober is an easy going cloud chomby who literally rains on your parade. He can be moody sometimes because he wants to be painted Halloween, but Chombies can't be painted Halloween as of March 2008. Once they can be Halloween, I'm buying that paint brush for him immediately to make his cloudy attitude go away. He enjoys exploring Faerieland with Cheesecake.
Annoys' Favorite Faerie
Her favorite faerie isn't too difficult. If you can't
decipher
this puzzle, I'll give you a few clues.
Water Faeries will raise your defence for a price. They are hungry for knowledge, and if you provide what they need, they can be very generous.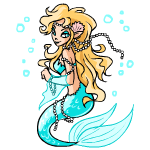 All About Water Faeries
The Water Faerie is the faerie aligned with the element of water. Annoys can so totally relate to her! XD Water Faeries are seaworthy creatures. They can't fly, but they can swim faster than most Faeries can fly. They swim in the rivers, streams and oceans of Neopia, unseen and hidden. They can be heard singing sweetly and quietly at night, but only if they aren't aware that other Neopians are near. They specialize in healing and defensive powers that will protect Neopets from harm.
Water Faeries wish to get their hands on as much knowledge as they can, and the more powerful Uber Water Faeries will sometimes give a cool Faerie Quest to users, asking them to bring them a book. If completed, the Water Faerie will raise a Neopet's defense. Sweet, huh?
Annoys' Favorite Lyrics
These lyrics are from "The Little Mermaid" movie. :D
The seaweed is always greener
In somebody else's lake
You dream about going up there
But that is a big mistake
Just look at the world around you
Right here on the ocean floor
Such wonderful things surround you
What more is you lookin' for?
Under the sea
Under the sea
Darling it's better
Down where it's wetter
Take it from me
Up on the shore they work all day
Out in the sun they slave away
While we devotin
Full time to floatin
Under the sea
Down here all the fish is happy
As off through the waves they roll
The fish on the land ain't happy
They sad 'cause they in their bowl
But fish in the bowl is lucky
They in for a worser fate
One day when the boss get hungry
Guess who's gon' be on the plate
Under the sea
Under the sea
Nobody beat us
Fry us and eat us
In fricassee
We what the land folks loves to cook
Under the sea we off the hook
We got no troubles
Life is the bubbles
Under the sea
Likes
Cool things Maraquan Bed Time Stories always get Annoys to sleep no matter what she went through during the day. Plus, the book is dripping wet! :D

This Enchanted Maraquan Necklace makes Annoys feel like a deep sea goddess whether she's in the water or not!

Forget all those babyish doughnuts. The Bakery actually sells these Maraquan Pillar Cakes, which are perfect for any Maraquan themed party and a staple at Annoys birthday parties!

Annoys loves reading this Marshmallow Invasion book-she can't put it down-especially when all the marshmallows slowly melt to death.
Dislikes
Eww!

How much more fat and cholesterol can this
Sausage and Pepperoni Omelette
get? I mean, it's a breakfast food.

Who even bothers to paint this Rainbow Dung anyways? It's still dung, no matter what color it gets painted.

Annoys never forgave this Sludgy after he oozed brown slime all over her favorite books. Now she despises them.

Annoys would hate being painted with this ugly Scritchy Sketchy Paint Brush, I mean, isn't it horrible to be a 2-D sketched pet on a piece of paper?
Portrayal
I thought I should add this section to show you that I can think of a single object that basically summarizes Annoys' personality. That keepsake is the
Royal Orange Cowry Shell
:

Loved by everyone, this beautiful shell can be very difficult to find. It never washes up in the same place twice.
Like this shell, Annoys is a keepsake, and is admired by everyone. People of Maraqua are usually not as intelligent or as humble as Annoys is. This shell also protects whoever choses to hide inside it, such as a crab, protecting it. Annoys is also willing to do this, by protecting her cherished friends and family by making sure they don't come in harms way.
Roleplay
Luna, if you don't like this part you can ignore it and keep sailing through the app. I just wanted to add this to show I'm capable of grinding out some roleplay, although it's not superb.
Annoys awoke to a hurried CandiedWishes pulling her hair. "Hurry up, we're going to be late for work!" Annoys yawned and rolled over in bed. She didn't feel like leaving the warmth and security of her double bed with it's fluffy comforters. But anyone who knew CandiedWishes did what she said or got persuaded into doing it. Annoys got up out of bed, hastily dressed, and bounded out of the house like a frightened jackrabbit to work.
FyorasPride and Cheesecake were already at Blisse Restocks, the family's store. Cheesecake was dusting off the shelves and FyorasPride was opening boxes of merchandise. "Where's Gaby?" questioned Annoys. CandiedWishes yawned. "She's out looking for new items to add to our shop. She's sick of selling chocolates and candies, she actually wants to start selling wearables and plushies."
Cheesecake frowned. "Guys, have you seen the cash register? I'm sure it was here yesterday."
FyorasPride smacked herself in the head. "Oh my god, we are so stupid. Some one must have stolen it over night and we're too twiddle brained to even notice it's gone!"
The siblings surveyed each other closely, suspicion in their eyes. Because of the missing cash register, none of them would trust each other until the register was found.
Poetry
Dedicated to Annoys
An aquatic breath of
fresh air
Annoys certainly is the most beautiful mare
Inquisitive, sweet, and full of joy
Her favorite foods happen to be Swedish Fish and soy
Wandering around Maraqua's crowded annual fair
Annoys can't find her beloved Luna, quite a scare
Then a young girl comes up to her and smiles
Annoy's fear has melted off her back in piles
She lets this young girl lead her away
Into the safety of a cottage in the bright of early May
Little by little she begins to trust the young girl
They even dance to the radio with a spin and a twirl
Annoys is tired from the day's frantics and fun
So she climbs into the guest bed, the night has just begun.
Directories
One is silver and the other's gold
I will use these directories to find Annoys some new Maraquan pals if she gets to come stay with us

This directory actually features a Pet Spotlight in which a Maraquan pet is chosen every week to be featured. Now that's cool!