Restocking at the Main Neopian Shops
Now that you know how to restock by the shop wiz, you may have practiced and found that you can make some great deals. Although this is a great way to make Neopoints, there is an even more efficient way to get rich: restocking at the main shops.
Well, what are the main shops?
The main shops are the shops found in Neopian Central, Faerieland, Lost Desert, etc... they are run by Neopets and they restock at a certain random time. They do not restock every 8 minutes, as all of the shops say... there are sometimes 30 minutes between restocks, although most of the time, it is not that severe of a time range.
So, what's first?
The first step of restocking at the main shops is to find a "main" place to restock. For beginners, I would choose any of the book shops, or even food. Once you choose a shop, go there and refresh every minute or so until you see some items.
The first step in restocking an item is clicking on the item. Once you click on it, it will take you to the haggling page. Don't type the exact price! Don't try to haggle, either. If the price is 1347, type prices like:
1444
1333
1331
Be sure to stay somewhere in the price range, but be fast as well. Here's an example of "speed haggling":
Once you're finished speed haggling, you now have to click on the picture with the Neopet on it: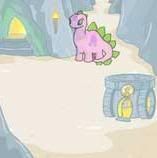 Your goal here is to click on the Neopet that shows up the most boldly. In this example, there is only one Chomby. But in other pictures, there might be more than one Chomby. In that case, you have to click on the one that is bolder than the others.
If you were quick, another page will come up telling you that you have bought the item. Good job! Now it's time to price it.
Go to the shop wizard and refresh the page a few times until you find the lowest price. But don't price it too much lower than the wiz! If the going price on the Shop Wizard is 900, then price your item at 895 or 890, or somewhere close to that. That way, you sell the item quickly and still make profit. Pricing your items can also bring great profit, because sometimes when you're refreshing the shop wizard, you can find an item greatly discounted. I can't remember how many times I've looked up items and ended up buying more of them for just 1 Neopoint. It's shop wizard restocking all over again!=P
Now that you know the basics of restocking, you must heed the following:
Before you go gung-ho and start buying everything in sight, STOP. Look around a little. Keep an eye out for what sells quickly and what doesn't. Chances are, if there is only one or two of one item in stock, it's a rare item. Go for it! Try to memorize what items are good and what aren't.