LOVELY LUPES IS CURRENTLEY CLOSED! PLEASE DO NOT REQUEST FOR YOUR LUPE TO BE IN HERE OR ELSE I'LL DELETE YOUR NEOMAIL!! THANKS!
Hello, I'm Cutie_3939 the Lupe, but please just call me Cutie. I will be the host of this directory, Lovely Lupes.

This is just a nice little directory about Lupes! After all, Lupes are one of the most loveliest species in Neopia! Catzy, my owner, will accept painted and unpainted Lupes, as long as you tell her when your Lupe changes color. Below are the rules:



1. You're pet must be a Lupe in order to be in this directory.

2. Do not ask Catzy to submit your lab pet unless you plan on keeping it a Lupe.

3. When you neomail Catzy, tell her your Lupe's FULL name and their color.

4. DO NOT ask the owners for their pets! This is not an adoption place. The pets aren't up for adoption unless individually stated by the owner.

5. The Lupe must belong to you. It can be on one of your side accounts or your main, as long as it belongs to you.

Now that you know the rules, you may neomail Catzy by clicking here.


Happen to come across this directory, but don't have a Lupe? Here's how you can obtain one!

1. The simplest way to make a Lupe is by going to the Create-A-Pet center. We're not limited addition, so you can make one at any time.

2. You might find a wonderful Lupe in the adoption center! Click the picture to go there.




3. If you buy a Lupe magical plushie, this will turn you already existing pet into a Lupe. Here are some below:








4. Another way is a lucky zap by the lab ray.





5. The only other way you can make a Lupe is by purchasing morphing or transmogrification potions. They will morph your pet into a Lupe! Some of them are below:










Total Number of Lupes: 83
Most Popular Painted Color: Faerie with 5 Lupes
Most Popular Unpainted Color: Blue with 11 Lupes
Last Update to Lupe Listing: 9/01/07
*Note: ALL of the sparklie Lupe images and the sparklie table came from Pitty's Glitters. Click below to go there. Also, the custom glitter writing for the title is from Masimo's Glitters. Click the button below to get your own*


Onlinecity
Ninederina
Looyiqing12429
RoseShepherds
Lightning_pup3
Eriks_Dark_Tears
Snowangel594
Dierew
0Sylvester0
1Sylvia1
Acoresaint
Desaunt
Mookaya
ShepShepherds
Frosty_Kira_Free
Damion919
Nippyy
Puppieys
Cevan261
Katriita
Dada375840
Braveheart_Blackpaw
Calzhair
Jitsen
Arihrar
Malvinna
CyroDart
Dakota_pup3
CryoDart
Terriieh
Golden_875
Xhantel
RoxyShepherds
Melanaye
Cali41595
Geelae
Erik_Angel
Sdpler
Kantner_
Weinerxz
Lovinnia
Storm_Call07
Okafella
the_bandit_
Lupity_lupe_123
Inuyasha_The_Greato
Faiitt
TormundTheKnight489
Mayakip
Kawet
Sk8r_dog2005
Orthoz
Ammeranta
Kapu077
WherelupeKing
Soulit_the_Black
Meliissia
Max41754
Neffariousity
Kyern
Kodiak077
Plantations
Wolfin_Shadows
YellowRedCandyCane
CryoDart_
Appleblossom130
Lupis_Minor
Fideliity
Letiicia
Acriimony
Taylor_58201
HunterShepherds
Masimo_the_Masked
Cutie_3939
Cananlier
Chellesee
Araei
PrincessLeia641
Lakota702
Interun
Icy_Sea_Angel
_Sir__Tormund_
Balto_2_5
Shaadowx
Buttons
Below are the buttons that link back to Lovely Lupes! If your Lupe is in this directory, my owner and I would really appreciate it! Plus, it would spread the word about this directory. My mommy has one for every color the Lupe comes in.! ;) Affliates may also use these same buttons. We have no specific buttons for members/affliates.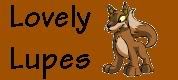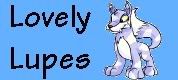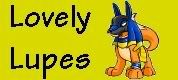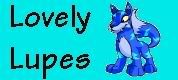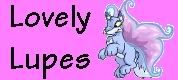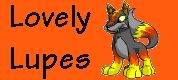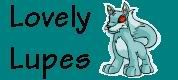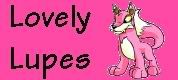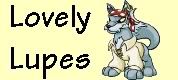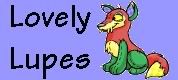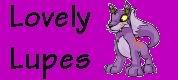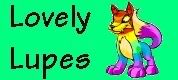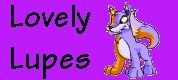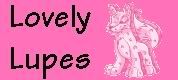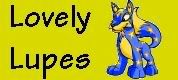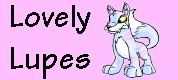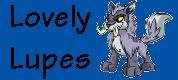 Adoptables of Me


Here are some adoptables of me! Aren't all of them awesome? Yes, I know they are. I'm cute. *winks*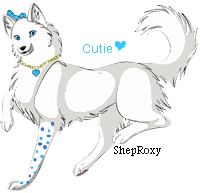 Affliates
If you'd like to be on the Affliates list, please neomail Catzy, and she will add you to the list. Her user-name is kitty_cats_39.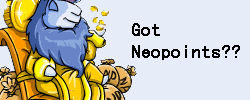 NEOPETS, characters, logos, names and all related indicia
are trademarks of Neopets, Inc., © 1999-2013.
® denotes Reg. US Pat. & TM Office. All rights reserved.
PRIVACY POLICY | Safety Tips | Contact Us | About Us | Press Kit
Use of this site signifies your acceptance of the Terms and Conditions