Updates & Credits
Original layout by Sunnyneo
Last Updated:
10/16/12
Thineself
bold underlined italic
link
Owner:Taintedsnow18

Full Name:Casting_Excelion
Nick Name:Excelion, CE
Birthday: March 2008; painted October 2012
Gender: Female
Species:EyrieFire

Personality: Excelion is a ruff-n-tumble type of girl. She's not afraid to get dirty (in a fun way of course). She does have her quite and peaceful moments but most of the time she likes to have something to do.

Occupation:Casting Excelion lives in and around volcanoes on the islands of Hawaii. The feel of blistering heat feels so soothing to her. She usually bathes in lave pits or lava cracks.

Family



Divine Intervention
Divine is a helper and a healer. Divine represents those times that you know that you know God had intervened. She makes a good gaurdian angel. She lives in the Himalayas. We are total opposites. It's not that I don't like her, it's just she likes the cold and I like the heat.





Tainted Wisdom
is a forest hunter, he loves the Autumn season, and looks like a chinchilla.



Friends:

Little Dragon
My closest relative and best friend. She lives on Mt. Everest. She adores the freezing temperatures and the altitude pressure. She doesn't spend much time to there, though. She tends to stay in Faerie land more, helping people. That's where we tend to run into each other.





Sacred Fire
He has the same tastes as me, sleeping in volcano craters.



Exelion is looking for some eyrie friends. I expect the owner to post on their neopet's page that Excelion is their friend too... it is not a one way deal. Neomail Littledragon1800 (owner) if you are interested.



Customs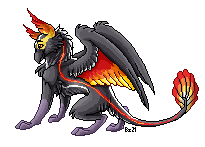 This turned out so cool! Thanks Bx21!!!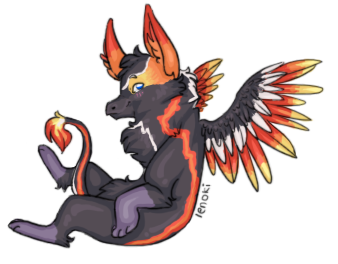 Wow!!!!! Thank you so much Lenoki!!!!!
Eyrie Adoptables

Do Not Steal anything of anyone's on any site in any country of the world. I mean it. I will not tolerate it! (I have caught many thieves!!!)
Please do not edit the adoptables/customs or enter them in any type of gallery or contest.
Makeables by Littledragon1800 are found here: Click Here
Customs can be found at: Lacie007
The easiest rule of all: Have a lovely day and enjoy the adoptables! Good day! Thanks for dropping by! Bye!
Blue
Green
Red
Yellow
Baby
Brown
Camouflage
Checkered
Christmas
Cloud
Darigan
Desert
Disco
Electric
Faerie
Fire
Ghost
Glowing
Grey
Glowing
Halloween
Invisible
Island
Magma
Maracite
Maraquan
Mutant
Orange
Pink
Pirate
Plushie
Purple
Rainbow
Robot
Robot (bare)
Royal Boy
Royal Girl
Shadow
Silver
Sketch
Skunk
Snow
Speckled
Split
Spotted
Starry
Striped
Tyrannian
White
Zombie
Fake Color
Awards
Reference
Description: Stays on all fours most of the time. Has symmetrical body. Has an orange and red streak flowing down body--starting behind neck and ending at tip of tail. Has bird-like feet.



To see full view of the images Drag-and-Drop the desired image to the bottom of your browser
Fan Art
Link Out


Toy Box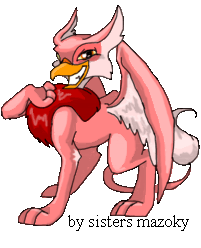 NEOPETS, characters, logos, names and all related indicia
are trademarks of Neopets, Inc., © 1999-2013.
® denotes Reg. US Pat. & TM Office. All rights reserved.
PRIVACY POLICY | Safety Tips | Contact Us | About Us | Press Kit
Use of this site signifies your acceptance of the Terms and Conditions