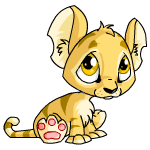 Sarah And The Baby Kougra

by qwerty_you3162

--------

As my owner Sarah and I walked down to the Neopian Pound, I shuddered... what if Sarah got another pet? What if she loved it more than me? What if was all I could think about. I swore to myself that I would hate any new pets my owner adopted. I had always been an only pet, and now, as I just turned a year old, she decided she might adopt three more pets. Sarah had created me, her one and only pet. I myself was a female red Uni. Sorry, I forgot to introduce myself. I'm Zappa, and as I already told you, I'm a female red Uni. Anyways, as we neared the pound, my thoughts of hatred were broken by Sarah.

"Now remember, Zappa, to be nice to your new brothers or sisters. I promise you, I will always love you, no matter what. It won't matter if this new pet or these new pets are as cute as buttons, I will love all my Neopets, do you understand?"

"Yes," I said miserably. "I'll be nice to my new brothers and sisters, and you'll love me no matter what." I repeated in a monotone voice.

"Good then," Sarah said happily, not even noticing or caring how unhappy I was.

As we walked through the large, heavy gold doors we noticed a small, worn-out wooden desk. Sarah walked up to it, and the Techo and the Uni both started talking at once.

"SILENCE!" Sarah yelled over the two jabbering pound workers. "Now, I would like to adopt another pet, possibly three more." Sarah said in a calm voice.

"Good choice," the Techo and the Uni said in unison.

The Uni led us to a large but cramped room filled with cages that held various pets. The room was crammed with owners looking for more pets. There was a glass window where I saw about thirty owners at that point putting their pets on a slide. The slide led to a cage. I immediatly realized that they were abandoning their pets. Interrupting my thoughts once again was Sarah, who was shrieking with joy.

"Come quick Zappa, I found a pet to adopt!" Sarah squeeled with great delight. "It's so darling and perfect and it looks like such a little angel! Come on hurry up!"

"ALRIGHT, I'M COMING ALREADY!" I yelled in frustration. About fifty people were in front of me, blocking me, and all I could do was take my time. I walked slowly through the crowd that was as thick as a phone book.

I walked over to the cage, and first I looked at the price. It was such an expensive pet that we would only be able to adopt it and no others. That gave me a small bit of my security back. Next, I looked at the name. The tag read Sarahwings. Eh. Easy to remember. Next, I looked at the pet. It was a Kougra painted baby! I knew that Sarah would forget her promise after adopting a baby pet.

When we got home Sarah played with her new pet until bed time. She fed her new pet but forgot to fed me. Then she yelled at me when I went to get something to eat claiming I had already eaten my share while she was feeding Sarahwings2001. I was alone already. That night I cried myself to sleep. I wasn't even allowed to sleep in my bedroom. I had a bed and a crib in my beautifully decorated room. Sarah had removed my bed so Sarahwings2001 could have some privacy. My bed was stuck in an empty cardboard room. My former room had been cloud! I decided I would be miserable until Sarah got rid of her new pet.

About two months later, Sarah took Sarahwing2001 and I to the pound for a look. What I expected to happen did Sarah whispered something to the Techo when we got there. The Techo grabbed me and put me in the room with the slide. He pushed me down it. I screamed and begged and cried, and kept wondering what did I do to deserve this. Then...........

I woke up, it had all been a terrible nightmare. I was so relieved, I could have kissed a pile of dung. That morning, Sarah and I went into our storage room to look for something and we found a note on our door. It said:

I could no longer take care of my pet, she is in a basket outside this door, please take good care of her. I love her very much. She is nine months, a baby Kougra, and her name is Sarahwings2001. Please take care of her. I adopted her from the pound when she was a day old and I have been taking care of her ever since. But now my other pet is started to reject her and I'm sick of all the fighting so my pets had a huge fight and I decided to give Sarahwings2001 away to prove I love my other pet. There was no other way so please don't judge me, I'm at least trying to gove her a new, good home. Please keep my darling if you can. Thank you very much.

Sincerely,

Petlover04638

P.S. Please don't contact me about my pet. Bye.

I nearly fainted, later that day I played with my new friend but I kept an eye on Sarah. I mean, dreams can come true. But I wasn't afraid this one would any time soon. I mean, I guess it was a pretty dumb dream. At least, I hope it was....

THE END!