Your questions answered!


Read the answers to the most commonly asked Neopets questions this week in the Editorial section. Each week the most popular questions will be answered by one of the creators of Neopets, so keep checking back to stay updated.


---
Quote of the Week
Sloth - merely Doctor Sloth at that point - had kept trying to conquer Neopia, over and over again, refusing to give up after every humiliating defeat. In time, the citizens of Neopia had come to see him as more of a comical figure than one to be seriously worried about. That was their mistake.
---
| | |
| --- | --- |
| Do you tremble at the sight of a factory worker? Do you cringe when you see enormous vats that need to be filled? Do the words 'Freaky Factory' strike terror into your heart?! Well, my fellow Neopians, you'll be glad to know that there is no need to be freaked anymore, with the snazzy new Freaky Factory Guide! Let's break it down into three categories... | Many people haven't even glanced down at the brown leather cover with gold sparkled lettering reading MY STAMP ALBUM. They have tossed it aside and maybe it has collected dust in an attic full of cobwebs. Or perhaps they've shoved theirs in a sock drawer. Hmmm... But enough about "them". Let's talk about you. Where is your album? Is it abandoned in a corner of your Neohome? |
Altador Cup: the Other Teams




The Altador Cup caught everyone's attention, with its talented players, dedicated fans, closely-fought matches, and teams from every part of Neopia... or should that be almost every part of Neopia? You see, although most Neopian worlds did play in the tournament, there were three teams who didn't quite make it. Here we introduce you to the teams who couldn't be there...
---
Other Stories
"Soup's Up!" by bellababy265
The Wheel of Wonder seemed to be popular. There was a queue that stretched all the way from the wheel to Happy Valley. The pets at the end of the queue were able to buy slushies at the Slushie Shop for their wait. Not that they seemed to be bored; everyone was bursting with anticipation. Kela and Ali joined the end of the queue and bought some Jelly Slushies...
"Greed and Gold" by orangeorge62
Righting himself in his chair some more, he spoke. His voice came out in an impressive, chilling rasp, scraping upon the air like a rusted knife. "Arr, so ye're lookin' fer a tale, are ye? A tale to whisk ye away from this miserable old hole? Well sit back, buckoes, and keep yer measly ears open if ye think ye're man enough to stand tha horrors I'm about to be a-tellin' ye."
"Dawn of Darkness: The Beginning" by arrielle5
As she approached the looming hill, however, something else nearby caught her eye. Three children were harassing a young Darigan Eyrie, just out of view of others, hidden in the trees. The Eyrie could've fought back, but he was stuck in a cage, shrinking slightly from the taunts and jeers he received. "Go back to the Citadel where you belong!"
---
Looking for Delectable Edibles?


This week's issue is brought to you by: Exotic Foods
Search the Neopian Times


---
Great stories!
---------
---------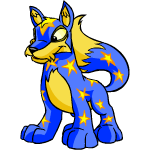 A True Friend
Halfway there, I was intercepted by Lily, my Ixi friend. Her fur was a plain, ragged blue. Her family was... less fortunate than mine...

by timber_wolf_789
---------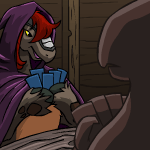 The Peophin Incident: Part Four
To the right of him, he heard another voice screaming, Run, you fool! But he couldn't run. All he could do was stand there, terrified, his eyes shut tightly, waiting for the Snowager to come and devour him...

by kyrinn
---------
---------
---