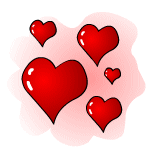 Snaw's Beauty Post: A Lovely Valentine's Day!

by downrightdude

--------



Hello impressionable wannabes! Welcome to a very special edition of Snaw's Beauty Post, in which I'll be discussing one of Neopia's most beautiful holidays: Valentine's Day!!!!

If you're as beautiful and/or beloved as me, then you would know the joy of receiving various gifts from those who admire you so much as to spend actual neopoints on getting you fancy presents, and Valentine's Day is no exception! Because I'm SO beloved all over Neopia (and beyond, because I'm of my unrivaled beauty) I've received many gifts during the years and, yes, there are a few that are better than others.

But for those who will never enjoy the amount of admiration and devotion I feel every day, I'm making a list of the top TEN Valentine's Day gift ideas to guarantee that your loved ones have a very special V-Day! So get ready for these never-fail gift ideas a la Snaw:

Homemade Valentines Day Card

Someone put a lot of time and effort into this pretty card.
Of course, the main basis of any Valentines-related gift is a pretty card, and this card is it! Unlike all the other mass-produced cards, this one was handmade by an unknown Neopian in an unknown destination. I don't know who made it, and quite frankly I don't care, but this card will surely make your loved one so happy if you ever try to pass this on as something you made!
Just make sure you write your own message inside it, as these cards are blank. If you aren't a creative poet-wannabe, then you can always purchase one of the other pre-written cards instead. Less thoughtful, but using a pretty card can still make the recipient feeling loved.
Gold Valentines Ring

This intricate design has little diamonds interwoven into it for extra sparkle.
Who wouldn't want a diamond piece of jewelry for Valentine's Day? This ring is SO cute and is a must for anybody who loves jewelry and shiny things as much as Snaw! Although the design is pretty simple, it's the diamonds found interwoven within the ring that make it a keeper. And the fact that it's a gold ring is even better: seriously, gold jewelry is TOTALLY in this year!
So if you're willing to give up the neopoints, buy this ring! DO IT NOW!
Valentine Rose Bouquet

A fun bouquet with a cute little balloon.
With there being so many bouquets of flowers to choose from, which one would be the best for your loved one? Rather than settling for one of those cheaper bouquets found poorly stocked in any stranger's gift shop, I suggest you go with this super-luxurious bouquet instead! The red and pink roses are faboo enough, but the added polka-dot balloon is such a cute touch and really brings out the Valentine's-feel in this bouquet.
Finally, that vase? FAB-U-LOUS! With it, the flowers can be kept longer and the vase can even be reused for future planting needs. So forget all those la-de-blah bouquets and track down this beauty to really leave an impression!
Valentine Pencil

Great for sketching little hearts on notebook covers.
You may be thinking this is just an ordinary, boring pencil, but you'd be wrong! This piece of stationary is in a beautiful shade of I-don't-know-what and comes with an adorable pencil topper! A way-cool pencil is one thing, but pairing it with a heart-themed pencil accessory? Now that would make this the perfect gift for any Neopian fashionista (i.e. Snaw) or any other regular Neopian who enjoys collecting pencils.
Bonus points are awarded for the pencil's purple-coloured lead, which means that every written word is a fashionable shade of purple—guaranteed to make any piece of paper look extra stylish. The pencil itself has no attached eraser, so buy a heart-shaped one to continue your fashion streak!
Valentine Petpet Paint Brush

Take this magical Paint Brush to the Petpet Puddle and something special may happen to your Petpet!
There are so many Valentine Petpets for some reason, and they're all adorable! But why buy one when you can offer your loved one this pretty paint brush instead? For starters, I just LOVE the pink handle, the purple bristles, and the red paint! Everything screams 'Valentines Day chic', and that alone is enough for anybody to want this paint brush as a collector's item.
The only recommendation is to see if the recipient has a petpet that can be painted Valentine, if painting is the objective. If not, then it'll make a lovely gift for any lucky Valentine!
Valentines Girl Usuki

How can anyone resist this sweet little valentine?
For the Usuki lovers (i.e. Snaw, like duh) this doll is a must have to celebrate Valentine's Day. The doll itself has closed eyes, but that's mainly to express the joy she feels at the lovely non-removable red heart she's holding, most likely a gift from the boy doll counterpart. Other highlights are her headband, dress and shoes, all different shades of pink and all super adorable!
This Usuki practically screams Valentines Day, and it's one of the best gifts for any and every Usuki doll fan! And speaking of pretty dollies I would want to own in the future…
Valentines Boy Usuki

This little gentleman is waiting to steal your heart away!
If you can't (or don't, you selfish dweezil) get the Girl Usuki, then getting the Boy Usuki would be an excellent gift choice! For starters, he's dressed up in a stunning tuxedo with a cute little bow tie to match! And then there's his accessory: a little red heart (attached to his hand, so non-removable) to give to his sweetheart! Isn't that cool beans? Bonus points go to the little bits of brown hair he has on his head!
So you can either buy one of these dolls, or buy them both and surprise your Usuki fanatic with double the Usuki love!
Valentine Pet Plushies

Another wicked boss gift idea for Valentines Day are the cute, adorable plushies anybody with good taste would cherish forever! And because there are so many Valentine-themed pets to choose from, I've decided that all of them should be included, though only the Yurble one would be used as a picture because it's one of the cutest plushies out there.
All of these plushies are pink and can either have polka dots, hearts or other details that make them too-too cute. The plushies are also so cuddly and soft, making them the perfect gifts for younger pets or anybody else who loves the comforting hug of a plushie. Just make sure you don't buy any of the 'rejected' plushie options, though. They're not that great.
Valentines Heart Shaped Chocolate Box

A beautiful box of chocolates that will win over your valentine.
Who can celebrate Valentine's Day without a box of chocolates? Whether you wanna pair something with your non-edible gift, or you just want to give something sweet, these box of fancy milk chocolates are delectable for any candy-lover! The heart and square shaped chocolates come in a variety of popular flavours: plain, hazelnut filled, caramel filled, truffle (whatever this means), nuts and a mix of white and milk chocolate. And what really ties these 'way yummers' candies together is this stunning red heart-shaped box, complete with a beautiful rose and heart pattern!
It's not a guarantee that you'll completely win your valentine over, but it's worth a try!
Valentines Day Ring

What can say I love you more than this beautiful ring?
I already covered another diamond ring earlier in this list, but THIS one is just too irresistible to pass up! For starters, this ring has its own velvet case! How many rings in Neopia can boast that? Secondly, the heart-shaped diamond screams Valentine's Day (hence the item name, lol) and it'll surely make any fancy outfit even more ravishing with this perfect touch of bling. The gold band is also very shiny and is surely worth a lot more than a cartload of cheap paper cards.
So many rings can seem like the perfect fit for Valentines Day, but this one is definitely one of the top contenders. Also, it's SHINY!! SNAW LOVES THE SHINY!!!
*waves pom-poms* And that's it, Neopia! These ten stellar gifts will surely brighten up anybody's Valentine's Day, and ensure any feelings of love and friendship will be expressed to the fullest. Have a berry happy Valentines Day, impressionable readers, and thanks a million for reading this edition of Snaw's Beauty Post!
As Neopia's most ravishing Snaw, I wish you all a lovely Valentines Day!