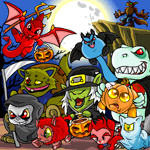 How to throw the BEST Halloween Party!

by lauren92_k

--------



It that time of year again! When October 31st rolls around on the calendar, it's time to break out the spooky costumes, the gory decorations, and bowls of tasty treats! I've compiled a list of the best items around Neopia to throw the spookiest Halloween party ever!

The trick to creating the best party is setting the atmosphere. What is it you're trying to accomplish? Do you want to be known as the family friendly atmosphere for all ages? Or how about the most stylish Neohome that the Neopian Times raves about the next day? Or be known as THE scariest Neohome on the block where little ones cry about having to walk past? Whichever you decide, be sure to start off your planning by selecting a theme, and from there you can plan the rest of your ideas and decorations around it. Send out your invitations ASAP because Halloween is just around the corner!

Of the three themes I suggested above, I've compiled a list of the items from the 'Spooky Furniture' store located in the Haunted Woods that could be used for each one. Since I don't know what your Neohome looks like, I leave the setting and placement up to you!

1) A Family Friendly Atmosphere:

If it's a family affair at your Neohome, you're most likely going to want to stay away from all the scary items at the store. The trick is to decorative minimally, and instead have fun interactive games and events for the entire family. Some minimal decorations include:

-Halloween Decorative Banner

-Flaming Torch Lamp or a Spooky Bone Candle

-Neohome cobwebs,

-Sheet Covered chair, mirror, sofa, and table (or just throw some white sheets over all of your already existing furniture…)

-Silly Pumpkin

-Comfy Pumpkin Bean Bag

I would set up some interactive stations around the house such as face painting, apple bobbing (you may even get the avatar here!), and pumpkin carving! You could even host a 'best costume' contest at the end of the night with a prize to the winner.

And of course, be sure to have lots of food and Halloween treats available throughout the night. The young ones get hungry fast!

2) Most Stylish

If you crave cohesion and planning, there are a number of themed collections at the Spooky Furniture shop that you can decorate your Neohome with. Try one of the following categories:

-Deserted carnival

-Mutant

-Spyder

-Bone

-Esophagor

Each theme has a set of furniture, so be sure to purchase all the items that come with it. For example, The Esophagor Bean Bag, Chair, and Table, are perfect items for your living room. However, you may occasionally hear the sound of any stomachs rumbling…if you do, just toss a Spooky Food item at it and it should settle back down.

Once you've selected the theme you'd like, be sure to match the colour scheme of the furniture with rest of your decorations. Basically any other decorations you display should fall within the same colour palette. You could even go as far as choosing foods that also match!

Take the Mutant category for example. You could set up your apple bobbing station with Mutant Apples to match! And for the rest of the food, Mutant Doughnuts, Mutant Cheese Pizzas, and Mutant Hotdogs! Er…on second thought, maybe skip the mutant theme, you wouldn't want to be known for sending everyone home sick…

1) Scariest House on the block

To achieve the most stylish theme, you need to go all out! You want to decorate both the inside and outside of your house.

From the Spooky Furniture store, purchase a couple of Broken Gravestones and place them all around your front lawn, piling up some dirt in front of them, maybe even with a couple of bones sticking out from the dirt. You can also drape some Neohome cobwebs over the gravestones as well.

On either side of your front door, hang Flaming Torch Lamps and create a soft glow. More Neohome cobwebs can be placed on around the entryway of your home. Place a Very Angry Pumpkin the corner of your porch.

Have the lights dimmed as you enter your Neohome, and an Oozing Candle sitting on top of a Casket Table in the front hallway. Alternate between playing some eerie music or evil cackling on a recording from some other room from a Spooky Speaker.

In the living room, place Sophie's Rocking Chair in the centre and attach a pulley system with an invisible string pulling gently at it to rock it back and forth, hopefully creating some creaky noises as well. A Casket Bookcase sitting in the corner of the room isn't a bad idea either. All of your furniture should be covered with White Sheets to add to the eerie abandoned atmosphere of the place.

Lead your guests through the hallway and living room, perhaps then through the kitchen as well, (depending on the layout of your Neohome) into the backyard, where the real party begins! If you have lots of tall trees, string some orange lights and garlands across the yard to create a soft glow.

Halloween is all about showing your creative and weird self. So once you have your Neohome all decorated, make sure you have a wicked costume to match! The NC mall has plenty articles of clothing that you can select from. So much in fact that I probably couldn't even write an article because it would be thousands of words long!

And there you have it! Three ideas to get your spooky brainstorming going. Whichever theme you chose to go with, be sure to have lots of amazing spooky treats! The Spooky Food shop in the Haunted woods has a variety for you to choose from, even ones that thankfully won't make your partygoers sick! Set up tables with tons of food for your partygoers, as well as a big Cauldron holding all kinds of beverages. Lastly, create a wicked music playlist to keep your guests entertained and dancing all night long!

Have a spooky, haunted Halloween!