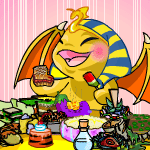 Come Cook With Us: Lost Desert Edition

by mel_liew_ming_li

--------



As summer arrives, why not try some of these food items originating from the sunny land of Lost Desert? They've perfected the art of cooking food using hot temperatures and these edibles will keep you satiated as you explore the sights in Sakhmet.


King Coltzans Poisoned Meal


The meal that ended an era of noble ruling in Sakhmet…



Disclaimer: Before you panic, this is not actually going to harm the eater!!! In Lost Desert, many eateries serve this popular dish to tourists who wish to try a recreation of what King Coltzan ate that unfortunate night…



Ingredients:


1 cup of uncooked couscous


6 Baby Carrots


1 Geopepper


1 Carnapper


5 pieces of Bite Size Celery


3 tablespoons Lost Desert Sandy Olive Oil


1 white onion, fine chopped


1 zucchini, chopped


Finely chopped basil


3 garlic cloves, minced


Super Spice Jalapeno hot sauce


1 cup of chicken stock


salt and pepper, to taste



Directions:


In a frying pan, saute your garlic cloves, Baby Carrots, Bite Size Celery, chopped white onion, Geopepper and Carnapepper on medium heat for about 3 to 4 minutes, or until the aromas of the vegetables are released and they are tender.



Add the zucchini and basil and continue stirring. Stir in couscous. Add your chicken stock and bring to a boil. Set aside for 10 minutes, watching to see if the couscous has cooked. When ready to serve, put a portion on a plate, season with salt and pepper, and a generous portion of Super Spice Jalapeno hot sauce on top. This is the sauce that acts as the "poison" for the meal!



Creamy Sutek Bean Soup


A nice hot bean soup to warm you up during lunchtime.



Ingredients:


1 medium white onion, chopped


4 garlic cloves, minced


1 jar of Bottled Beans


3 cups of vegetable stock


chopped fresh basil


1/2 cup heavy whipping cream


2 tablespoons Lost Desert Sandy Olive Oil


salt and pepper, to taste



Directions:


Add olive oil to a saucepan and heat up the oil on low. Add the onion and 1/2 teaspoon of salt when the pan is hot. Stir the onion until its aromas are released and it is tender, for about 6 to 8 minutes. Add the minced garlic and cook for another 2 minutes.



Add the jar of Bottle beans, vegetable stock, and chopped basil. Bring the mixture to a boil. Reduce the heat and let it cook uncovered for about 15 minutes.



Set the saucepan aside and allow the mixture to cool down before blending. In a blender, puree your mixture and add more stock if you think that the mixture is more goopy than it is a soup.



Return your pureed mixture to the saucepan and turn on heat again, add in your heavy whipping cream and return the heat to a simmer.



Before serving, add salt and pepper to taste!



Brown Smoker


A smoker brownie a day keeps the frownies away!



Ingredients:


Packaged brownie mix


3 large eggs


2 tablespoons water


1/3 cup oil


1 (3 oz) pkg Chocolate Coated Holey Cheese, softened


3 tbsp butter, softened


3 tbsp granulated sugar


1 tbsp all-purpose flour


1/2 tsp vanilla extract


Yellow Jubjub Wafer Cookies



Directions:


Preheat your oven to 180C and grease the bottom of an 8x8-inch pan. In a medium sized mixing bowl, blend the Chocolate Coated Holey Cheese and butter together until the mixture is smooth. Stir in sugar, 1 egg, flour, and vanilla and continue mixing until smooth before setting aside.



Pour the dry brownie mix into a bowl, adding 2 large eggs, 2 tablespoons of water and 1/4 cup of oil. Mix by hand until well blended (approx. 50 strokes). Spread half of the brownie batter in a prepared pan. Spoon the Chocolate Coated Holey Cheese mixture over batter and then spoon dollops of the remaining brownie batter over top. Swirl brownie and Chocolate Coated Holey Cheese batter together with a knife or spatula.



Bake at 190C for 35 to 40 minutes or until set. Cool completely and then let the brownies chill for 2 hours.



To finish off your brownie, top with whipped cream and a Yellow Jubjub Wafer Cookie!



Anubis Cherry Sundae


This sundae is sweet and delicious!



Ingredients:


16 ounces frozen Cherry Apple (about 3 cups)


1 cup heavy cream


1 cup milk
1/3 cup sugar


1 vial of Cherry Juice


1/8 teaspoon fine sea salt


1 teaspoon vanilla extract



Directions:


The trick to getting a deep, rich cherry flavour is to use Cherry Apples and Cherry Juice rather than just cherries. Combine all the ingredients in the blender and puree until completely smooth.



Serve immediately for soft serve ice cream or pour into an ice cream maker and freeze according to the ice cream maker's instructions. Transfer to an airtight container and freeze until ready to serve. You may also want to add a dollop of whipped cream when you serve this sundae, it complements the cherry tones nicely!



Desert Kabob


Roast meat and desert plants are the delight of this kabob.



Ingredients:


1 lemon, juiced


1/4 cup Lost Desert Sandy Olive Oil


1/4 cup soy sauce


1 teaspoon dried oregano


3 cloves garlic, diced


1 glass of Garlic Juice


4 pounds of , cut into 1 inch cubes


2 medium yellow onions, cut into 1 inch pieces


2 Geopeppers, cut into 1 inch pieces


Wooden or metal skewers



Directions:


In a large glass bowl, mix together lemon juice, Lost Desert Sandy Olive Oil, soy sauce, oregano, garlic and Garlic Juice.



Whilst you can choose any sort of meat you want, we recommend either Turbo Steak Meat, Pork Steak or Devil Steak. Add your cubes of meat, onions and Geopeppers to the marinade. Stir to coat with the oil mixture and cover. Refrigerate for 2 to 3 hours.



Preheat your grill to medium-high heat. Thread your cubes of meat, Geopeppers, and onions onto your skewers. Lightly oil your grill. Cook for 10 to 15 minutes, or to desired doneness, turning skewers frequently for even cooking.



Serve these Kabob skewers with a side of pilau rice and a salad while sitting outside on the patio, enjoying a nice, chilled can of Neocola!



We hope these flavourful and exotic recipes add to your sun-filled summer, even if you may not be able to visit Lost Desert's tourist sites yourself, rest assured that making any one of these dishes will transport you to the marketplace of Sakhmet, making you feel like you are wandering the bustling streets and eating from the Lost Desert food vendors themselves!