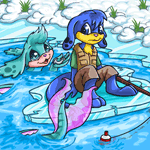 Monochromatic Wardrobe: Blue

by madiwoo

--------

Hello, Neopia! Today I will be sharing my top blue Neopoint and Neocash wearables with you! Everything listed in this article will be at least 75% blue.

Some of the most visually pleasing Neopet customizations are monochromatic looks. It is extremely pleasing to the eyes to see beautiful combinations of similar hues.

Do you like a nice monochromatic customization for your pet? Are you looking for the perfect blue item to compliment your pets look? Then this article is for you!

Neopoint:

1. Maractite Cavern Background

Description: Only the finest Maractite come from deep within the Maractite Caverns!
Need the perfect blue background? Look no further! The "Maractite Cavern Background" is perfect for you! This background will pair well with pretty much any other blue wearables out there. Whether you want an eerie vibe to your customization or one that is more fantasy related, this cool blue background is a great choice.
2. Forget Me Not Foreground

Description: A lovely bed of beautiful blue flowers.
The "Forget Me Not Foreground" is a beautiful blue floral foreground for your pet. It is perfect for a spring themed customization! This foreground is the perfect choice for a whimsical or faerie look.
3. Blue Shoes

Description: Blue shoes look good with many things.
Sometimes you just have to keep things basic. These "Blue Shoes" are ideal for a simplistic everyday customization. They aren't anything fancy or elaborate, but they can add the finishing touch to your Neopets custom. Blue shoes do indeed look good with many things ;)
4. Novelty Blue Blumaroo Slippers

Description: Awww... look at those cute little faces!
These "Novelty Blue Blumaroo Slippers" are such a fun and unique wearable for your Neopet! Have your blue Blumaroo rock these blue Blumaroo slippers or any Neopet you want to dress in pajamas.
5. Casual Blumaroo Jacket

Description: The perfect jacket to layer over your outfit.
This jacket is a classic item for your Blumaroo's customization. As it says in the name it is a casual laid-back jacket for your Neopet's outfit. This jacket is amazing for layering over all kinds of outfits.
6. Deep Blue Glazier Wings

Description: These beautiful and fragile wings have been crafted with materials straight from Brightvale Glaziers!
These elegant wings are perfect for anyone who wants to transform their Neopet into a beautiful blue faerie! Pair these wings with the "Forget Me Not Foreground" and your pet will have an impeccable magical custom.
7. Hardy Blue Trousers

Description: These sturdy trousers can withstand all sorts of wear and tear! Perfect for every day use.
Everyone in Neopia knows that a nice pair of denim blue jeans are the backbone to every great closet. You can dress them up or dress them down. These "Hardy Blue Trousers" will be the most versatile item in your Neopet's wardrobe!
8. Sky Line Skirt

Description: Be different - flaunt a skyline on your skirt
This quirky skyline skirt is the perfect statement piece for your fashionista. Your Neopet will definitely stand out in a crowd with this blue skirt!
9. Seasonal Turtleneck Jumper

Description: What a toasty warm jumper! This was given out by the Advent Calendar in Y10.
This "Seasonal Turtleneck Jumper" is ideal during the cold winter months or for any Neopet who is visiting Terror Mountain. Your Neopet will stay warm and look great in this blue jumper.
10. Blue Codestone Lei

Description: This special codestone lei came out of a Neopets 9th Birthday Goodie Bag!
If you're planning a tropical vacation to Mystery Island anytime soon you need this "Blue Codestone Lei" for your Neopet.
Neocash:
1. Baby Wading Pool

Description: A fun way to keep the baby cool! This item is only wearable by Neopets painted Baby. If your Neopet is not painted Baby, it will not be able to wear this NC item.
This baby exclusive pool is a fantastic choice for any blue loving little ones out there. The combination of a baby Elephante and this "Baby Wading Pool" is just BLUETASTIC!
2. Dyeworks Blue: Enchanting Hearts Front Porch Background

Description: Get surrounded by hearts on this endearing porch. This NC item was obtained through Dyeworks.
Name a more perfect all blue background. I'll wait….
3. Aqua Tasseled Dress

Description: Move like the water during a spring night out in Maraqua.
The description of this item says it all. The flowing water-like movement of this dress will surely make any Neopet stand out in a crowd. It's elegant and fun all at the same time.
4. Basic Blue Cardigan

Description: A basic button up cardigan in blue.
Back to the basics with this cozy blue cardigan. This is excellent for those cool fall or spring days! Layering this over other clothes will complete any blue outfit!
5. Birthday Princess Dress

Description: Feel like a princess in this gown.
This all blue dress is perfect for your little princess! Make your Neopet look like royalty by adding this dress to their custom.
6. Carefully Gift Wrapped Wings

Description: Hours of work went into wrapping these wings.
These wings are just GORGEOUS! These wings will be the perfect final touch to a birthday or holiday outfit!
7. Glitter Leggings and Shoes

Description: Even the bows are encrusted with glitter! That is true quality!
Everything is better with glitter. EVERYTHING! You'll be able to see your beautiful blue Neopets from miles away when they are wearing these "Glitter Leggings and Shoes".
8. Dark Blue Contacts

Description: These contacts will give your Neopets eyes a striking blue shade.
These "Dark Blue Contacts" are a subtle way to add more blue to your Neopet's outfit. They may be small, but they make a large difference.
9. Bright Bumbluz Wig

Description: This wig, like the Bumbluz, is bright enough to light up the night! This NC item was awarded through Shenanigifts.
Blue hair don't care? This wig is great for any Neopet who loves the color blue.
10. Dream Cloud Pirate Parasol

Description: Cloud pirates sail the skies on a dreamy pirate ship...
This "Dream Cloud Pirate Parasol" is for the most elegant Neopets in all of Neopia. It makes a great finishing touch to any fancy outfit.
That's all the blue items I have for you today! I hope this article inspired a monochromatic outfit for you. I'll continue this series and feature every other color in the rainbow! Until next time :)