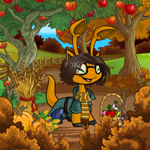 Autumnal: Top Five Autumn Items Guide - Garlands

by sosunub

--------

When people ask others what they like doing on Neopets or what things do they do that make them stay active and motivated, the common answers usually are avatar collecting, guilds, trophies, stamps, among others. My case is completely different, however. If I had to describe myself and explain what I do on this site, I'd basically say one word: Autumn. I just love this season so so much and Neopets knows how to represent it through all the wonderful Autumn themed items such us books, grooming and even the amazing NP and NC wearable items. I think this season is very well resembled on the site and I have dedicated all my time towards this season. Everything I do and talk about will always be related to it. Neopets and the Staff Team know exactly how to take the season to a whole new level. The wearable backgrounds they come up with are just stunning and the Fall Shop at the NC Mall is expected to get busy during the months of September, October and November - This season sure does draw attention! With this articles I want to put my thoughts and opinions on the items I think are the best among the over two thousand you can find all over Neopia. With these guides I hope I can motivate and inspire you to create wonderful and outstanding customizations for your pets! - Sit back, grab something to drink and enjoy the falling autumn leaves while reading this great article.

Part Three: Garlands

When it comes to the Autumnal weather, there is one thing that is very important when it comes to customising your pets – overhanging garlands! Garlands, or autumnal garlands to be exact, are a decorative banner of golden, brown and green leaves shows that your pet loves nothing more than the season of fall. When it comes to customising your pets for this wonderful season, below are five autumnal garlands that are a must have in my opinion! These in particular stand out and above the others, and really are unique in their own way, and really show a love for the season. If you are looking for some autumn items to customise your pets with: I would highly suggest the following!

1. Autumn Leaf Garland

Ahh, autumn *jumps in the leaves* - a time when then leaves change from green to brown and all colours in between! This garland is perfect at showing the autumnal weather with its green, yellow and brown leaves. It is a delicate garland, with a thin line of leaves alternating in colour to show that the leaves really are dropping, and that winter is on its way. This particular garland doesn't take much space up on the customisation side of things, so there is plenty of room for other autumn foregrounds as well. It would work well as both an indoor or outdoor garland due to the precise and delicate nature of it. This is the garland to have if you are an autumn fan like me. It really makes it look like your pet is wandering through a forest in fall or sat inside enjoying a nice warm cup of cocoa by a roaring log fire!
2. Golden Vines Garland

This garland is absolutely stunning (although you might need to wear sunglasses when looking at it!). I think it really gives off a royal feel, whilst capturing autumn in its essence. The overhanging vines and leaves really stand out against any background so it definitely deserves a place on my top 5 list. You get a lot with this garland as it overhangs on either side as well with curling strands of gold as far as the eye can see! It is certainly a garland to be used for a special occasion. It would suit a wedding theme rather well due to the sophisticated and elegant nature of it. The detail that has gone into this garland is sensational. I applaud TNT on this one!
3. Autumn Leaf and Nut Garland

There are so many beautiful choices when it comes to choosing autumn garlands. TNT have really contributed well towards this fantastic season! The colouring on this garland is just divine. This is a garland that occupies the top section of your pets customisation box. Brilliant shades of browns and red show subtle autumn tones that work wonderfully well! The leaves on this one are still clumped together, with a mixture of autumnal tones in red and brown showing through. If you used this garland on your pet, it would still be in the midst of autumn as the leaves haven't quite started to fall just yet! The detail that has gone into this garland is superb - you can see several acorns sat amongst the branches - a perfect meal for an Urchull!
4. Festive Autumn Branch Garland

This garland doesn't just take up the top half of your customisation, but both the left and right side too! It really is a garland that has a lot to offer. This garland is slightly busier than the others, with plenty of detail to reflect the season. Festive pumpkins decorate the base of this garland, with leaves, pinecones and branches that entwine up the sides. The name is spot on here as it really is a wonderfully festive garland! Your pet will thank you for using this one! This one definitely has a Halloween feel and I would use this to overhang doorways during October! If your pet is feeling festive during the Halloween season, this is the garland to use!
5. Autumn Flowers and Pumpkins Garland

Although this garland is last on the list, it doesn't make it any less special then the ones shown above! This one is slightly more unusual as the colouration isn't as typically autumn-y as the others. It is bright, using greens and oranges instead of reds and browns but nonetheless it is an autumn garland! Did I mention the pumpkins? I don't think I did – but they really make this garland vibrant and attractive! Big, bold pumpkins overhang above your pet in this one. So hardhats may be required if you are using this one whilst your pet is present! We wouldn't want a pumpkin falling on you! However, it would really give the impression that your pet is exploring a pumpkin patch!