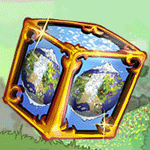 Top Mystery Capsules

by szkageyoshi

--------

As the Dreams and Nightmares Mystery Capsule Adventure finishes up, it is a good time to look back through history at some of the best mystery capsules that have been released over the years. But what defines the best mystery capsule? Is it the design of the capsule itself? With some of the capsules being exceptionally beautiful or well-designed, there are numerous collectors that buy the capsules simply to show them off in their galleries. Is it the limited edition (LE) items that one might obtain if they open a lucky capsule? Since LE items are a bit more difficult to obtain, they are generally valued higher and can be very useful for both trading and customizing. Since these two aspects are both highly valued among many Neopians, I have decided to look at both the appearance and LE items and give the top 10 in each category. (Note: Gift Box Mystery Capsules, some of which are very stylish but which all give out buyables and gift boxes, have been excluded to make it a bit simpler.)

A quick explanation for those that have never used an older mystery capsule or one of the mystery "cubes" from the current mystery capsule adventure: When you open a capsule, you get a buyable item worth 150 NC and you may receive a special limited edition item. Each capsule usually has three LE items specific to that capsule, although it can vary from one to five. The newer mystery capsules (with a "cube" design, excluding the cubes from the Dreams and Nightmares Mystery Capsule Adventure) now give you the chance of receiving an item from a group of items specific to the capsule, in addition to potentially receiving a LE item specific to that capsule. Now, on to the ranking!

First, I will start with the top 10 mystery capsules by their design. This was difficult since there are so many adorable, creepy, and interesting designs out there.

#10 – Summer Fun Mystery Capsule
With the adorable boat floating on top of a small sea complete with coral and bubbles, I had to include this fun summer capsule. This capsule gives out the LE item Adorable Yellow Mallard Float Ring. As an extra bonus, it also gives out past summer items as well.

#9 – Cheery or Dreary Mystery Capsule
This holiday themed capsule has a nice transition from a cheerful holiday to a skull-themed dark holiday. I love the small touches like the falling snow and garland on the side of the capsule. This capsule gives out two possible LE items that fit very nicely with the capsule itself- Cheery Holiday Garland or Dreary Holiday Garland.

#8 – 2011 Altador Cup Mystery Capsule
This is my favorite capsule of all the Altador Cup-themed capsules since it has a very realistic little Yooyu jumping up. The net at the bottom of the capsule completes the theme. This capsule gives out the LE item Stained Glass Altador Shield in addition to the possibility of receiving some past Altador Cup-themed items.

#7 – Faerieland Mystery Capsule
A capsule from the first Mystery Capsule Adventure, this design has stunning details of a miniature Faerieland complete with a rainbow and the impression of floating on the clouds. It gives out the LE item Faerie Head Wreath.

#6 – Tie-Dye Mystery Capsule
This colorful mystery capsule really captures the eye, from the spinning Tie-Dye design to the sparkling bottom half. It gives out the LE item Mini Tie-Dye Mystery Capsule, which is quite adorable itself.

#5 – End of the Rainbow Mystery Capsule
End of the Rainbow Mystery Capsule illustrates the dream of finding a pot of gold at the end of a rainbow in a fantastic way, with shimmering gold at the end of a faded rainbow. The capsule bottom being shaped like a pot finishes the design nicely. The LE item is Rainbow Tiara, in addition to the possibility of receiving past items from the seasonal Green Shop.

#4 – Terror Mountain Mystery Capsule
Another capsule from a past Mystery Capsule Adventure, the Terror Mountain capsule depicts the great and powerful Snowager in its natural habitat. The LE item is the Snowager Ice Staff.

#3 – Spooky Moon Halloween Mystery Capsule
This haunting mystery capsule is very creepy with the evil grinning moon and vines branching out from the bottom of the capsule. It also gives out the equally haunting LE item Spooky Moon, which helps complete many Halloween-themed customizations. In addition, it gives out some select retired Halloween items.

#2 – Rainy Day Mystery Capsule
A perfectly captured mini storm rages on inside this capsule, complete with lightning flashes. This capsule gives out the LE item Rain Shower.

#1 – Shenkuu Lantern Capsule
A stunning design with flowered branches that softly glows like a lantern is my top choice for the best designed mystery capsule. This lovely capsule is highly valued by most collectors and is perfect for any Shenkuu-themed gallery. It gives out the LE item Paper Lantern Staff, a fairly popular item as well.
~
Now, the top 10 mystery capsules by their limited edition items. Since some of the older capsules only gave out one LE item while the more recent ones usually having three possible LEs, I will focus on one item for each capsule to make it more even.


#10 – Dream Lands Mystery Capsule + LE item Dream Dark Faerie Wings
One of the more recently released capsules as part of the Dreams and Nightmares Mystery Capsule Adventure, this capsule comes with a very beautiful set of wings that look great on many pets. This capsule also gives out Dream Darigan Armour, Dream Deserted Fairground Background, and Dream Pirate Tricorne Hat.


#9 – Tale of Woe Mystery Capsule + LE item Krawley Contacts
This spooky looking capsule is from a previous Mystery Capsule Adventure based on significant events in Neopian history. In this case, it represents the Tale of Woe plot. Krawley Contacts, the LE item, remain one of the more popular and easy to obtain set of contacts that fit nicely on many species of Neopets. This capsule also gives out Nurse Lucy Skeleton and Young Sophies Dress.


#8 – Floating Faerieland Mystery Capsule + LE item Forgotten Faerie Grove Background
This capsule was released in last year's Twisted Histories Mystery Capsule Adventure and this background remains one of the most popular releases from that event. The dark haunting feel of the background is perfect for Halloween. This capsule also gives out Brynns Tattered Tunic, Fallen Heroes Tombstones Foreground, and Handheld Grundo Plushie of Prosperity.


#7 – Rainbow Mystery Capsule + LE item Sparkling Rainbow
The Rainbow Mystery Capsule with the LE item Sparkling Rainbow was available for a fairly long time compared to most capsules, but Sparkling Rainbow still remains a fairly popular item for any customizers seeking to brighten up their customizations.


#6 – Sparkling Yellow Mystery Capsule + LE item Cheerful Day Background
Due to the short release of this item originally, this item gained popularity fairly quickly. The background is a nice template for any spring or summer designs. This capsule also gives out I Heart NC Skirt and Rolling Fog Contacts.


#5 – Fantastic Bloom Mystery Capsule + LE item Pretty Little Daisy
Both of the LE items (Pretty Little Daisy and Blooming Garden) from this capsule are quite sought after and they fit in nicely with most spring looks, but Pretty Little Daisy in particular adds a delicate touch to any customization.


#4 – Halloween Mystery Capsule + LE item Appetising Caramel Apple
Appetising Caramel Apple is a fairly old LE item that has retained its popularity over time. It is one of the few very nice creepy handhelds that fits perfectly with many Halloween customizations.


#3 – Shimmering Autumn Leaf Mystery Capsule + LE item Cosy Autumn Front Porch Background
One of the oldest LE items on our list, Cosy Autumn Front Porch Background (often called "Cosy") remains a popular item for many customizers. The colorful leaves and slight breeze make this perfect for the fall season.


#2 – Nightmare Wonderclaw Mystery Capsule + LE item Nightmare Cloud Castle Background
This is the second item on this list from this year's Dreams and Nightmares Mystery Capsule Adventure. The Nightmare Cloud Castle Background is perfect in time for Halloween given the dark and haunting atmosphere. This capsule also gives out Nightmare Bristle Cape, Nightmare Monarch Jacket, and Nightmare Nautilus Wig.

+

#1 – Bright New Year Mystery Capsule + LE item New Years in Faerieland Background
This capsule also gave out New Years in Mystery Island Background, New Years in Shenkuu Background, New Years Celebration Foreground, and New Years Celebration Background. It was very difficult to pick which LE item to highlight since NY in Shenkuu and NY in Mystery Island are both extremely popular and sought after items as well. The NY backgrounds are all very well-designed and great for any Neopian that want a specific location-themed customization. The fireworks are also a nice touch to all of these backgrounds.






Honorable mention: Birthday Mystery Capsules!
These are released every July to celebrate the NC Mall birthday and the NC Mall board is probably the craziest (and most fun) around that time. Although some of these special capsules have their own capsule-specific LE items, the real reason that they are very sought after is because they also give out past LEs from all other capsules! That means that the items listed here still have a chance of being obtained if you are lucky when opening a Birthday Mystery Capsule. :) Even if you do not personally get the item that you want, the rerelease of these items makes it easier to trade for any LE items that you are seeking.