Dressing the Part – Tyrannian Victory Day

by katiecoo802

--------

Every year on the 12th day of Hunting, Tyrannians celebrate their hard-won victory over the invaders that once sought to plunder their homeland. This year in particular, the Victory Day festivities will be especially grand, as Tyrannia has gained newfound popularity with its beautiful new maps and the epic War of the Obelisk that took place there last year. In order to properly celebrate, however, you're going to need the perfect outfit. Dressing like a Tyrannian, after all, is far more complicated than throwing on a Tyrannian Fake Fur Toga and calling it a day. Luckily I'm here to show you some of Tyrannia's hottest looks for this year's festival. Straighten your Hair Bone and get ready to see some of the finest fashions Tyrannia has to offer!

Look 1: Going Native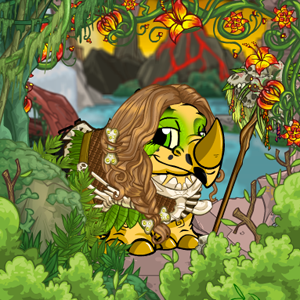 Items Pictured: NC–Fashionable Bone Wig, Golden Key Necklace, Hothouse Flower Garland, Ghastly Skull Staff, Tyrannian Lagoon Background, Tyrannian Print Tutu, Jungle Foliage Face Paint, Tribal Skeleton Armour NP–Shrubbery (19,000 NP*), Jungle Cliff (750 NP).
We begin with the traditional sort of ensemble that most Tyrannians favor. Composed mainly of natural items like mud, bones, and leaves, Tribal Skeleton Armour is both fashionable and functional, and will protect your pet should any stampeding Chombies cross your pet's path. As you can see from the abundant foliage here, I've created more of a Tyrannian Jungle look; if your pet favors the drier climes of the Plateau, try a sparser background like Tyrannian Cliffs Background (16,000 NP) or Tyrannian Volcano Lair Background (16,500 NP). Fashionable Bone Wig is a gorgeous choice of headwear for female pets, but Tyrannian Bone Wig and Spotted Wig are both great options too. Use Tyrannian Flora Foreground (4,500 NP) and Eyeball Flower Staff for a look that emulates the gloom of the thick Tyrannian Jungle, or if you're worried about neighbors ruining your carefully-tended rock lawn, throw up a Tribal Fence Foreground (1,750 NP) to dissuade them from entering. Remember, just because Tyrannians are a fierce bunch doesn't mean your pet can't be glamorous; cute make up like Forest Dweller Face Paint or Sun Princess Face Paint will have your pet looking prehistoric-perfect.
Look 2: Obelisk Fighter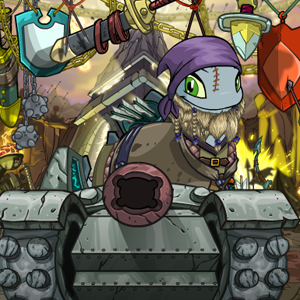 Items Pictured: NC–Battle Scar Marking, Shields and Weapons Garland, Ornate Gambeson Shirt, MiniMME15-S1: Daring Seafarer Tunic, MiniMME15-S2a: Daring Seafarer Beard, Forest Huntress Bow and Arrows NP–Ultimate Battlefield Background (700,000 NP), Dueling Decks Purple Head Bandana (30,000 NP), Anti-Swarm Tank (15,500 NP).
Tyrannia's recent aesthetic upgrade isn't the only reasons Neopians have been flocking to the prehistoric region of late; the Obelisk Battleground and its ongoing skirmishes have Battledomers from all regions of Neopia clamoring for a good fight. If your pet wants to get in on the action with their customization, you must first and foremost choose a faction to represent–I created an ensemble for a Thieves Guild supporter, but your pet can also support the Awakened, Sway, Order of the Red Erisim, Brute Squad, or Seekers. Regardless of which faction you choose, your pet will need a warlike setting, and Ultimate Battlefield Background and Ultimate Battlefield Foreground (750,000 NP) are a great place to start. A weapon is also essential if your pet is going to be braving the Battleground, but it doesn't have to be a handheld; if something like MiniMME15-S2c: Daring Seafarer Axe isn't your style, opt for a fierce garland, like Shield and Weapons Garland (above) or Surrounded by Swords Foreground. Then again, if your pet is a wizard-in-training, something like Dark Faerie Magic Staff or Glowing Spells Runes Foreground (275,000 NP) may be more appropriate than the traditional sword or shield.
Look 3: Altador Cup Champions!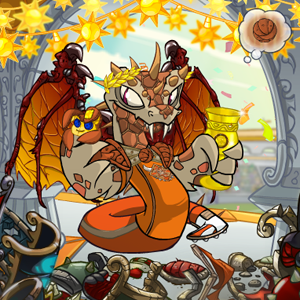 Items Pictured: NC–Tyrannia Altador Cup Jersey, Shining Sun String Lights, Yooyuball Shoulder Padding, Gothic Leather Wings, Archway to the Winners Circle Background, Tyrannia Team Trousers and Cleats, Yooyu Thought Bubble, Rag Doll Yooyu Plushie NP–Altador Cup Fan Goblet (6,000 NP), Discarded Yooyuball Gear Foreground (65,000 NP), Altador Cup V Champion Laurel (200,000 NP).
Y15 was momentous for Tyrannia not only because of its revamp and the War of the Obelisk, but also because it was the first year ever that Tyrannia took home the Altador Cup! Celebrate their victory in your outfit with great items like Archway to the Winners Circle Background, Altador Cup Pedestal, and Altador Cup Winner Sash. Of course, you also have a whole hoard of Team Tyrannia wearables at your disposal from Altador Cups past. Some particularly nice ones are Altador Cup Tyrannia Frame, Tyrannia Team Scarf, and Tyrannia Team Vuvuzela. Throw on some protective Tyrannian Racing Goggles (5,500 NP) if your pet wants to dress like a player, or if they're more of a spectator, give them a Delicious Smoothie (9,800 NP) or Hot Dog on a Stick (10,000 NP) to munch on during the match. Athletes and fans alike can show their enthusiasm for Yooyuball with a garland like Altador Cup Teams Garland (3,200 NP) and Garland of Yooyus, both of which can be used regardless of team allegiance and feature a lovely array of colors. If Yooyuball isn't your forte, you can also include an homage to the side games with classic items like Pop-Up Techo Fanatic and Slushie Slinger Background (6,800 NP).
Look 4: Tonight in Concert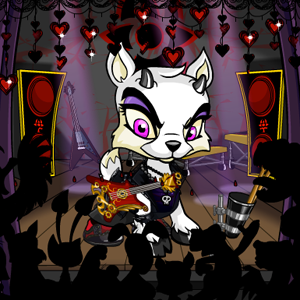 Items Pictured: NC–Twisted Roses Background, Simple Black Skirt, Sparkling Multi-Strand Gothic Necklace, Black and Red Stripe Stockings and Shoes, MiniMME13-S1: Gothic Summer Waistcoat, Gothic Heart Valentine Garland NP–Drumsticks (80,000 NP), Elegant Punk Guitar (500,000 NP), Special Event Foreground (4,000 NP), Dark Faerie Eye Shadow (150,000 NP).
Tyrannia is not only a hub for athletes and Battledomers, but has also long been known as one of Neopia's musical hubs. The Tyrannian Concert Hall hosts a total of fifteen bands each month with styles as varied as hard rock to jazz and everything in between. Dressing up in the style of their favorite band is perfect for the pet who wants to get in tune with the Tyrannian fashion beat. I created a look based on the guitarist of the Twisted Roses, known far and wide as the angstiest band in Neopia. I've used Elegant Punk Guitar here to match Twisted Roses's hardcore image, but Autumn Guitar (28,000 NP) is also an option for those of a gentler musical persuasion. Not a guitarist? Rock Star Microphone will let your pet belt their heart out, or try Drumset Foreground (600,000 NP) or Cobrall Charmer Clarinet (60 NP) for different sounds. Concert Hall Background may be more appropriate if your pet is playing in the Neopian Philharmonic, but Tyrannian Concert Hall Background (29,500 NP) will work for any band, as will Stage Light Garland. Create your crowd of adoring fans with Special Event Foreground, Grundo Pedestal, or Grundo Admirers Foreground (4,200 NP). You can even hear their voices if you add Cheering Sound Track!
Tyrannia is one of the most diverse lands in Neopia, so don't feel restricted to create a look based on what I've presented here. Maybe your pet wants to relive the Tyrannian invasion with Tyrannian Destruction Background, or grab a slice of breakfast with an Omelette Shower. However you end up celebrating this year's Tyrannian Victory Day, remember to stay stylish!
*Please note that all Neopoint prices are approximate and reflect Shop Wizard prices at the time of writing.
Search the Neopian Times


---
Great stories!
---------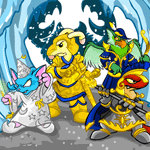 Neoquest Mania
An instant success, Neoquest was played by thousands of Neopians upon first release and sold out so quickly that multiple shipments had to be ordered...

by rodney_mckay
---------
---------
---------
---