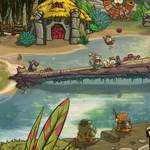 Tyrannia Travel Brochure

by dragonsfriend1021

--------

Also by annrawr

Have you ever wondered how Neopians lived thousands of years ago? Have you tried to return to your primal roots? While you can't go back in time, you can do the next best thing with a vacation to Tyrannia, Neopia's past in the present day! Home to last year's Altador Cup winners and the location of the regular Obelisk skirmishes, it's easy to see why Tyrannia has skyrocketed in popularity recently. Tyrannia is more than just a place where battlers and sport enthusiast assemble, though. It's a place packed full of history, culture, and lots of local delights. So get in touch with your wild roots and take a tour of Tyrannia and all its wonders for your next vacation!
Main Attractions
This prehistoric land has many attractions to offer a vacationer. From wheels to spin, to entertainment venues, to monuments to Neopia's history, there are sights to see that will interest any visiting Neopet. Here are some spots you won't want to miss!
The Obelisk. This first attraction has contributed greatly to Tyrannia's recent raise in tourism, and for good reason! Last year, a massive earthquake uncovered a mysterious obelisk that attracted many to its power. War ensued, and it wasn't until the rubble of the battle cleared that a powerful Oracle revealed herself to the victors, bestowing gifts, boons, and even avatars. Now, every two weeks, a new skirmish breaks out as new groups try to win the Oracle's favor. Be sure to join in the battle during your stay here and who knows? You might just walk away the victor!
Concert Hall. No trip to Tyrannia would be complete without stopping by the Concert Hall to see one of Neopia's many bands perform live! All the best bands perform there, including Sticks N Stones, Yes Boy Ice-Cream, and Jazzmosis. Attending their concerts can get you a nice souvenir and maybe even one of several avatars! Only one band plays each day though, so you will have to come back several times to watch them all!
The Wheel of Monotony. Be sure to bring a book or crossword puzzle to this next stop because you will definitely be here for a while! The Wheel of Monotony earns its name by being the longest spinning wheel in all of Neopia. Spin it once and you see it spin and spin and spin for hours on end! This might not sound exciting but the prizes are worth the wait. Not only can you win your money back and then some. If you're lucky, you can win codestones, a paintbrush, or even an avatar!
Giant Omelette. Want a good breakfast before hitting the shops but don't want to spend a lot of Neopoints? Well, then, this next stop is just for you because, right in the middle of the Tyrannian Plateau, there is a giant omelette available to all! No one knows exactly how this giant omelette appears every morning but line up and get a free slice of this omelette. It seems to have dozens of flavors all in one, including BBQ, Bacon, Cheese, Jelly, Strawberry, Marshmallow and so much more! Don't try to take too much omelette in one day though or Sabre-X will show up and scare you off!
Shops
What is a vacation without a bit of shopping and some souvenirs! Whether you are into battling, interior decorating, dressing up, or just eating out, Tyrannia has a multitude of amazing shops, all filled with wild versions of what you love!
Tyrannian Weaponry. If you came to Tyrannia for some good old-fashion battling at the Obelisk, then your vacation won't be complete without a visit to the Tyrannian Weaponry. Right in the middle of the Tyrannian jungle, you can find this small shop that is home to dozens of unique weapons. Forget lasers and enchanted weaponry! Go back to the basics of battling, with clubs, daggers, spears, and even an Uncomfortably Large Rock of Pain. Even though these weapons aren't shiny and don't have a dozen buttons on the side, they still pack quite the wallop!
Tyrannian Furniture. What better way to bring a bit of Tyrannia home with you than by ordering some authentic Tyrannian Furniture at this store! Made from simple materials found around the Tyrannian jungle, these furniture pieces are edgy, yet simple. You might want to steer clear of the Dung collection, though!
Ugga Shinies. With its unique scenery, Tyrannia has many extraordinary decor objects. At Ugga Shinies, you can purchase some of these trinkets to take home with you! Pick up a Tribal Fence Foreground or colored Strange Mist for your customization. Any 'pet with one of these baubles is sure to be the talk of the town!
Tyrannian Foods. If you want want to try something new, you'll have to stop by the Tyrannian Foods store to sample the local cuisine. This shop stocks a variety of fresh and completely organic foods that have never been processed (or even cooked!). Try some of the local favorites like Bronto Bites, Ransaurus Steak, or maybe some Archaesaurus Tail, and wash it all down with some Bone Soup or Rock Stew! Or if that's too gamy for your taste, why not try some Cactus Leaves and Spindly Plants. Either way, be careful what you bite into. Tyrannian food is so fresh, sometimes it's still alive!
Tyrannian Petpets. Take some of the wildness of the Tyrannian jungle back home with you by adopting your very own Tyrannian petpet from the Tyrannian Petpet Store! Here, you will find a variety of scaly, furry or just plain rocky companions, each guaranteed to brighten your day! If you lucky, you might even be able to go home with your very own Krawk petpet!
Games
After a full day of shopping and checking out the attractions, you'll probably want to sit back and relax with some games. Tyrannia is home to many games that help you relieve stress, learn about local culture, and have exciting new adventures. Here are some of the locals' favorite games.
Destruct-O-Match. One day in Tyrannia, a mysterious wall appeared, blocking citizens' paths to some of their favorite locales like the Giant Omelette and the Concert Hall. The Tyrannians started smashing the blocks in order to get rid of the wall, and the game of Destruct-o-Match was created! You can only destroy groups of blocks that match in color, so you'll need to think strategically in order to try to make the largest groups you can as well as not leave any single blocks behind, since you want to clear the way for the Tyrannian citizens. If you earn enough points, you can even earn a new avatar!
Tyranu Evavu. Tyranu Evavu is your opportunity to practice a bit of the local language in Tyrannia. Guess whether the next card in the deck is higher (Tyranu) or lower (Evavu) than the previous one. If you forget which word is which, you may find yourself with no winnings!
Ugga Smash. Get out some of your aggression by playing Ugga Smash! Drive a vehicle and crash into the other players' vehicles while avoiding them crashing into you! The power-ups and the giant Grarrl make this game particularly interesting. So step right up and get smashing!
Ugga Drop. Have you ever wanted to try parachuting? Ugga Drop is your chance! Jump off of the tallest rock in Tyrannia and race your opponents to the ground. Don't forget to release your parachute, though - otherwise you will hit the ground too hard and be disqualified!
Tyrannian Golf. Tyrannian Golf is a little more relaxing game than some of these others - even though it's not very relaxing! Hit the ball with your club and aim to get your ball into the hole in the fewest number of shots. Watch out for the lava and sand pits, though! They will cause your ball to slow down and thus mess up your shot.
Famous Neopians
Tyrannia is home to many notable Neopians. Some are in predictable places around Neopia but others pop up more randomly. While you're visiting, make sure you spend some time with these famous folks.
Uggsul. This Usul is one of the top gamers in Tyrannia. Uggsul is the host of Tyranu Evavu, where she puts her amazing fluency in the native Tyrannian language to use. She is also a frequent challenger in Go Go Go, where she strives to be a champion in order to outdo Princess Fernypoo and her success at Cheat. Even if you don't stop by one of those games to see her, Uggsul enjoys approaching visitors randomly and encouraging them to play one of her games - in her native language, of course. (Does she even speak another one?)
Sabre-X. Formerly the head of the Strategic War Division during the Tyrannian War, Sabre-X currently earns his NP by guarding the Giant Omelette. Pay this Lupe a visit if you want to chat about battle strategies, or you can just challenge him to a match in the Ugga Dome! Watch out - he's got some excellent strategies. Tyrannia did win the war, after all. Here's a tip: if you really want to make him mad, try taking a second piece of omelette in a day.
Glubgar. Glubgar is the star of the Tyrannian game Volcano Run. He's a very curious Scorchio, so he likes to investigate the cavernous volcanos of Tyrannia. Unfortunately, he often gets himself into tight spots where he has to avoid getting scraped or burned! If you like exploring, you should arrange to spelunk with Glubgar during your Tyrannian vacation!
What to Bring
Tyrannia's hot weather and unique history lend itself well to a certain style of clothing. If you're interested in dressing like a native during your stay, there are lots of options available to you! You may want to pack a Tyrannian Fake Fur Toga and a Tyrannian Hair Bone, both of which can help you blend in with the locals. Bring along your Tyrannian Golf Glove for some extra good luck in playing Tyrannian Golf, and in the evenings relax in a set of Tyrannian Pyjamas. If you'd be more comfortable in your own clothes, you may prefer to get a taste of local culture by packing your lunch in a Tyrannian Lunch Bag, available in the NC Mall. It can help you feel like a native without changing your whole wardrobe.
Conclusion
Whether you come to see the sites, shop, play games, or just to annoying Sabre-X at the Giant Omelette, Tyrannia has a variety of fun any Neopet is sure to enjoy. You can't go wrong with a vacation that makes you feel like you've gone back in time. So brush up on your pre-history and book your trip to Tyrannia today!