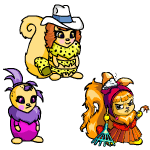 5 Reject Usukis That Shouldn't Be Rejects

by lutari_lover_555

--------



Hopefully we're all familiar with the plight of the reject Usuki. They're simply versions of the popular toys with defects of varying severity. Some people might consider dolls with these defects to be "unlovable," but nothing could be further from the truth. While in a normal circumstance the reject Usuki doll is only truly valuable to the serious collector, many of these reject Usuki dolls require only the smallest amount of maintenance to be restored to play condition. Five dolls in particular seem to be particularly easy to repair, with only basic sewing or doll-making skills needed on the part of a patient Neopet owner.

1. Magical Hair Usuki Reject
The Magical Hair Usuki Reject, it's true, is definitely not looking her best. It looks like her previous owner, at some point, decided to take a pair of scissors to her head and shear off the majority of her hair, not aware that this Usuki was a bit lacking in the "magic" department. Though without a faerie's blessing there most likely will be nothing a new owner can do to restore the magic to this Magical Hair Usuki, replacing the hair is a much easier endeavor than it seems on the surface. Replacement hair plugs, or even yarn (according to the new owner's preference), are easy to obtain, provided one knows where to look. And the rehairing process itself, while time-consuming, is relatively simple, with the only necessary tools being the new hair, wire, pliers, and patience. In no time, this Magical Hair Usuki Reject can be restored to display condition.

2. Prom Date Usuki Reject
The only thing I can see that's even remotely wrong with the Prom Date Usuki Reject is that he appears to have been put into the wrong costume - that is, the Traditional Welsh Usuki's costume. Everything else about him seems to be remarkably preserved - his hair is still perfectly coiffed, his tail is full and upright, and his expression is unaltered. We may as well just assume that this is his chosen prom outfit, and that's perfectly fine. The Traditional Welsh Usuki was made to honor Welsh heritage through its fashion. Maybe our Prom Date here is Welsh and wants to show it off on his big night. Kilts are perfectly respectable articles of clothing, and gaining in popularity as formal wear. We can brush this one off as a Prom Date Usuki who just wanted to be fashionable. That's the entire point of Usuki dolls, after all, and certainly no reason to throw this one into the reject bin.

3. Reject Leaf-Raking Usuki
Wow, she looks angry. The Reject Leaf-Raking Usuki has a dramatically altered facial expression, perhaps due at least in part to the large tear in her ear. Her leaf is also looking a bit wilted. But let's think about this a bit. First, the ear tear is an extremely easy fix, requiring at absolute most five minutes with a needle and thread. The wilted leaf also should be no problem - the leaves are falling. That's why she needs to rake them. Who cares if it's wilted? Leaves wilt once they fall off trees, that's just the way the world works. As for her dour expression, when was the last time you got excited to go rake leaves? It's a chore, at least until the end when you get to jump into the pile. The Reject Leaf-Raking Usuki is in great condition, all things considered, and can easily be kept around to play with.

4. Tyrannian Usuki Reject
The Tyrannian Usuki Reject is wearing a hat. Seriously, that's all that's wrong with her. To be fair, she also has the wrong hair (her hair and hat should belong to the Cowgirl Usuki) and were instead attached to this body. But when was the last time most users got a good look at a Tyrannian Usul, provided they themselves don't own one? When was the last time most pets associated with a Tyrannian Usul, if they're not one and neither are any of their brothers or sisters? Quick, tell me what hair color this Usuki is supposed to have. Don't know? That's fine, neither will your pets (for the record, it's apparently black on the real, non-reject doll). As for the hat, which is clearly out of place, just take it off. If it's sewn on, cut it off. That was all that needed to happen. Now you have a perfectly functional Tyrannian Usuki, plus a neat hat for someone else.

5. Reject Usuki Spring Basket
This Usuki has the tiniest of flaws, and only two of them. First, while the non-reject Usuki Spring Basket's doll is only pink, with yellow and orange fur on the collar, the reject version has splotches of purple everywhere. Not only does this error have absolutely no bearing on whether or not the doll can be played with, it doesn't even really do anything to damage the aesthetics of the doll. It still looks fine. Cute, even. I don't know any young Neopets who are adverse to the purple if they're already playing with something that pink. Tie-dye is also stylish lately, and again, generally a hit with young Neopets. The orange and yellow have bled to other parts of the Usuki, along with the purple, making the doll's fur pleasantly mottled all over. This is certainly nothing to fuss over for the average Neopet. The second error, if it could even be called such, is that the jelly beans that come in the basket are all black, rather than multicolored. Really? We're going to chuck it in the bin over that, instead of just buying new beans? Alternately, a buyer could just... live with it. Jelly beans aren't the most popular of spring candies anyway, even with all the tasty colors in the world they're unlikely to be eaten before they go stale. In other words, there isn't a single thing this doll has done to earn its position as a reject, and a good home shouldn't be hard to find.
There are a fair few Usukis that did not make their way onto this list, simply because they require a little more effort than these Usukis do to be returned to a condition in which they can either be displayed or played with. For example, the Teenage Usuki Reject is missing almost her entire tail and would need her hair styled and an eye sewn in. I firmly believe that all Usuki dolls are salvageable, and that none of them deserve to be deemed "rejects," but some are more easily rescued than others. As for these five, I can see nothing wrong with them, and they deserve as many good homes as we can find them, whether for display or simply for the pleasure of playing dress-up with someone happy to have them.
I hope it was a good read! Feel free to neomail feedback of all kinds!