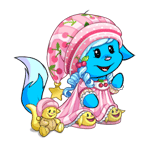 Fashionable Kacheeks... on a Neopoint Budget

by beckykbrooks

--------

With editing help from blackwater444

The Kacheek is one of the most popular species on Neopets as well as one of the original pets offered on the site. For the most part they are lovely, fun loving and peaceful creatures, but more importantly, they are a wonderful species to customize! Kacheeks look wonderful in so many wearables it would be a shame to leave them uncustomized. For the purposes of this article, I am using basic colored Kacheeks and I have decided to focus on just neopoint outfits. While there are numerous neocash items that look absolutely fabulous on Kacheeks, as well as other species, not all Neopians have access to or can afford the neocash ones. Not to worry, though, because you can have a beautifully-dressed Kacheek that you can be proud of on just a neopoint budget! They will look divine during a variety of daily activities if you take the time to earn some neopoints and invest wisely in some of the fabulous wearables available on the site! So let's get started and see just how nicely they turn out!

Daybreak (off to school):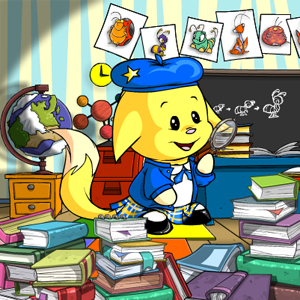 After a big yawn, your Kacheek is up and ready to start her day. Like many, that means picking out the perfect outfit to wear to school. Luckily, there are many neopoint items that look just wonderful on Kacheeks as they head off for a day of learning. Let's start with the basics like the School Girl Shirt, School Girl Plaid Skirt and School Girl Jumper. From there, you can add the School Girl Shoes, School Girl Hat and even the Deluxe Polarchuck Costume Gloves for a perfectly pulled together look. Now for the finishing touches you can add the Classroom Background, Piles of Books Foreground, and the Tour of Mystery Magnifying Glass. There you have it, the perfect outfit for a day of learning!
Estimated Cost:
School Girl Shirt - 65,000
School Girl Plaid Skirt - 200,000
School Girl Jumper - 54,000
School Girl Shoes - 95,000
School Girl Hat - 4,000
Deluxe Polarchuck Costume Gloves - 100,000
Total Estimated Cost: 518,000
Winter Fun (outdoor enjoyment):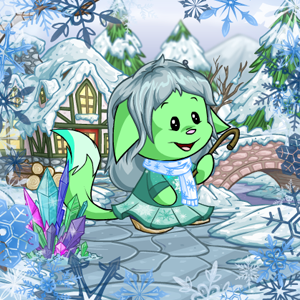 School is out and now it is time for your Kacheek to get outside and enjoy the crisp, cool, fresh air that winter brings to Neopia. To start the new look you can add the Snowflake Shirt and Snowflake Skirt, a lovely combination handed out by the Advent Calendar in Y12. Next we will add the Elegant Kacheek Warrior Boots, the Elegant Kacheek Warrior Wig and the Snowy Scarf for an extra bit of warmth. To finish things off we will add the Snowy Cottage Background, Snowflake Frame, Crystal Formation and the Apple Bobbing Cane. All together they make a rather nice winter themed outfit for your Kacheek to get outside in and have a little winter fun!
Estimated Cost:
Snowflake Shirt - 4,000
Snowflake Skirt - 3,000
Elegant Kacheek Warrior Boots - 64,000
Elegant Kacheek Warrior Wig - 2,500,000
Snowy Scarf - 4,000
Snowy Cottage Background - 150,000
Snowflake Frame - 30,000
Crystal Formation - 25,000
Apple Bobbing Cane - Under 1,000
Total Estimated Cost: 2,781,000
End of the Day (time to relax):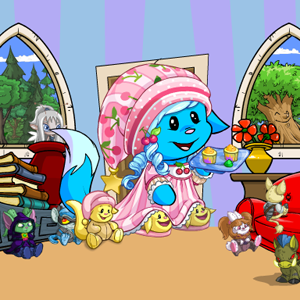 At the end of a long and eventful day in Neopia your Kacheek will just want to relax and reflect on the day's events. For this, we have yet another perfect neopoint outfit that works wonderfully. The Kacheek Pyjama Cap, Kacheek Pyjama Gown, Kacheek Pyjama Slippers and the ever so cute Kacheek Pyjama Doll. Pair these up with the House in Neopia Central Background and grab them a quick snack like the Turmac Sushi Roll for a complete look. Your Kacheek is now ready to settle in for the night and enjoy a good book like King Kacheek or Kacheek Magic before turning out the lights for a good night's rest.
Estimated Cost:
Kacheek Pyjama Cap - 2,000,000
Kacheek Pyjama Gown - 800,000
Kacheek Pyjama Slippers - 120,000
Kacheek Pyjama Doll - 100,000
House in Neopia Central Background - 200,000
Turmac Sushi Roll - Under 1,000
Total Estimated Cost: 3,221,000
Time for the Tropics (warm weather fun):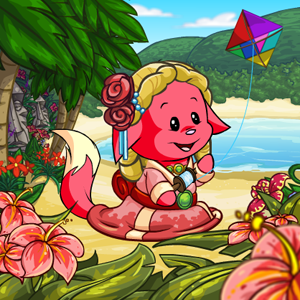 For look number four, we are going to look ahead to the much-anticipated nicer weather. After the long, cold winter months, nothing could be better than stepping out in the warm Neopian air for some fun and relaxation. This look starts with the Royal Girl Kacheek Dress, Curled Blonde Wig, and Kacheek Tourist Shoes (optional, but my pets prefer shoes). Next we are going to add the Tropical Island Paradise Background and the Island Leaves and Flowers Foreground. For a last bit of fun in the sun, we are adding the Basic Tangram Puzzle Piece Kite and your pet is all ready for a lovely afternoon relaxing on the beach. What could be more fun?
Estimated Cost:
Royal Girl Kacheek Dress - 1,750,000 (Royal Paint Brush Clothes)
Curled Blonde Wig - 40,000
Kacheek Tourist Shoes - 15,000
Tropical Island Paradise Background - 50,000
Island Leaves and Flowers Foreground - 220,000
Basic Tangram Puzzle Piece Kite - Under 1,000
Total Estimated Cost: 2,066,000
Sightseeing on a Budget (a lower cost look):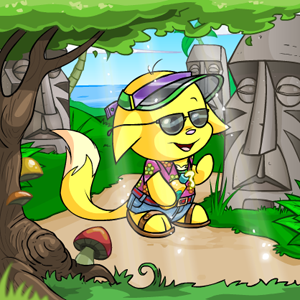 For this look I have really tried to keep the neopoint cost to a minimum so this would be a great look for those just starting out and trying to save for some of the more expensive wardrobe pieces. We will start with the Kacheek Tourist Shirt, Kacheek Tourist Shorts, and the Kacheek Tourist Belt. This gives us a nice start and from there we can add the Kacheek Tourist Shoes, Kacheek Tourist Glasses, and the Kacheek Tourist Visor for a nearly complete look. We will of course need somewhere to actually go sightseeing, so let's add the Mystery Island Heads Background and the Stately Tree Foreground (one can always use a bit of shade). Finally we are going to add the 30 proof Kacheek Sun Screen (even Neopets need sun protection, it seems). Now your well-dressed Kacheek is all set for long day of fun in the sun and sightseeing!
Estimated Cost:
Kacheek Tourist Shirt - 28,000
Kacheek Tourist Shorts - 21,000
Kacheek Tourist Belt - 5,000
Kacheek Tourist Shoes - 15,000
Kacheek Tourist Glasses - 27,000
Kacheek Tourist Visor - 6,000
Mystery Island Heads Background - 4,000
Stately Tree Foreground - 1,000
30 proof Kacheek Sun Screen - 18,000
Total Estimated Cost: 125,000 (Not bad for a fabulous vacation look!)
That completes five very nice neopoint-only options for customizing your Kacheek. The only thing left to do now is set some clothing goals to work towards and get out there and start earning those neopoints! You'll be glad you did and your wonderfully dressed pet will be too. After all, with Kacheek Day right around the corner, there just might be some new and exciting wearables to add to your wish list and you will want to be ready for all of them!
Prices were accurate at the time of writing, but there are always bargains out there for those who choose to look for them. Good Luck with all your Kacheek Customizations and Have Fun!!
Search the Neopian Times


---
Great stories!
---------
---------
---------
---------
---