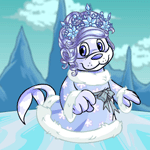 Gorgeous Gowns for Every Occasion!

by finchiekt

--------

Got a party to go to, but your pet's not sure what to wear? Well, this guide aims to introduce you to the wonderful selection of dresses and gowns that are available in Neopia. So no matter whether your pet loves to dress like the faeries or be the star of the show, there's a perfect dress for every occasion. Now, most of the items showcased will be from the NC Mall, a massive fashion development in the Neopian world. However, there are those who unfortunately aren't able to visit for one reason or another. But not to worry, there are still plenty of fabulous dresses that are more widely available! After each dress or gown's name an (NC) or (NP) will indicate whether the item is NC Mall only or buyable with Neopoints, so enjoy this guide whatever your budget and start dressing your pets in style!

Evening Gowns



There are several gorgeous, glittery gowns that would be perfect for a glamorous night out. The Golden Ball Gown (NC) has to be the most show-stopping in this category, a full length, golden extravaganza which is sure to make your pet the centre of attention at any party. Complete with ribbons and ruches, this dress was available from the Stocking Stufftacular, and so would be just the thing for a New Year's celebration. For a more demure approach to eveningwear, the Fancy Pink Gown (NP) with its Neovian appearance means your pet can still be fabulous in collar-to-floor couture. However, one of the most famous mystical creations of all has to be the Shimmering Star Ball Gown (NC). This magical dress mysteriously appeared in Neopia one day to the surprise and delight of so many pets. One moment they were holding a Magical Winter Wand, and the next they were wearing one of the most beautiful dresses in all the world. A masterpiece of a dress which sends starry sparkles through the air whilst your pet walks is one that will never be forgotten.
Faerie Inspired



If you love faeries and want to emulate their style, then these are the dresses for you. The rich warm colours of the Autumn Faerie Dress (NC) will be perfect for the upcoming fall season, and the layers make it look like your pet is wearing shimmering fallen leaves. More spotlight-shy pets might opt for the Grey Faerie Dress (NC), as the muted grey silk and patches just scream solitude. For those Neopets that want to show their darker side, the deep blue colour and sweeping cut of the Darkest Faerie Dress (NC) just radiate power and malevolence. Team it with a Mechanical Darkest Faerie Minion and you're set for Neopian domination (or just a really great look for a costume party!).
Edible Eveningwear


This category may seem a little strange, but surprisingly edible dresses do exist! On a pet-specific note, Skeiths should probably avoid the dresses in this section in case their appetite gets the better of them. The twinkling blue frosting of the Delicious Cake dress (NC) may seem inviting, but unless you want an embarrassing moment to remember forever then try and refrain from eating it (at least before the party's over!). For those pets with a particularly sweet tooth, the Jelly Bean Dress (NC) is just for them. They will look pretty as a picture in pink, and if they need a sugary snack, then the hemline and collar are covered with real jelly beans (replacement beans not included).
Seasonal Splendour




While your pet may have a favourite dress that gets worn time and time again, sometimes changing with the seasons can be fun! Although the name may put your pet off, the Prissy Miss Snowflake Dress (NC) has to be the most desired fashion item come winter. Its fluffy edges and snowflake print make it the perfect dress for the holiday season, while its thick material means your pet doesn't have to sacrifice style for warmth. When the flowers start to bloom and spring has sprung, what better way to celebrate than with a garden party? The Garden Tea Dress (NC) is light and floaty, with all the colours of a spring garden in flower. As the months move on and summer rolls in, then something a bit brighter is in order. The Sunflower Dress (NC) has to be the definitive summer frock, with its cheerful yellow petal-like skirt and complimenting green strap. And finally for fall, the Darling Autumn Dress (NC) reflects the colours of Nature with its leaf print design and warm chestnut tones.
Neopet-specific



Thanks to Neopia's finest tailors, all of the dresses mentioned so far can be worn by all species. However, some of the most spectacular outfits can only be found in the species-specific section. One in particular that has just flown off the shelves is the Xweetok Popstar Dress (NP). If your Xweetok loves to perform, then this dress is sure to give their stage confidence an incredible boost, and the shimmering sparkles make your pet look like a star beneath the spotlight. For regal charm and historic glamour, the Zafara Altador Heroine Dress (NP) is the obvious choice. Elegant and classy, Zafara maidens everywhere can look and feel like a princess from an ancient era – this dress is a timeless classic that will never go out of style. Lastly, it may be surprising that there is such a dress, but Moehogs like to feel pretty too, and the Black Sparkle Moehog Dress (NP) can make them feel like the belle of the ball. With its gentle glitter and contrasting sash, this will be a firm favourite in your Moehog's wardrobe.
The Extravagant Buy

Lastly, we come to the most exclusive section yet. If you own a Draik, then I wouldn't read this part unless you have rather a lot of Neopoints in the Bank; otherwise, you may just find your pet has their heart set on wearing one of the most expensive dresses in the world! The Charming Pink Draik Gown (NP) – what more needs to be said? It's charming, pink and just for Draiks, and will set you back more Neopoints than I care to mention. For those few Draiks that are lucky enough to own one of these, they will attract jealousy and admiration wherever they go. Just don't be surprised if a bodyguard becomes a necessary accessory when going to a party!
To wrap up, I hope that this guide has shown you that there are many beautiful dresses and gowns out there, so that next time a party invitation comes your way choosing your outfit is that little bit easier!