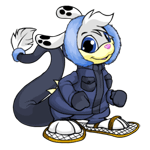 Warming Up Your Winter

by fancifully

--------

For many of us, January is a month filled with snow, ice, and chilling winds. There is a great temptation to stay inside during these bitterly cold winter months, but curling up under a blanket and staying there can lead to a serious case of cabin fever in the long run! Besides, where's the fun in being cooped up inside while a dazzling winter wonderland lies outside, just waiting to be explored? There are so many fun things you can do during the icy wintertime – make snow angels, build snow men, ice skate – and don't forget those intense snowball fights with friends! There is no reason to miss out on all the fun simply because it seems to be too cold to venture outside.

To help you take that step outside the comfort and safety of your door, I've made a list of toasty items that are sure to help warm up your winter and ensure you don't get frostbite while having your snowy fun!

#1: Fire Umbrella
This snazzy umbrella not only looks great with its striking design, but it is also the perfect protection from those icy little snowflakes. With this toasty shelter in hand, never again will you have to worry about snowflakes falling onto winter clothing and making you cold and wet! The heat radiating from this umbrella helps keep you warm and dry at all times, ensuring you are supremely comfortable at all times while exploring the frozen outdoors.

#2: Gnorbu Wool and Jelly Sandwich
You'll need some snacks to keep up your energy during your winter explorations - building snowmen and ice-skating is hard work! What better snack to pack than a wool and jelly sandwich? The wool will warm up your insides, while the jelly provides a sweet flavour hit that will keep those energy levels up!

#3: Coconut Lip Balm
Cure chapped lips and be reminded of summer with this delightfully scented lip balm. Dry winter air and icy winds can wreak havoc on your lips, but a slick of this balm will smooth and heal them in no time. The fragrant coconut scent is reminiscent of hot, sandy beaches and suntan oil – the perfect distraction from less-than-warm winter weather!

#4: Warm Amber Ointment
This ointment may be a little on the pricey side, but you really do get your neopoints worth! You can carry a small jar of this wherever you go during winter to be sure that whatever ails you can be cured instantly. Did you slip on a slippery patch of ice? No problem – this ointment can cure bruises and scratches in a flash! Do you have a touch of frostbite from making too many snowballs to pelt your friends with? A dab of this will heat you right up! There's nothing this fantastic little ointment can't fix, all while keeping you warm at the same time. What more could you want?

#5: Ski Goggles and Mask
If skiing is an activity you enjoy, this handy goggles and mask set is a must-have! The extra-thick goggles will protect your eyes from harsh winds, while the full-coverage mask will ensure that your face stays completely protected. This set is not only practical, but also ultra-stylish. The purple and grey colour scheme is an aesthetically pleasing combination that will be sure to attract admiring glances from other skiers. Don't be without it on the slopes!

#6: Fiery Marshmallow Hat
If looking stylish and keeping warm is your goal, then look no further than this glorious hat! A handy alternative to the Fire Umbrella, the Fiery Marshmallow Hat keeps your head toasty warm. And if you get peckish while you're out and about, you can just grab a handful of marshmallowy goodness off the hat for a snack. Convenient, edible, and toasty warm – this hat truly is a winter godsend!

#7: Anti Gravity Boots
Don't get bogged down in snow drifts this winter – strap on your Anti Gravity Boots and fly high! Melted snow can creep into even the hardiest of snow boots, leaving your feet cold and wet, and you feeling very miserable. But with these state-of-the-art boots, that is not a problem as you can bounce high above the freezing ground and keep your feet dry, while having an absolute ball. All of your friends will be jealous!

#8: Heated Blanket
This blanket has been known to cure Neophobia, but it also has an even handier purpose in winter! Take this blanket out with you on your winter adventures, and never worry about finding a warm place to rest again! The heat from this pure woollen blanket will melt even the most stubborn snow and ice, allowing you to sit in complete warmth and comfort. It is extremely portable and can easily be folded up, making it the perfect addition to any young winter explorer's backpack!

#9: Mitten Earmuffs
These cheerful red and green earmuffs provide a splash of colour to brighten up any winter landscape, while keeping your ears toasty warm. They are also very versatile – if you get sick of using these as earmuffs (or if you're wearing the Fiery Marshmallow Hat and your ears are already well protected!), you can simply detach the stylish mittens and use them to keep your hands warm instead.

#10: Borovan Thermos
You'd have to be crazy to venture into the chilly outdoors without a hot flask of everyone's favourite winter drink in hand! This sleek, lightweight thermos boasts an industrial-grade heating system that will keep your Borovan steaming hot for up to five hours – plenty of time for winter play! You'll feel as though you're drinking Borovan fresh off the stove with this little beauty – don't be without it.
Hopefully you are all ready to rush off to the store and stock up on these winter essentials now! I guarantee they'll make the weather seem much more enjoyable, and help stave off that nasty cabin fever. Stay warm and safe this winter, and have fun exploring the frozen outdoors in supreme comfort and style!