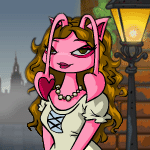 I'm Runner: Part Four

by peachwriting

--------

Warm shower water is very soothing.

Except when it's only kind of warm, the water tastes funny, and the bathtub looks like its been shredded and put together more than a few times.

Well, beggars can't be choosers.

I peek past the shower curtain, thankful that they've cared to set out another pair of clothes for me to wear, even if it does look a little... well, let's say "uncared for".

I step out of the shower lightly, pushing that thought to the back of my mind. I am not going to think like this, especially after what Roxanne said to me earlier. What a big... meanie... head!

Okay, so I'm not good at insulting people.

But it gets the point across!

She'd made such rude assumptions about me being all bratty, when I really was not! Why does she hate me so much? I sigh in slight aggravation, drying myself viciously before trying on the clothes they gave me.

Pants are so weird!

I didn't realize what they were until I tried putting both my feet into one of the legs. And there's a sewed on patch on one side's knee that keeps coming off at the top. I've never worn pants before so they feel almost tight against my skin, compared to the roomy, large skirts I'm so accustomed to. I turn myself to the mirror that's propped on the bathroom wall, rubbing off the thin fog that's formed on it during my shower. Then I slip on my shirt, eyes closed, wondering what the outcome will be.

"Ta-da!"

I gawk, turning around to see myself. The pants are brown, coffee stain brown, with brick colored patches on the knees that have apparently been ripped before. The shirt goes in sharp contrast, creamy white and long enough to drift airily around my knees. Huh, I think. Too roomy near the top. I search around the bathroom for a while before I rip off a stray piece of the flower imprinted shower curtain, tying it around my waist.

That's better. I feel funny, though, and put my hair up in a ponytail.

It's like a fashion show! Except with poor clothes.

I suddenly feel ashamed to think that, and turn away. Maybe that's what Roxanne was talking about. Maybe she was... right. I hate the thought with a burning ferocity.

I am not a brat.

"All done!" I rush out of the bathroom, happy to get on the road.

"Took ya long enough." I can almost feel the sarcasm that Roxanne spits at me venomously. I gulp, fighting back a remark before she gets up and walks past me. "Next time, let's skip the double shampoo, princess."

Grr.

Oliver lopes into the room, happily ignorant to what just happened. "Let's hit the road!" He looks me over in sudden awareness of my change of clothes. "Like the rope belt, Runner. Nice touch!"

Sigh.

Forced smile ready to go, I follow him out, suitcase in hand. He seems bubbling over with energy from who knows where and does a few front flips all the way to the waiting Turmac carriage, which is what most from Meridell go around in.

"We're going to Meridell?"

Oliver practically throws himself on the driver's seat. "Yup!"

Roxanne hurries out from behind me, carrying a stuffed duffle bag. She shoves me on her way, "accidentally" of course, and is in the carriage before I can blink twice. Dante follows suit, at a slow trot. I reach for an imaginary skirt to lift up out of habit and wave my hand behind me in embarrassment.

Stupid pants.

Dante gestures me along and helps me get over the step into the carriage.

"Thanks." I'm suddenly tired and breathless and I slump onto the seat opposite Roxanne and Dante.

Hearing a muffled shout from the driver's seat, the carriage lurches forward and I reach for an invisible hat to keep in place, evidently patting my head to all those watching. "Erm, how long is the ride?"

"Just a few hours, princess, if you can manage." Roxanne sneers, tossing her duffle bag to the ground. Dante shoots her an annoyed look.

"Just forget Rox. She woke up on the wrong side of the bed this mornin' is all."

She must do that every morning.

Runner! I mean, Fantasia! No negative thoughts about anybody. It's rude. They took you in, and by "they" it's Roxanne too.

Roxanne glares at Dante before curling up into a ball in the corner like a Spyder, shutting herself off from the rest of us.

"Sorry," I murmur, looking down.

Dante shakes his head, frowning at her with confused eyes before tipping his hat over his eyes. "I'm gonna take a nap."

"Oh. Okay."

Soon he's asleep and Roxanne is in her own world. I am alone again, or at least feeling that I am. It's strange... before I left home, I wouldn't have minded some quiet time. It would have given me an excuse not to speak too much, after all. But now... the silence seems almost threatening, exclusive. I'm scared of my own thoughts, because I know what thoughts I've been putting off.

You can't just forget them, Runner.

Erm, Fantasia.

Why do I keep making that mistake? I'm still Fantasia, right?

I miss you, Madeline.

Shaking my head, I stare out the window, wondering what I'm going to do with myself tomorrow...

...and the day after that...

I shouldn't allow myself to think about that. It frightens me.

---

I've fallen asleep and woken, on and off like a light switch, all through the day. At times, I would be staring out the window, watching the passing clouds and trees that waved at us in the wind as we passed by. I wondered at the sight, feeling like they were waving at us. "Goodbye, travelers!" They'd be saying that always, stuck in the same spots forever. Like voiceless cheerleaders. It was a funny a thought.

Sometimes I'd lull into sleep, and wake up only ten minutes later, cold and shivering and on the verge of explosive tears.

And then sometimes I would talk quietly to Dante when he was awake, and we all seemed so restless. The morning had already crept away... it was past noon. We stopped at a roadside restaurant quickly.

"I can't believe I've never seen any of this before." I mention this to Dante as we get back into the carriage from our late lunch... linner... or dunch... why isn't there a word for this?

Roxanne hadn't come with us, deciding she wasn't hungry.

He grins, helping me up. I can see the Meridell castle somewhat from where we are, or at least the very tips of the towers over the tree canopy. "It's a nice place, I think. Very homey," says Dante.

Home. "I hope so."

We wave at the owner of the restaurant as the carriage begins to move again.

Dante and I talk for an hour or so, before he decides to switch places with Oliver on the front seat, who had been starting to nod off since we left the restaurant, mumbling about taking a kougra nap and how it wasn't just for wimps.

Roxanne turns toward me the moment Dante jumps to the front, a malicious, knowing, smug smile cradling her eyes that have turned to hissi slits again.

I'm creeped out, but politely ask what she wants anyways.

"I know, princess. I know your little secret."

My blood turns cold and my hands are suddenly frosted over.

"What?" I say it slowly, feigning naivety. Maybe I'm being paranoid. She couldn't possible...

Dramatically, she pulls from behind her back a rolled up piece of pink tinged paper. It looks strangely familiar.

Oh no. Again.

It's the LOST sign.

"Running away, huh? Well, this is just the perfect chance to get rid of you."

I'm terror stricken and speechless, looking at her with pleading eyes. "Don't! Don't tell anyone!" My eyes are tearing up and my hands are clasped together. "I beg you! I can't go back."

"What?" says Roxanne, using a baby voice with me. "Abusive owner? Did she forget your caviar? Or did she give you the Fyora Doll when you really wanted something else? Is that it, honey?" The sudden desperation I had a second ago is suddenly morphed into a furious anger. I could strangle her. I could rip that "honey" right out of her mouth.

"No," I say. My voice is a low, menacing whisper. Though I'm looking down, I can see out of the corner of my eye the sudden downfall of her expression.

"I knew that Runner couldn't be a real name. Too cliché for someone like you. You-"

"No!" I almost scream it, and then lower my voice so that no one else can hear. I'm trembling. I clench my fists. I won't be bullied any longer. "You know what? My life was perfect! I had an amazing family. I had the best siblings in the world. I had food and clothes and the most loving owner you've ever seen. She gave us everything. She kept us safe."

Roxanne rolls her eyes, the smugness returning.

"That's what I-"

I cut her off, trying to laser my hands with my eyes it seems because I look at them furiously. "But then we found a little baby. Being how my owner is, she took her in. But that made five of us. And that's not allowed."

I gulp, looking into the Poogle's eyes with a sudden courage I never knew I had. She shrinks slightly in her seat, eyes wide. "So I ran away. So that she could stay and have the thing that she'd never had before. So I might've been rich and spoiled. But I'm not now, am I? I'm just alone. And if you have half of what you'd call a heart, you wouldn't say anything. Not for me. But for the baby."

Roxanne stares at me, for once lost. She opens and closes her mouth a few times, her hands fumbling over nothing.

"Runner... Fantasia... I didn't know. I just-"

"Save it. I've had enough of you."

I turn my back on her, silently crying, staring out the window at the pale-faced moon.

I barely hear her whisper behind me.

"I won't tell anyone."

To be continued...