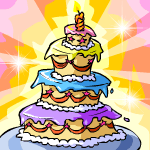 Top 10 Neopian Cakes

by pocketbearroo

--------

Oh, cake. How delicious, delightful, squidgy, and amazing. What wonderful frosting, whether of chocolate variety or home-made butter cream. Don't you love the smell it has when you first take it out of the oven? Or when you step into a bakery, and the scents rush to greet you? Cake. That one word has the ability to make my mouth water. But there is one inevitable question.

What kind? What kind of cake? There are so many choices! Would you prefer an airy angel food cake, with butter cream frosting? Or a rich chocolate affair, with a swirl of fudge? Topped with dozens of candles? Whipped cream? A picture? Or just good old icing.

To help you answer that one difficult question, here is a list of only the finest of cakes. Prices are of no consequence on this list. Why not? Because prices should be of no consequence when purchasing cake. Just let your tongue lead you!

1. Checkered Cake
Why not try something new? This interesting, coconut/licorice cream cake is just perfect for a day at the Poogle races. The black is scrumptious licorice, while the white is coconut. The whipped cream on top is the finishing touch. Who has ever tasted licorice and coconut together? Practically no one! All the more reason to buy this cake!
Need more reasons? This is an interesting addition to a checkered gallery, or an excellent gift for a checkered pet. That is, if you can stand not tasting it.

2. Lime Cheesecake
An interesting alternative to your plain old boring cheesecake. This lime, lip-smacking cheesecake is smothered in lime sauce for even more of that marvelous flavor! This cake looks especially good at summertime parties. The lime slice and leaves form a finishing touch!
For ultimate flavor combination, serve with lime slushies or brucicles. Eating cheesecake will never be the same again!

3. Strawberry Shortcake
A classic favorite, this shortcake has three layers. First is a fresh baked shortbread bottom. Cooked to perfection and golden brown, the base is irresistible. Inside is a delicious amount of strawberry filling. Topping it is a enormous pile of cream. Talk about fatty! A strawberry on top carries off the whole effect.
Alternatives include the Scorchio Shortcake and Strawberry Tonu Foot Shortcake.

4. Garden Fantasy Cake
This vanilla cake is covered with edible flowers and frosted with green icing. How cute! Perfect for your next Ladies Garden Club meeting. Heavily decorated, it is really something special! The exact flowers on top are, from right to left: Snapdragon, Rose, Chrysanthemum, Daisy. Whether it's for a party or nothing at all, this is one sweet-smelling cake!
This cake is useful at birthday parties for young neopets. They'll love the cake! One side effect is that they might start eating flowers from the garden. You have been warned.

5. Fruit Cake
My goodness! This fruit cake is so delicious I don't know where to start! Only served on special occasions, this cake is really something. Don't be fooled by its ordinary name. Altador's chefs have really outdone themselves. The crust is a crispy chocolate wafer molded into interesting designs. Yummy crystallized fruit is inside, including melon, grape, and berry. Poured over the top is a delicious melon sauce made only in Altador, and three plump berries garnish the top.
This cake is good for New Year's Eve and Christmas. A very good investment, in my opinion. Your taste-buds will go nuts!

6. Graduation Cap Cake
Too cute! This cake is really great for any new graduate! A vanilla-strawberry combination, the black icing is chocolate and the tassel is a cleverly cut cherry. I've always wanted to have one of these! Isn't it irresistible to buy? It is also really tasty! Now, with such a great combination, what are the reasons not to buy it?
Have this cake at your next graduation bash, and I guarantee it will be a hit!

7. Chocolate Wing Cakes
Delicious. That's all all I can say. Who wouldn't long for a delicious, shortbread cake with fudge in between the two layers and chocolate icing from Faerieland on top? Everyone knows that Faerieland has the best desserts, and this one is no exception. The candles on top make it stunning on any table. The fact that it is perfectly formed into two faerie wings just add to the incredible way this dish is executed. Dig in!
These are a favorite of faerie neopets, especially at parties. Yum!

8. Kaykee Wake Cake
Okay. That is just bizarre. It's not English, that's for sure. It was originally created to celebrate the second anniversary of Neopets, mainly because no one thought we could make it that far. What is it now? Year 8? But to get back to the cake, it is spice, covered with blue frosting. The pink dots are gumballs. Lots of whipped cream is added to make it look (and taste) even better!
Want more info on what language this is? Help me pester the Neopets Team through the editorial.

9. Hannahs Rope Cake
Yes, I know. Why an ordinary strawberry sponge cake, you ask? But the chocolate rope on top makes all the difference. Think of the possibilities! You can devour the cake, and then have a game of tug-o-war with the rope! Try to defeat your friends at the latest party! And don't worry about prizes, either. The winner gets to eat the rope!
Plus, it's HANNAH! Another gallery favorite. And not particularly expensive, either.

10. Faerie Festival Cake
This one tops it all! Sponge filled with chocolate syrup is just waiting to surprise you! And it's more of that delicious Faerieland flavor! The pink icing is a specially made extract from Tobbie fruits, and the purple is from purple Neggs. Now that is hard work! Oh, and I forgot. On the top is a special flower grown only in Faerieland. More delicacy from the garden, as introduced by the Garden Fantasy Cake. So take your pick!
This cake is traditionally eaten at the Faerie Festival, but you can have it any time you want.
So there you have it. The finest cakes. So choose what you want. Will it be the simple Fruit Cake, or the extravagant Checkered Cake? It's all what you want. Just close your eyes, open your mouth, and eat.