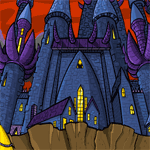 Exploring the Citadel

by luvy_duv

--------

I was travelling the Citadel last week with the intention of viewing some battles in the petpet arena and buying some toys for my pets. However, while I was there, I came across this manuscript that seems to be a written version of an interview that took place in the dungeons. I have no wish to venture down there and find out if the writer is there, however, so I decided to publish their work for them.

-------------

Darigan Citadel. Many know this place as the home of the (once evil) Lord Darigan, and many more recall the war between the Citadel and Meridell a few years ago. But what a lot of people don't know about, are the rest of the residents of this dark floating city.

Me: And that's where I come in! My name is Sally, and I am proud to announce that not only have I ventured into the depths of Lord Darigan's domain, but I have also managed to bag a most exclusive interview – in the Citadel dungeons!

Me: Hello, Master Vex, I'm here as a representative from the Neopian Time-

Vex: I thought you were thrown down here like the rest of the prisoners?

Me: Yes, well. I'll deal with that later. Anywho, howz about an interview? How long have you been working as a prison warden?

Vex: Years. I lost count of how many. Never get to see daylight since this is a full time job and all.

Me: Ah I see, so you have no knowledge of current world affairs?

Vex: Nope.

Me: -rips up pre-planned questions- I see. So uh, what do you do all day? I can't imagine this lot being much company?

Vex: I play Cellblock! It's a game of my own invention, and I myself am reining champion!

Me: Would that be because you made the rules? (-.-')

Vex: Hmph. It's because I'm a genius and the prisoners aren't. I even promised them that if they can beat me I'll let them go, but none of them have even come close to winning.

Me: Is that allowed? I didn't think a prison warden would have that sort of authority.

Vex: -glares- Fancy a game?

Me: Maybe later. –backs away-

***

Me: -whispers- I think it's best if I stay away from Vex for now; he doesn't look very happy with me. Ah well, plenty more Neopians here for me to interview! Lets start with Prisoner Number One!

So what's your name and why are you here?

Clop: -stamp-

Me: Sorry, what was that?

Clop: -stamp- -stamp- -stamp-

Me: Oookay, moving on.

Me: Prisoner Number Two. Barallus, is it?

Barallus: Yes.

Me: So, uh, why are you chained up so securely? No offence; you don't really look like a threat...

Barallus: Pfft, not a threat at all. Lord Darigan's gone loopy, loopy, loopy. Hey, come here and untie me. –evil grin-

Me: Why, what red eyes you have. I think I'll just... go over... here....

***

Me: You look fairly normal. Why are you here?

Squire Meekel: I'm Squire Meekel. I'm here because I got caught back in the war. A war I didn't even want to be part of.

Me: Awww. Wait, the war was years ago, though. You should have been released by now.

Squire Meekel: -cries- I knoooooow! They keep me here and feed me and force me to play Cellblock. PLEASE HELP ME! THEY WANT TO EAT ME!

Me: Oh dear. O.o Moving on...

***

Me: I know you! You're the Green Knight!

Yellow Knight: No. he's my brother. I'm the Yellow Knight. How do you know my brother anyway?

Me: Well, he was a hero back in the war.

Yellow Knight: -sigh- that should have been me. Curse him. And I didn't even get a free T-shirt.

Me: Here, you can have a free 'I love the Neopian Times T-shirt' for being part of this interview.

Yellow Knight: What's the Neopian Times? –can't read-

Me: Uh. Never mind then.

Prisoner Number 5: Hey you, girl! Have you been to Jelly World yet? Its amazing there, isn't it? I even saw that giant green jell-

Me: JELLY WORLD DOESN'T EXIST!

Yellow Knight: Just ignore him. He's crazy.

Number 5: It does exist; I bet my stick on it!

Me: Well, I know it doesn't. Stick please.

Number 5: -bang stick- it does! And I had orange chicken jelly at the food shop and –

Me: o.o Weirdo.

Galgarrath: Hey you! Stop talking to the other prisoners. And how did you get out of your cell?

Me: Oh, er, I'm here from the Neopian Times and-

Galgarrath: Liar! Lord Darigan had you thrown down here after he caught you sneaking around his castle!

Me: I guess interviews are now over then. I should probably concentrate on escaping so I can actually publish my article...

***

Me: Hey, Master Vex! If I beat you in a game of Cellblock, will you let me go?

Vex: -Snort- You can go against Haskol first. If you beat him, and then beat me, I'll let you go. If not, you'll become Prisoner Number 6.

Me: Sounds easy enough. Although, Haskol looks rather menacing...

Yellow Knight: -whispers- I wouldn't challenge him if I were you. If he loses, he tends to throw a tantrum...

Me: Hmph. Like I'm going to let some Skeith scare me into staying here forever.

For those of you who don't know, this game that Master Vex invented is fairly simple. The idea is that you get 5 pieces in a row on the board to win. Like Connect-4, but on a flat surface and with dire consequences if you lose.

And you will be pleased to know ladies and gentleman, that I managed to beat Haskol (and keep my arms – thank goodness), and I also beat Vex. Yup. I beat him.

Vex: You cheated! It's not possible for someone to beat me.

Me: I won fair and square; now let me go.

Vex: Heh, cheaters don't leave no matter how many times they challenge me. Go back to your cell, prisoner!

Me: Oh dear. Maybe I should have gone and explored Brightvale or something instead. How am I going to get out of here?

-------------

Well, there you have it. If the Chia police read this, I think there ought be an investigation into the state of this dungeon, and perhaps even rescue the prisoners before they get eaten/lose too many limbs.