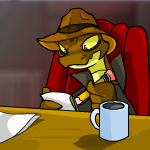 Masquerades: Part Six

by punctuation_ninja

--------

James flinched and closed his eyes as the Gelert butler raised his bat, but instead of a repeat of the blinding pain, he heard a dull, "Oof!"

The Hissi opened his eyes and stared at the butler, who wobbled unsteadily for a second, his eyes unfocused, before he collapsed to the ground. Standing directly behind him was a petit Xweetok, brandishing a bag as a weapon.

"...Deirdre?"

"I didn't like any of the songs, and so I thought I'd join you in your quest for information." She smiled meekly and pointed to the unconscious butler. "You were right; he has a thick skull."

A broad smile spread over James's face. "Deirdre, you're brilliant." He paused for a moment before adding, "What the heck do you have in that bag, anyway? Bricks?"

"I tried to add them, but they wouldn't fit."

"Pfft. No, seriously. I've seen nuclear weapons that wouldn't have disposed of that guy as easily."

"The usual: napkins, lipstick, spare gloves... oh, and the Secretary's Handbook." After a second's rummaging Deirdre pulled out a thick, leather-bound tome roughly the size of James's head.

James stared at it. "...that's the Secretary's Handbook?"

"Yup."

A pause, then;

"...and you've actually read it all?"

"Several times."

"Oh... it only now strikes me that you're overdue for a raise."

"I'll hold you to that, sir."

James chuckled. "Sure thing, Deirdre. Well, now that the Quandary Control's out of the way, we'd better get back to-"

"Gerry?"

James and Deirdre snapped around to stare at a Tonu butler, who had appeared from one of the archways. "Uh, oh."

The Tonu's eyes landed on the unconscious Gelert for a second before snapping up to fix James with a furious glare.

"Accident?" the James suggested hopefully, but the Tonu had already whipped out a whistle from one of his pockets and blown it.

Almost immediately there were the echoes of running feet, and before James could even contemplate an escape they were surrounded by pink-bowed butlers and waiters.

"Whoa, calm down, I'm sure he's fine," James pacified weakly, taking a step towards Deirdre, who had returned the Secretary's Handbook to her bag.

Something about the cold, angry glint in their eyes, however, told James that they weren't actually so much concerned about the welfare of their friend, but about how well the 'Quandary' was controlled. The Tonu pulled a ray gun out of his jacket pocket and pointed it at James.

"What's going on here?"

The entire group turned to stare at the doorway to the dining room, where two figures were silhouetted. James's eyebrows went up as he recognised them. "Mr Trix, Bobby."

"Mr Nexis," Trix noted politely. "Ma'am."

"You," the Tonu growled, looking annoyed.

"Bill," Trix returned.

"Must be a cosy sort of place here," James noted. "Everyone knows everyone else."

"Shut your mouth, Hissi. And you two," the Tonu waved the gun at Trix and Bobby, "get over here, where I can watch you. Now!"

Trix and the waiter glanced at each other for a second before obediently moving to stand next to James. The Hissi nudged Trix. "What's going on here?"

"I'll explain later," Trix muttered. "Just keep your head down until this gets sorted out."

"Enough talking!" the Tonu yelled. "Stay still; keep your hands where I can see them!"

"Now come on, Bill," Trix said quietly, holding his hands out in peace as he took a small step forward. "It's not like we're going to try anything."

The Tonu now had the gun aimed squarely at the Nimmo's face, but James could see his hands shaking. "Don't move!"

Trix took another step forward. "Why not? Come on, old chap, we can talk about this."

"I SAID DON'T MOVE!"

The Tonu instantly realized he'd raised his voice too high as the cheerful music in the dining room stopped and curious voices rose out of the babble.

"Who said that?"

"I say, is something the trouble?"

"Beatrice, have you seen my drink?"

The Tonu hissed angrily and shoved the gun back into his pocket as the doors were pushed open. Standing at the head of the curious crowd was Lord Winworth, who was blinking in a bewildered sort of way. "Anything the trouble out here, chaps?"

"You haven't broken any of the vases, have you?" Lucille asked from behind her husband, looking concerned.

"Everything's fine, I assure you." The Tonu gave a fake smile and nodded at the guests, perspiration thick on his forehead. "We just had a slight misunderstanding, that's all."

Edward Winworth looked around and shrugged. "All sorted out now, I hope?"

"Oh, yes," Trix volunteered suddenly and unexpectedly. "The good butler was worried about our friend here, who appears to have had too much to drink." The Nimmo pointed to the unconscious Gelert butler gleefully. "Isn't that right, my good sir?"

The Tonu fought to control his seething rage and smile. "Yes."

"Now, I suggest we get back to the dancing. Care to accompany me, Mr Goldwhite, ma'am?"

With a relieved look plastered over his face, Lord Winworth turned back to the dining room. "Oh, jolly good. Come on, everyone."

Smiling endearingly, Trix took Deirdre's arm and led her and James after Lord Winworth. "Look happy," he hissed, "and walk quickly."

Plastering a fake smile on his face, James paused for a second to glance back at the waiters and butlers still lingering in the hallway. Some were helping the Gelert butler to his feet, but the Tonu was as still as stone as he watched them go, glowering. Unable to resist the temptation, James fired off a mock salute in his direction.

"Be careful, Mr Nexis," Trix murmured, looking amused. "You'll likely make yourself more enemies than you can handle."

"Nonsense," James grinned. "And how do I know I can trust you, anyway?"

"I'll explain later, Mr Nexis, but for now I have business to look after. Take my advice; stay with the guests at all times. You'll be safest with them."

Before James could object, Trix disappeared across the room, weaving his way through the guests like a snake.

Deirdre glanced at her boss. "What do we do now?"

"No idea. If we go out there," he nodded towards the butler-strewn hallway, "we may as well put apples in our mouths and offer complimentary gravy. I guess our only option is to stay here and see what clues we can gather." The Hissi paused to check his watch. "10:38. It won't be long before the party breaks up; if something's going to happen, it'll happen soon. The best course of action would probably be sticking close to Lord Winworth."

The short Bruce was standing not far away, chatting to the Snoggonkins. James and Deirdre sidled up to them discreetly, on the pretence of examining some of the decorations. Flipping out his notebook from a pocket, James scribbled on it furiously, noting down the occurrences of the evening, and attracting a lot of strange stares from the other guests.

Across the room, James could see Trix talking quietly to Bobby, the waiter, and nodding towards where Lord Winworth stood. The Nimmo was no longer trying to hide in the alcoves, and after a final nod and brief smile, he turned and hurried through the guests.

Scanning the crowd, something struck James as out-of-place, something he couldn't put his finger on. The guests seemed content, gossiping and dancing, sipping their drinks, but there was something important missing.

"Deirdre," James hissed, "does anything about this room seem wrong to you?"

"What, sir? No, I don't think- oh..."

The Xweetok trailed off as she picked up on what James had noticed. Where there had previously been dozens of waiters wandering through the room, they had all disappeared except for Bobby.

"They wouldn't have stayed out in the hallway to help the Gelert, would they?" Deirdre asked.

"No, not all of them, and not for this long. They're planning something- and Mr Trix seems to agree with us."

The Nimmo had made his way towards their side of the room, and now stood about twenty feet away, his eyes incessantly darting over the guests, his mouth a thin line of determination. Where he'd been alert before, he was now positively jumping. He caught James's eye for a second and nodded towards the kitchen.

To James's confusion, a steady stream of waiters and butlers were passing through the kitchen door and down another passageway that evidently ran parallel to the dining room.

James made to go towards them, and Trix shook his head firmly.

"Apparently he wants us to know about them," James whispered to Deirdre after pointing out the flow of waiters, "but he doesn't want us to investigate. The question is, should we trust him?"

Deirdre considered for a minute, glancing in Trix's direction with narrowed eyes. "He did pretty much save our backsides just a few minutes ago, sir," she noted. "And if he can't be trusted, who can be?"

"I agree. We'll wait for a minute and see what happens."

They were both silent for several seconds before James piped up again. "I suppose, after all of that mess with the waiters, they wouldn't be disposed to make me another cup of coffee."

"I don't think so, sir." The corners of the Xweetok's mouth twitched up. "But if you manage to survive until tomorrow, I'll cook you an extra strong brew to make up."

"Deirdre, you're worth your weight in gold," James grinned. "You seriously deserve a raise."

"You already promised me one, sir."

"I did?"

"Yes, you did. Several times."

"I don't remember that," James objected loudly, and he received several strange looks from the surrounding guests.

Deirdre raised an eyebrow, bemused. "How can you not remember?"

"Selective Short Term Memory Loss," James grinned. "SSTML. Invaluable when it comes to getting out of promises you never intended to keep."

"Don't even think about it, sir," the Xweetok threatened, trying to hide a smirk. "Remember who it is that makes your coffees."

"What do you plan to do? Poison them?" The question was scarcely out of his mouth before his eyes widened. "Of course."

"Or I could just burn it," Deirdre said, but James cut in suddenly.

"The bottles in the hidden room! Logically, they'd be poisons, to match the sword décor. And what could be easier for getting rid of Lord Winworth than putting a few drops of arsenic in his cup? No assassins, no falling chandelier, no mess, no hysteria... it would just look like he'd dropped from the strain of the night, or something! By the time a doctor got here, it would be too late to do anything."

"Sir?"

James's eyes had lit up with the excitement of a puzzle that was finally falling into place, and he seemed completely oblivious to his secretary or the very disturbed guests who were edging away from him discreetly. "The waiters are against him- I think that's pretty clear- all it would take was for the one who brought him his drinks to add a drop or two of nightshade... or even just the chefs; for all we know they could be in this whole conspiracy too. And that means..."

James trailed off as he looked at Lord Winworth. The Bruce was holding a now-empty glass, and laughing at one of Mr Snoggonkins's jokes. "Oh..."

Even as he watched in horrified fascination, Bobby trotted through the crowd, holding a new glass on a tray. James eyed the drink suspiciously, and was on the verge of intervening, when Bobby tripped over one of the lady's gowns, falling to the floor in a dramatic flurry of paws and tail, and spilling the poisoned drink across the floor. "Oh, I'm sorry, sir," he babbled nervously, pulling off his apron and using it to mop up the spilt drink. "Very, very sorry!"

Lord Winworth chuckled good-humouredly. "You are a butter fingers, aren't you, lad? That's the third time you've spilt my drink tonight. Never mind, I'll just have an aged tchea juice."

James sighed in relief as the Bruce plucked a glass off the tray of another passing waiter, and watched Bobby curiously as the Xweetok mopped up the last of the drink and left. It could have been his imagination, but he was almost certain he saw a faint grin hovering over the Xweetok's face.

Glancing again at Trix, James saw him raise an eyebrow, looking pleased with himself. The Hissi inclined his head slightly as a sign of respect, and the Nimmo turned away, smiling.

"Well, that was interesting," James whispered to Deirdre. "It would appear that-"

The Hissi never got a chance to disclosed how it appeared, because at that moment a hysterical maid ran into the room shrieking. The small Kacheek didn't seem to know whether to cry or scream, and as curious guests began to gather around her, she took a deep breath and shrieked one word before collapsing to the ground.

"FIRE!"

To be continued...