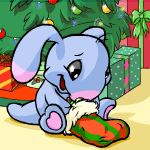 10 Must-Have Stocking Stuffers For Under 5000 NP!

by evie_firebolt

--------



Fluttering snowflakes, frothy Neggnog, and fabulous winterwear—you know Christmas is around the corner when the streets of Neopia are decked with boughs of holly and festooned with holiday wreaths. As neither hail nor icy pavements ward off holiday shoppers, it's a challenge scoring all that swag in time for St. Nick's, especially if you've battled a stampede of overzealous shoppers for that Hawaiian Usuki, only to have it snatched out of your fingertips by an agile, snarling Ixi. Worst of all, you're seemingly forced to clean out your bank account for those mile-high shopping lists... it's no wonder you're grumbling like a scrooge! But wait. You needn't spend hundreds of thousands of Neopoints for your loved ones this Christmas—after all, it's the thought that counts. Here, you'll find this season's must-have stocking stuffers that will save you from living out of a cardboard box come New Year's Day... and they're guaranteed to satisfy any Neopian's tastebuds, whether they be young and spritely or old and feeble. Forget pricey books that never fit through the stocking or swanky clothing that wreak fire havoc—these 10 must-haves are guaranteed crowd-pleasers.

# 10: Humbugs: A striped minty treat that is great during cold weather or long journeys. (Estimated Price: 4000 NP)
A cup of hot cocoa or buttery Neggnog is essential on a cold winter's night, but if you're out on the town skating at Happy Valley's Ice Rink or climbing up Terror Mountain, a bag of Humbugs will keep you toasty warm, while giving you minty fresh breath. Stock up and drop a small parcel in each stocking... your friends and family will love this minty treat!

# 9: Deluxe Candy Cane: Three peppermint flavours combine to make this the best candy cane ever! (Estimated Price: 900 NP)
The sweet treat that has remained timeless through the ages—this special candy cane offers deluxe flavours for a very low cost. A holiday staple, the Deluxe Candy Cane can be found at just about any store in Neopia, so you won't be hard-pressed to tick this off your list in an instant. Come Christmas morning, your pets will be delighted to see this red & white striped treat. Who doesn't love a good candy cane?

# 8: Chocolate Coated Candy Cane: A sugary treat coated in thick creamy milk chocolate! (Estimated Price: 700 NP)
Perhaps the only thing better than the Deluxe Candy Cane is one dipped in rich, melted chocolate and solidified to create a sensational treat. With twice the sugary goodness, you may want to go easy on the holiday desserts—aww, who are we kidding? Just be sure to brush and floss when you're done.

# 7: Spearmint Ribbon Candy: Spearmint hard candy in the shape of a brightly coloured ribbon! (Estimated Price: 4000 NP)
A twist from the standard candy cane, the spearmint hard candy is reminiscent of summertime lollypops, with the minty madness spun into a fun holiday-spirited ribbon. This goodie will have any Neopet satiated for hours as they attempt to lick their way through the green, red and white layers. Purchase them by the dozen at your nearby candy store.

# 6: Gingerbread Wocky: Hmm, gingerbread! (Estimated Price: 750 NP)
If you thought slaving for hours over a hot oven to create a Gingerbread House was part of your to-do list, think again! Once unveiled during the Advent Calendar in Year 4, this low-cost seasonal treat is a definite must-have, with the crumbly, comforting taste of gingerbread in the adorable shape of a Wocky! Also available in other shapes, such as Mynci, Korbat and Grundo, the Gingerbread Wocky is our pick for this season... after all, it reminds us of those good old days in Year 4... and a little tradition always goes a long way.

# 5: Fruity Nova Assortment: A selection of assorted sweets that fell out of a pinata. (Estimated Price: 2200 NP)
For the ever-so-picky Neopet whose finicky habit of poking and prodding their dinner has got you exasperated, the Fruity Nova Assortment will do the trick. An eye-popping selection of rainbow-hued candy, this assortment stands above the rest due to its all-natural, fruit-based ingredients, which serves as both nourishment and indulgent snack.

# 4: Lemon Tarts: The whipped cream on top makes them even tastier. (Estimated Price: 1000 NP)
Imported from Neovia, these delectable lemon tarts are a delicate fusion of fresh, tangy lemon custard and sweet, crumbly crust, with a dollop of whipped cream to top it all off. Baked fresh every day, you'll want to pre-order a few dozen mini tarts at Neovia's finest bakery—after all, you won't be able to resist sampling one or two as you wrap them up in clear plastic & red ribbon to keep them fresh for your loved ones.

# 3: Chocolate Man: Hmmm what a strange shape, wonder what its meant to be? It tastes good though! (Estimated Price: 3500 NP)
He lives on Drury Lane and... wait, that's the Muffin Man! No, this 100% edible chocolatey treat is choc-full of chocolatey goodness. One of the Chocolate Factory's lesser-known seasonal goodie, the Chocolate Man is a definite must for any chocoholic, but will delight the taste buds of just about any Neopian. Gallons of dark, milk and mint chocolate swirl in giant vats 24 hours a day to produce batches of these tiny soldiers. A treat fit for a king!

# 2: Star Shortbread Cookies: These shortbread cookies have Qando in the middle and sprinkles on top! (Estimated Price: 700 NP)
If you've always wanted to tell a friend or Neopet that they're a true star, these cookies will do the job. A Qasalan classic, this exotic baked good infuses the rich taste of Qando with the classic, buttery crumble of shortbread. We all know holiday cookies are a must, so skip the bland, regular cookies we've all stuffed ourselves with each and every holiday, and try this modern twist on a classic favourite. You'll be a star for it.

# 1: Chocolate Faerie Log: A delicious blend of chocolate icing and faerie dust. (Estimated Price: 1750 NP)
Nothing says 'Christmas' more than a Yuletide Log... so who says you can't dole out the Christmas magic to all your loved ones? A generous helping of chocolate icing atop a moist chocolate cake, sprinkled with some sparkly faerie dust makes this one magical dish. Mini sizes of the Chocolate Faerie Log will round out your stockings and ensure that you have a very Faerie Christmas.
There they are, this season's must-have stocking stuffers that will have you merrily hanging up those fuzzy stockings and stuffing them with treats. Just remember, when in doubt, leave the perplexing pricey items and gift-demands for under the tree... the stocking is all about small, sweet and simple. Tis the season to be jolly!
Author's Note: Thanks for reading my article; I hope you have a very merry Christmas! Feel free to neomail me with comments, suggestions & feedback. =)