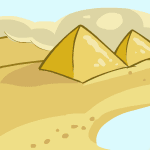 Lost Desert or a Lost Paradise?

by sunlight_phoenix

--------

Professor Cladario Ickmire is a desert Ruki who has lived his entire life in the Lost Desert, studying its gale force winds and unfriendly bugs since he was a little boy. His most recent discovery has rocked the Neopia Historian Society (NHS) and torn the Lost Desert in two...

The welcoming message at the Lost Desert's caravan stops have always read, "This sacred place has been hidden for thousands of years, or at least as long as anyone can remember... keep it clean please." But now, thanks to Ickmire, the new generation of historians is beginning to doubt how long the desert has actually been there.

Ickmire made his shocking discovery on a day much like any other in the Lost Desert, boiling hot, with droughts expected. There are three famous pyramids in the Lost Desert, Sitz, Hugar (Hoo-gar), and Skanth. However there are many small, lesser known pyramids deeper into the sweltering sun, pyramids many years older. He was climbing one of these smaller pyramids when the ancient sandstone beneath his feet began to crumble and he went tumbling down the side of the pyramid. As he describes it,

"I was sure I was going to die; I was flailing like a giant squid on a line. I kept grabbing onto stones, but because of the dry air they just gave into my claws, until finally, just a few yards above the bottom of the pyramid, my claw finally latched onto something with some backbone."

When Ickmire recovered from his tumble he examined the creeper that had saved his life. It was a thick vine, turned brown and crisp in the desert heat, and had clearly lost its fresh greenness a long time ago. Ickmire was fascinated by the plant and eagerly ran back to Sakhmet to find one of his closest friends, a botanist by the name of David Spidencle.

Spidencle took a quick look at the plant and categorized it as a Treadius viduis, more commonly known as the vine tree. They require a lush tropical environment to flourish as this one obviously had.

"He asked me if I was feeling alright when I told him it was a vine tree!" Spidencle roared at me over a meal of sand fruit and dust covered salad one sweltering evening. The two friends seemed much amused at this idea.

"Thought all that summer's heat in the middle of the Month of Celebrating'd finally gotten to you, didn't I?" Ickmire laughed, spraying sand out over the table.

"Anyway, I was puzzled myself," Spidencle admitted, "so I took it back to the lab to run some tests."

What Spidencle found was startling. The tree was relatively young; it appeared to be about 150 years old. Vine trees are still considered young at two hundred, so the Vine Tree's death couldn't have been natural. But even stranger is that the vine showed little signs of having been exposed to harsh sand and gusty weather; of course the outer bark was worn off, and the wood polished smooth.

"But in a country where the city walls lose an inch of concrete every fifteen years, that's saying quite a lot," Spidencle explained.

"Which means that the tree must have been sheltered fairly recently, which would mean that the Lost Desert hasn't been here for thousands of years. I'd say one or two hundred at the most." Ickmire jumped up from his seat and started to pace the room. "And that would make the Lost Desert one of the newest civilizations on Neopia."

But while Spidencle was in the lab, Ickmire was more carefully exploring the small pyramid and others around it. Looking over the pyramid, he found evidence that it was much older than anyone had previously dreamed of.

One of the most alarming signs on it was the way it had been worn down by the weather. Instead of the horizontal lines one expects to find on structures that have been out in the wind for many thousands of years, it had vertical lines, carved in by what could only have been rain storms. This means that the pyramid must have been there long before the desert was, well, a desert.

"My first assumption was that it was from an even older civilization from before even the desert was here," admitted Ickmire.

But that evening when Ickmire and Spidencle sat down over a nice cool plate of Scarab Cookies to share the findings and brainstorm. Spidencle told Ickmire about his discovery about the plant. Puzzled, Ickmire and Spidencle decided it was definitely worth further investigation; they faced a problem, though. The pyramids were sealed under a pact of the Neopian Historian Society and the Lost Desert's government. They would need a permit to enter the pyramid and continue their search. So they headed off to the NHS's annual meeting to present their findings.

On the way they met with a group of young neopets just out of neoschool who had been working on developing a similar theory. Theirs was based off the weather cycles in the desert. As most Neopians know, strong unpredictable wind storms often rush through the desert. These are more evidence of the desert's new arrival.

"A well developed desert has fewer wind storms than a new one, because the sand has had more time to form hills that block strong gusts of wind from picking up force," Spidencle told us.

Encouraged by what he thought was support from the historical community, Ickmire presented his finding to the Neopia Historian Society. Made up of mostly elderly neopets who participated in the original Lost Desert plot - helping set up Coltzan's Shrine - they rebuffed his ideas with bitter ferocity. However, Ickmire's tale caught the attention of Dr. Rettub, a respected bug specialist. Dr. Rettub is a chubby Acara who makes his home on the tropical shores of Mystery Island studying the diverse animal life there.

He heard of Ickmire's theory and went to the Lost Desert to meet the revolutionary historian and botanist. But on his way to Ickmire's home in Sakhmet, Rettub was detained by a small bug crawling across the sand.

The bug reminded him of the Leaf Silvee, a tropical bug that lives in tropical places, feeding off dead trees. Surprised Rettub took the Leaf Silvee to Ickmire and Spidencle. The three of them investigated the small bug more closely and discovered it was very much like a Silvee, only it had developed a small bulge on its back - they hypothesize that the Silvee uses it to store water. So the Silvee may well be a descendant of the leaf Silvee, left over from the jungle.

"Evidence seems to be crawling out of the sand, begging to be found. The jungle doesn't seem to be ready to be forgotten," Professor Ickmire told me before he departed on a trip into the outer reaches of the desert to look for more Silvees.

The three neopets are currently out in the Lost Desert sorting through the thousands or bugs for more Silvee. They travel light, working in the cool night and sleeping though the day. As they are out of communication with the rest of society, nobody knows if they've found any more Silvee, or indeed even if they are alive or dead. All we can do is wait and hope.