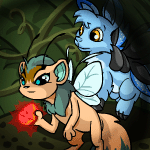 Neoplay: Two Faeries and a Wannabe Evil Overlord - Part Two

by kioasakka

--------

Also by fsufan266

"I know the owner here," the Xweetok muttered when they made it to their destination. "I'll make sure you get in cheap and don't get a crummy room."

She waltzed inside, and, after some persuading and a little bribery, got the island Acara that owned the inn to give her a key, which she tossed to Cera. "Your room's up here," she said, nodding toward the stairs. "Come on."

Cera smiled and accepted the key and then followed her up the stairs. "Thanks, you really didn't have to do all of this," she said, happy that she wasn't getting ripped of for the millionth time.

"Nah, it's fine," Ara said, waving it off. "I need to be nicer to people, so says everybody I know." She scowled, but only for a moment. Cera didn't argue about that and just nodded.

"Here's your room."

Cera just about died when she saw the room. It was furnished with a double bed, two nightstands on each side; a desk with a lamp, a pen and a stack of papers on it; a counter that separated the "bedroom" from the "kitchen", which was complete with a refrigerator full of island food, a sink, and a stove; and a bathroom hidden by a closed door. The window was open, revealing the ocean.

"You like it? It's the best I could get for hardly anything..." Arathyne put the suitcase on the counter.

"Do I like it?!" she exclaimed, collapsing on the bed. "I wasn't expecting anything like this! Thanks a bunch!" She propped herself up on her forearms and looking back at Ara.

"No problem," she said with half a smile. "And it's all paid for up to ten days." She pulled the suitcase off the counter and frowned. It was pretty heavy. "What's in here, anyways?"

Cera laughed. "Oh, you know, my life, basically."

Ara looked at it. "Wait, am I crazy, or was this totally broken when I picked it up and brought you here?"

The Bori looked up at the suitcase. "Yeah, it was," she said, getting up off the bed and walking over to check it out. "The wheel popped off at the first dock I went to."

"So why's it fixed?"

Cera shrugged. "I don't know, but that's really weird."

"It looked like it was about to burst when I got it, but now it looks like there was never any damage. It even has all four wheels."

"Ummm, yeah, it is a very old suitcase, but it looks brand new... what?"

Both of them stared at it for a moment, wondering if next it was going to move or something.

"You sure it's my suitcase?"

She nodded. "Yeah, same one you gave me. Check the stuff inside."

She did, and found that the bag's contents were all hers. "Creepy," she whispered. "It's really mine."

Arathyne shrugged. "Well, no big deal, I guess. It's new now, or at least it looks it. I'm going to go explore my backyard. You're welcome to come if you want."

Cera tore her eyes from the suitcase and looked at Ara. "Ummm, sure," she said, wondering what was so cool about her backyard. Her own backyard consisted of a vegetable garden and weird flowers planted by her owner Sarah that you really didn't want to smell unless you wanted your nose bitten off.

Arathyne nodded. "Follow me." She led her down the stairs, out of the inn, and down the road to her house. She wandered inside to see if Lucy was home. "Mom? Mom, you home?" When nobody answered, she checked the cupboards and fridge. They were empty, like they had been when her owner left, meaning she had yet to return. "She's probably chatting it up with someone she just met," she muttered, leading Cera through the house and into the backyard.

The jungle opened up to them like the pages of a book. "Stay close, and you won't get lost." She looked for the little bag she'd hung on a tree branch earlier, and took it down, tying the string through a beltloop in her jeans.

"Have you ever gotten lost?" Cera asked. "Oh, wait, never mind. You could probably just fly back home."

"You crazy? These branches are super thick. You couldn't fly out of there if you wanted to; it's barely spacious enough to let light in."

Cera looked up at the tall branches above her. Her ears drooped slightly. "I guess you're right," she said, not liking the fact that her flying ability was now disabled. She changed the subject. "What's in the bag?" She nodded to the bag tied onto Ara's jeans.

Ara held up the bag and grinned. "This is full of flags I stick onto tree branches so I don't get lost. I've already set up a trail of 'em to lead us by, but we might find a new trail or whatever and new flags will be needed."

"Okay, well, where are we going? Anywhere in particular?"

"Yeah." She looked around the trees to find where her starter flag was. "There's a trail somewhere to Geraptiku. I found it a while ago and marked the way with these blue flags... But we're not going to Geraptiku, not really. Right on its outskirts, I found a tunnel that goes under the city, but I had no time to explore it because it was raining and flooded out. Mom doesn't want me to go there, but she's not home right now and I don't really care. I never said I wouldn't." She found the flag and began to follow them.

Cera laughed. "Okay, sounds good to me." This was all pretty weird to her, but it did give her something to do. She also figured that since Ara brought her suitcase all the way to the inn and got her that great room, keeping her company was the least she could do. She followed Ara, who was following the flags. "How far away is it?" she inquired, looking ahead of them, only to see a never-ending stream of trees.

"Not too far," she answered. Light poked in through the spots in the sky where the long tree branches or leaves didn't block it, giving them enough light to see but also that funky spotted look. "About a ten minute walk."

Several minutes passed before Arathyne spoke again. "So, umm, last time we met, we didn't really talk much. You obviously know something about me, so, er, tell me about you. Got any sisters?"

Cera nodded, remembering the two or so siblings of Ara's that she had met during their previous encounter. "I have a ghost sister, but she doesn't talk much," she answered. "She is always busy, so I don't see her much. There's also Azura, she's pretty cool... I have a brother too; his name is Lue. And then there's Rasi... I should introduce you to them all one day."

"Sure, that sounds great," Ara muttered. She didn't mean to, and tried not to, but the question still came out of her mouth. "Does your entire family drive you crazy?" she asked, thinking about her own. Ronyshia was too much of a goody-goody, and such a kiss up, and liked to show off her 'earth powers'. They used to get along when they were younger, but now they were so different they barely had reason to speak to each other. Vinetaa she hardly thought of as a sister, being a pirate and all. Arathyne often called her a traitor to the family, accusing her of one day stealing everything they owned and running off. She got along best with Tahtrei, but even their relationship was volatile. She wasn't too fond of being related to a witch, prone to become a sorceress every day. Arathyne knew in her heart that if Trei became a sorceress, she would probably protect her family, despite the fact that she hated them most of the time.

Sometimes, however, she felt a little jealous that her sisters all possessed some magic and she didn't have any. Even Vinetaa had some, and could control water, and though it was a very small amount, it was still something. Being painted faerie didn't give you powers. You were either born with it or you weren't, or you were given powers in some weird freak accident. When her sisters had had their powers for many years and she still didn't, her owner went and got her tested for magic by the best in Neopia. It cost much money just to hear that Ara had no magical abilities. Lucy was greatly disappointed, and even though she didn't look or act it, it hit Ara very hard, like an unnecessary smack in the face.

Cera gave Ara a weird look. "No... Lue and I get along the best," she answered. "Well, I think so, anyways. He is so sweet and funny. I don't know; you just have to know him, I guess..." She teased Lue a lot and they would bet and have fun. "Dre on the other hand is almost never home... She has this job thing that she does that I still don't understand, even though she has explained it to me over a million times." Her smile was slowly fading. "Azura is just there. She is pretty new to the family and I haven't gotten to know her much, so yeah. And Rasi is... weird." She looked at Ara. "Why do you say that?" she said asking about the whole crazy family question Ara had asked first.

Ara sighed. "I have three sisters, and well, we just don't seem to mix. Roni drives me crazy with her constant perfection, and all Trei needs is do commit an act of evil and then she'll kill us all in our sleep. And that dirty pirate..." She scowled. "I can barely call her my sister. All three of them get along really well, but I don't seem to work with any of them. I can't walk in my house without feeling like a total outsider. The only thing that keeps me from running away is my owner." A small smile crept onto her face. "We're most alike. She's lots nicer than I am, but when it comes to our interests and general personality, we could almost be the same person. She's the better version of me, though. I may have the faerie look, but she's the faerie inside." She knew that sounded really strange, but at that moment, she could care less. It was true, there was no denying it. Arathyne could only sigh and wish she could be more like Lucy.

But those feelings could never be revealed, so she didn't sigh aloud.

To be continued...