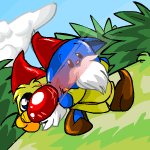 I'm Game

by movingout_03

--------

It's completely undeniable. If there's one thing every Neopian can't go without in this day and age, it's neopoints. Whether you're the materialistic type or not, it's a basic necessity to have more than just lint in your pockets. But how to get this money? There's restocking, a tricky and not always successful business; there's the stock market, which is guaranteed to take at least three years off your life expectancy; and then there are the games.

But which game to play? Some games require a lot of concentration and good hand-eye coordination skills yet earn you only a few hundred points. A select few are easy enough for you to rake in the points, but how do you know which ones they are? With over one hundred and sixty games it's not always rainbows and Chias finding a game that's right for you. It's going to take some skill, sleuthing and good luck to pinpoint the games that are worth playing.

The first thing you'll need to take note of in your hunt for the perfect games is the 'favourites' button. (You can find this at the bottom of the main "Games" page--it's the circle with the heart in it.) Whenever you find a game that you think you'll like or be inclined to play when you need points, just click the 'add to favourites' button (the one with the the heart and the + sign). To view a list of your favourite, click the aforementioned heart button and voila! You'll have a nice list of all the games you like.

Now, to begin the search. The first thing you'll need to do is pick a category or a broad type of game. Let's say you're an ace when it comes to shoot-em-up games, so you would say that 'action' is your category. Look at all the action games and wait for something to catch your eye. If Chia Bomber isn't for you, why not give Extreme Potato Counter a go? You'll find that each category of games appeals to a certain skill. Try out a few and once you've found your niche (i.e. fast clicker or quick thinker), work around that. Most games offer the feature, "You May Also Like..." and include a list of other similar games.

So, you've identified your strong suit and tried out a few games. But no use playing them if they're boring, right? Now it's time to explore--try any game that sounds fun to you. All games have a brief, witty synopsis just below the screen shot. Skim a few and see what interests you. For now, don't worry about how many points you've earned: play for fun. It's key to play as many games as possible to find the one for you.

Next step is simple, and more of a personal recommendation than a necessary ingredient. Notice the Featured Game in the top left hand corner of the "Games" page. Every day, there is a new game that will earn you twice the amount of neopoints that you'd normally get. You'll always want to give this a shot, even if you've never heard of the game before. It's a great way to introduce yourself to new categories and an easy way to earn yourself a few extra points.

Now that you've broadened your horizons until they're bursting at the seams, it's time to narrow it down a bit. Try checking out of the 'My HiScores' feature (the button of the person and the star) to see which games you've earned the most points in. You'll be ranked as novice, beginner, amateur and expert. Make a list of a few of the games that you're ranked expert or amateur for and include any games that you remember earning a bunch of points for.

Time to break out the pretty yellow highlighter. Highlight all the games on that list that you found fun. Be liberal--even if it was only vaguely enjoyable you'll want to highlight it. All ready? Tada! You've just made yourself a list of four or five games that are A) fun, B) a great way to make neopoints, and C) another 10 minutes of dailies that, in the long run, will yield a big profit.

Don't forget: when we say games, we mean all games. This includes activities you might not even consider a game, like Bagatelle or Illusen's Glade, because they call for ability and can result in points. Known as a packrat; robbed the gallery spotlight eight times in a row? Then instead of making your points playing Wingoball, head over to Jhudora's Cloud. However, if you're a 'newbie' and are just trying out games for the first time, you'll want to pick a game in which you can't lose any points. In Cheat, there's a 50 NP fee to enter, whereas you can only gain points in Mynci Beach Volleyball.

If you've done everything listed above, but still can't find a game that brings in a realistic number of neopoints, there are other solutions. Try reading the directions--it sounds really stupid, but believe me when I tell you it can make or break an entire game for you. I can't tell you how many times I've thought, "Hey, I wonder what this button does?" and ended with what was potentially the best score I'd ever earned. You should also take advantage of all the talented users out there who've made guides. Just browse the petpages for a while and you'll find a myriad of helpful hints and strategies. And don't forget about the Games Board! While blatant spoilers and cheats aren't allowed, a hint or vote of confidence will go a long way.

On a more personal note, you may want to confer with your pet before adding a game to your favourites. I mean, if you have a Lupe and you're adding Chia Bomber... that's just degrading. Also ask them if they mind hosting a Game Guide on their petpage since it is, after all, their space.

Now that you know how to go about finding the perfect games for you it's time to go out and search. Remember that it's never a waste of time to try a new a game, even if you don't end up with thousands of neopoints for your hard work. If you're really stuck, a few of my favorite games are Jubble Bubble, Ice Cream Machine and Snow Ball Fight. But that's just me--the games you choose to play could be completely different. The most important quality to have when playing neopets games is not the actual skill for them, but a diligent mentality.

So what are you waiting for? Stop reading and start playing!