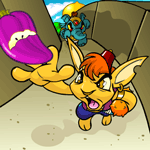 A Heroine's Heist: Part Two

by jayandcourtneyk

--------

Nearly a day had gone by and there was still no sign of Cassie.

The chase had happened last afternoon, and now it was almost noon. Drawing a small match out of his pocket, Stan struck the match and lit the twelve torches that lined the hideout. He hadn't gone outside the hideout since his cousin's disappearance for fear she might return to find no one at the hideout. Stan blew out the match and carelessly tossed it over his shoulder. He sat down.

After a few minutes of staring at the ceiling Stan heard a soft groaning noise. The crate above his head was slightly shifting. Curious, Stan stood on the flat rock and pushed the crate aside.

"Ouch!" a young voice said.

Stan spun around to see Cassie sprawled out on the ground.

"Are they coming? The guards, I mean," Cassie whispered.

"No. Come on in here!" her cousin whispered back.

Once both thieves were in the hideout, Stan asked, "Where were you, Cassie? You were gone for almost a day!"

"I'm sorry, but those guards - they can run so fast! I almost thought that they would catch me!" the younger Kyrii replied bashfully.

"Come on. Let's sit down."

The cousins sat down facing each other. A sad Cassie shuffled around a bit after sitting, then suddenly perked up.

"I still have the ummagines, Stan!" Cassie reached into her shirt and pulled out the two ummagines. She tossed one to Stan and they began to eat. Cassie felt safe being with her cousin but was still scared and anxious about her encounter with the Elephantes. "All guards are bad to me," is what Cassie had once said to Stan during one of her visits while she was younger.

Once finished, Stan announced, "Well, maybe now is the time we should get some sleep - since you've been gone I haven't gotten any sleep and you've been running around. Help me blow out the torches, Cassie."

Immediately the younger cousin ran straight towards a torch - but was too short to blow it out. Stan had to do it by himself. The two lay down and did all their good nights and all the rest. After a few minutes, Cassie's voice broke the silence.

"Stan, you know what? I'm still hungry."

The older thief did not reply but instead fell asleep. Shortly after Cassie had fallen asleep as well.

~~~

The night seemed to drag on for days, but as soon as the sun rose, Cassie was already awake and had started to fiddle with the flat rock that helped the thieves get out of the hideout. After about half an hour after Cassie woke up, her cousin got up and stretched. He took the rock from an impatient Cassie and set it underneath the hideout entrance overhead. Stan had climbed out of the hole and reached out his hand to help up his cousin.

"Just, a minute, Stan," Cassie said. She ran towards the edge of the hideout, grabbed the potato sack that Stan had used a few days ago, tied it around her waist, then joined her cousin, who was waiting beside the crate outside.

Once inside the marketplace, busy pedestrians hardly noticed they were crossing paths with the most-wanted thieves in Sakhmet. A few minutes earlier, Stan had addressed his "brilliant plan" with his young cousin. The two Kyrii approached a cart selling assorted fruits (not the one owned by that Korbat, but one that was owned by a greedy-looking Skeith). Just as Stan had suspected, the cart was hitched up to a Uni, whose brown fur was completely covered by a thin woolly blanket. Stan snuck up to the Uni, and swiftly grabbed and released the Uni's hind foot. The Uni, who was clearly surprised by this incident, reared up and cantered off. The shopkeeper, obviously shocked, fell forward out of the cart and landed in a heap on the ground.

"Whoa!" cried Cassie as the Uni and its cart rushed past her. All was going according to plan, because the fruit the cart originally proudly displayed was now all over the road. The young thief started picking up ummagines and other fruit, one by one, and placing it in the sack tied around her thin waist.

As for Stan, he had safely escaped the rampaging cart, but he had attracted the attention of many Elephante guards.

"Stop, thief!" yelled a deep-voiced Elephante, while pointing a finger at Cassie. Stan had snatched up a couple of fruits, too, and found himself and his cousin running away from an angry mob of guards.

Stan stuffed the fruit inside Cassie's sack. The young thief's heart was beating so hard - partly because she was running and partly because she was scared - she could hardly hear the angry guard's shouts and hollers. She had never run so fast in her life. Additionally, she didn't know the streets of Sakhmet nearly as well as she knew her way around Qasala, so she trusted her cousin to lead her to safety.

A wily guard who was fairly far behind the Kyrii swung his sword, but it did nothing. Stan grabbed his cousin's paw and ran like mad. Cassie grabbed a beat-up sphinx links from the ground and tossed it at one of the guards. It had kept the guards back for a few seconds. Stan pulled Cassie into a narrow alley where a clothesline hung between two buildings.

"What are we going to do?" Cassie panicked.

The older thief hesitated. He looked around, desperate for the answer, when his eyes fell upon a huge pair of striped underpants hanging from the clothesline.

"I have a plan," Stan whispered. "Warn me if you see any guards."

Cassie nodded and peered out from behind the alley. Meanwhile, Stan was nimbly climbing up the stone building and gently tugging on the clothesline.

"See here, Cassie," Stan explained, "that when you climb a smooth object, you really gotta dig your nails in and climb."

Stan had taught his younger cousin many things. He called them "the Necessities of a Thief." Whenever he said that he always said it with such expression it made Cassie giggle. But now was no time to giggle.

The young Kyrii's eyes grew wide. "The guards are coming!" she announced worriedly.

With one hard yank Stan came flying down with the rest of the clothes on top of Cassie.

"Where'd they go?" one Elephante asked.

"There is no sign of them, sir," a younger-sounding guard reported.

As the guards started to leave, one muttered, "I'll get you someday, thief!"

None of them even noticed a pile of clothes on the floor.

The thieves shuffled and squirmed until they were free of the cloth jungle. Stan and Cassie faced each other and gave each other a high five. Then they crept out of the alley and along the walls. After that chase there wasn't a single shopkeeper daring enough to open their shop again.

About 15 minutes later the cousins were only a block away from the hideout. "Man, that was some fast running you did there, Cassie," Stan commented.

"Why, thank you," Cassie replied sweetly. At that instant, about 10 Elephantes jumped in front of the thieves out of nowhere. Cassie screamed.

"RUN!" Stan yelled.

Cassie didn't need to be told twice. In a heartbeat she sped after her cousin as if her life depended on it, and in some cases, it did. Although she knew all stealing was wrong, Cassie didn't understand what the big deal was over some hungry pets trying to get food, and how it was so unfortunate there was no Soup Faerie in the Lost Desert.

The Elephantes sure knew how to create a chase. Stan was running so fast he never realized he had taken a wrong turn… until it was too late. The two cousins soon found themselves facing a rock wall, in other words, a dead end. Stan tried climbing the wall. Once he saw what was on the other side, he jumped back down to join his cousin.

"What was it?" Cassie asked.

In a tearful voice, her cousin replied, "There are just more guards on the other side. We're done for!"

The guards then approached, however their entry was quite slow. It was probably some way to rub in the fact that the cousins were doomed.

The guards then divided themselves so half of them were on one side of the alley and half on the other. Standing at the end farthest to the thieves was a tall and muscular Elephante. The Elephante walked up to the cousins. Carefully, he reached behind him and withdrew his scimitar - the sword that the guards used. He held it up high so the hot desert sun gleamed against the blade. A frightened Cassie quivered with fear. The guard brought down his scimitar with great speed and force.

A cry of pain echoed through the air.

The sight that Cassie saw through her young eyes a sight that slashed across her like a sword. But the sword didn't slash across Cassie.

It had slashed across Stan.

To be continued...