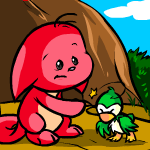 Noname Diaries: Noname's New Home

by trainer_nella

--------

Hot. Just hot. In Tyrannia, the weather is always hot, because of the sun beating heavily on the Tyrannians (but, of course, the Tyrannians are used to this kind of weather). Almost along the outskirts of the seemingly populated desert, lies a mysterious cave of sorrow. You could always hear cries (not WHANGH! WHANGH! cries, like a Yeeep! YEEEP! Sqwaaaawk! kind of cries) from petpets. Yes, it is none other than... Gargrall's mine.

Noname, a Mallard, sat on concrete, taking a break. He was just captured a month ago, after he "fell from the sky" and landed near the Cave Paintings. Because he was so inquisitive, he decided to wander off. He didn't see many of his kind here (in fact, he saw none at all) because he was an unpopular petpet, but he did not know that.

"Sqwwaaaaaaaaaaa! Sqwaaaaaaaaaaaa!" he said, which meant, "Ooooh... owwwww!"

He got up a few minutes later, and shook his head. He blinked a few times, and waddled over to what seemed to look like a canoe. He didn't notice a boulder that was about to hit him, but he was lucky enough to waddle away from it.

He looked at his tail, and bit it (strange Mallard behaviour) and then wiggled his head. He blinked 5 times, and went to get some gems. He flew up, and dove in to a ruby. He kept it into his bill, and then landed near the exit. With his ruby in his mouth, he started off, thinking why the other petpets didn't run away, like he did.

"Oack, oack," he said.

Out of the cave, he was happy to smell the fresh Tyrannian air. The sun looked like a shining orange, which made him surprisingly hungry. He jumped up and down, then decided to fly up to the "orange". When he was halfway to the sky, he fell down... down... and down... dizzy, he fainted.

A few hours later, he started hearing voices. At first it sounded like whispers, then it sounded like Neopets talking. His body started shaking a bit, but it felt so... soft. Never had he felt anything as the sweet little... shove?

"Oh no... Has Gargrall found me?" he was thinking in his head.

He opened his eyes, and everything looked blurry. At first he couldn't tell the thing that was right in front of him, but it started to make out slowly and very steadily. When everything was clear, he could make out what he saw. No, it wasn't Gargrall, his used to be evil master. But, it was a red Kacheek.

"Hi there!" it said, kindly introducing itself, with a big smile on its face. Then, the Kacheek picked up Noname, and started to look serious. "What happened? I thought you were... dead..." the Kacheek said, very slowly. It appeared she hated the word "dead."

Noname blinked, nothing more. It was his way of saying, "Long story."

"Well, I'm glad you are alive," the Kacheek said, starting to form a smile again. "Come home with me. I'll give you some food, and water. It's burning hot here, I don't want you to melt!" she said.

Noname said nothing and did nothing.

The kind Kacheek carried Noname and put her hand on his head. She put it down a little more, so Noname could take a rest... again. A few hours later, Noname woke up feeling strange. He felt like he was going up and down... up and down....

"Ack," Noname said trying to get free.

"Hey little fella, don't go running off. We're almost home," the Kacheek said, picking up Noname. "See that house over there? That's my Neohome. Come with me," she said, placing Noname back on the ground.

Noname tripped on a rock, but the Kacheek didn't notice. He picked himself up, then waddled back to the Kacheek. The Kacheek looked redder than ever, as red as a tomato. Noname liked tomatoes (and hated potatoes).

"Waaaaah!" Noname yelled, trying to catch up with the Kacheek. "Waaah ack!"

"I'm not gonna leave you." The Kacheek put her paw on her mouth and giggled. "You're so funny."

Noname didn't understand what the Kacheek said, so he just blinked and shook his body. He jumped up and down a bit, trying to get bits of dirt of his coat. He noticed that the neighbourhood was crowded, so he tried to stay as close to the Kacheek as possible.

"Ok now," the Kacheek said. "Come to my arms. I'll let you go sleep on my bed."

The Mallard looked back, and then waddled to the Kacheek's arms. He put his head against the Kacheek, and rubbed it. He put his head back, and quacked like a duck you'll find on the planet of Earth. He blinked a couple times, then for some reason, he lay down.

Crrreeeaaaaak... Creeeeaaaaak...

Noname jumped out of the Kacheek's arms, wandering around. He was already out of the busy neighbourhood, and out of Tyrannia, so he was pretty excited. He saw a blue couch with Lupe patterns, and on top was a window with Wise Old King Hagan's picture printed on it.

"Ack, quack," said Noname, jumping onto the couch.

He loved the soft and luxurious feeling of the couch, so he kept on jumping up and down. Now, the Kacheek didn't mind, and she just sat down next to him. Once or twice Noname accidently fell on the carpet, but this made the Kacheek chuckle. The Mallard grew to understand the Kacheek, so he tried to laugh as well (his laugh sounded like a roar!).

Then, the Kacheek held Noname, and looked up at him eye-to-eye. The Kacheek started to look serious, and sad as well. Noname screeched a bit, then he stopped, noticing that the Kacheek was frowning.

"Is it okay if I keep you... as a pet? I've always wanted to keep a petpet," the Kacheek quietly said.

Noname immediately jumped up and down and continued playing. That was his way of saying "Just that? Ok, let me play now!" The Kacheek grinned, then... she frowned again. She put her hand on Noname.

"Mallard, I forgot to tell you my name. My name is Katachu," she said, shyly. "I don't like my name, so call me Kata."

Before Noname started playing on the couch again, he was interrupted by Kata. "Now, what shall I name you?"

Noname shrugged with his small wings, and blinked.

"Can you wait a bit?" Kata asked.

Noname didn't care, so he nodded.

It turned out that Kata didn't know what to call Noname, so she walked out of the house. She started to explain to Noname that she'd be out of the house for a few minutes, maybe an hour or so. She had neopoints in her hand (5492, to be exact) so Noname could assume that she was out to get things. Food, he hoped.

"Now, don't cause trouble!" Kata laughed, and closed the door and went out.

All this time, Noname went to sleep. It turned out Noname was a rather lazy Mallard, who liked to eat, sleep, and make messes. He looked cute and cuddly at first sight, but when he was not feeling lazy, your Neohome might be left in ruins.

When Kata came back 45 minutes later, she smiled. She had nothing in her hands, just the bag of neopoints. She told Noname to come over, and that's what he did. She smiled, and then said, "I know what I will name you. I will call you... Noname."

The End

If you are reading this, this is my first time submitting to the Neopian Times! I hope you enjoyed reading this story!