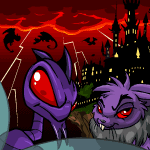 The Monstrosity: a Guide to Caring for Darigan Pets

by xx_thatguy_xx

--------

Just when you thought you knew your pets perfectly, the secret laboratory punches you in the face. One minute, your pet is a sparkling, sun-kissed Faerie Ruki, and the next she is a terrifying, Darigan Zafara. She's hungry. She's mad. And she's ready to bite your nose off. Buckle your seatbelts, ladies and gentlemen. It's going to be a bumpy ride.

So what is an owner like you to do? Your pet has just been transfigured into something you'd normally see at Halloween, but you're lucky. You get to experience the spine-tingling, terrifying thrills all year long. What you need to do is learn how to care for a Darigan pet. And wait, it gets better! (Not that your situation was good in the first place.) We can show you how!

STEP ONE- GROOMING: Darigan pets come in all shapes and sizes, many of which have fur. Fur is a very important thing to take care of and manage, as it can become matted easily after all of those nasty fights with those pets that "started it." To do this, you'll need at least one grooming brush, and maybe a mirror if your pet would like to groom themselves (unless they are inconvenienced with fins). If they do wish to groom themselves, make sure that you are supervising them at all times. (Undercover, of course. You wouldn't want to embarrass or anger a Darigan pet. You can just trust me on that one.) At times, they may want to try some radical hair styles, or maybe a few other things that would make you look bad as an owner. YOU!

STEP TWO- CARE FOR EXCRESCENCES: When looking for "excrescences" (an unnatural growth you wouldn't see on pets that weren't painted Darigan), you should consider horns, wings, collars, shells, stingers, claws, spikes, pointy tails, tusks, and other unique appendages. To keep horns in good shape, always keep them sharp. You can use a handy dandy, "horn-sharpener" for this. (WARNING: DO NOT USE PENCIL SHARPENERS OR INSTRUMENTAL ROSIN.) Feathered wings are groomed by the pet themselves, so if you have an Eyrie or a similar pet, you need not worry about his or her wings. As for wings with scales, you can buy a case of commercial "scale oil" for Shoyrus, Hissies, and other pets with wings that are not protected with feathers. Shells need to be kept oiled at all times. The main thing for stingers is just not to touch them. We won't go into what will happen if you do in this article though. As for claws, these need to be kept sharp. There are a variety of scratching posts on the market these days, so you shouldn't have much trouble finding one. Spikes and tails are also groomed by the pet himself or herself, so you shouldn't have to worry about these. Tusks also need to stay sharp, and you can use horn-sharpeners for this. If your pet has anything else jutting out of his or her body, you may want to see a doctor about that.

STEP THREE- FEEDING: When it comes to foods, Darigan pets don't tend to lean towards foods covered in colorful, sugary frosting and sprinkles. You may want to consider putting them on a diet of gross foods, or maybe spooky foods if you have a little more cash to spend on your pets. (And since you're stuck with this pet in the first place, I'm sure you do.) Darigan pets also have a tendency to become addicted to fat-free yogurt and very sour pickles, so avoid feeding these to your pet. (Note: Non-fat reduced yogurt are okay, along with normal cucumbers.) Feeding is a very important aspect, as it can dramatically affect your pet's mood on the down side if it is not fed the correct items and foods. (Bonus: Skeiths and Grarrls, however, favor Faerie petpets.) Darigan pets have a voracious appetite and need to be kept fed at all times.

STEP FOUR- PETPETS, TOYS, AND OTHER EVIL ENTERTAINMENT: Petpets are incredibly difficult to decide on when dealing with Darigan pets. The reason behind this is that every Darigan pet's taste varies. Some like spooky, some like Darigan Petpets, just like themselves. Others like wintery, or anything else you can think of. However, only a very small fraction of them will ever want a Faerie petpet, so save those for the dish bowl. Toys in a Darigan pet's view are super-powerful Battledome items with enough force to tear a hole in the universe. With that happy thought in mind, you can conclude toys are simply not for Darigan pets. Other ways to keep your furry friends (or scaly or nice and smooth for that matter), from concocting evil plots to destroy the world (also known as "entertainment"), are mindless hours of watching paint dry. You may also want to consider going into battling with Petpets, or even investing in a Petpet lab ray.

STEP FIVE- DISCIPLINE AND TRAINING: Another good way to keep your pets from devising mischievous plots is to train them through the Swashbuckling Academy or the Mystery Island Training School. This will not only keep your pet strong and healthy, but it will keep them busy and unable to think too much. Darigan pets have the rare gift of intelligence, and usually that intelligence is used in an incorrect manner. Watch out for that. To keep them disciplined and to help them learn the lessons of life, let them make mistakes. Let them do what they want (other than go on rampages, riots, rebellions, or other scary words that start with the letter "r," or carrying out world domination schemes), and let them learn about the consequences of their actions. It's quite simple, really.

STEP SIX- SHOWING LOVE FOR YOUR PET: Even if your pet is now a terrifying, evil mastermind, you still love him, right? It's important to show love towards your pet every day. Care for him, keep him groomed, keep him fed. Teach him everything you know and let him learn on his own at times. Compassion is the key to having a good and rewarding relationship with your evil little genius.

So there you have it. All the basic things you'll need to know about keeping your Darigan pet happy. You deserve a cookie.

LATER, AT THE LAB: *ZAP!* Oh look. A Faerie Ruki. Ha. Just your luck.
Search the Neopian Times


---
Great stories!
---------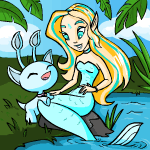 Dreams: Part One
We were doing our weekly shopping in the bazaar and main shopping area. Since I was just a baby Aisha, I wasn't allowed to go on my own without my owner...

by laurel146
---------
---------
---------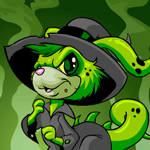 A Quest for Edna
"Yes. I know. But this will not be an ordinary quest, not for you, Haltz…. I'd like to make it a bit different."

by pippylouise
---